Businessman, whistleblower and advocate for the profession, Brian McEnery FCCA takes questions on his career, life as an accountant and what it means to be a Council member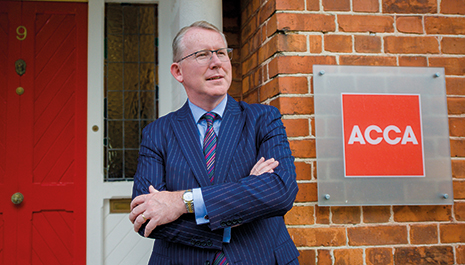 This article was first published in the October 2016 Ireland edition of Accounting and Business magazine.
What would you say to someone considering accountancy as a career?
BM: I'd really want to sit down with them and let them know how broad and wide the profession is – they need to understand that. I'd also want them to have a desire to do it. I'd make it clear to them that the role is varied. It's not all about extended trial balances and ledgers from morning until night!
I'd explain that this profession gives you a range of areas where you can work. When I came into practice 22 years ago, I went into transactions and advisory work – I've never been in audit. I was amazed at the different aspects of advisory work, such as restructuring businesses, insolvency and business turnaround. There are a lot of opportunities available – from the sectors you can work in, to the policy and strategy work. And, ultimately, the work we do is always about people. It's also the people side of things that interests me a great deal.
What are the challenges you've experienced in your career to date?
BM: I have a team of about 20 people in the practice – some of them are ACCA members too. They are people who can find solutions to challenges. I think a lot of people who start the ACCA Qualification have a spark of this ability, but it brings it out to the fore. The syllabus is very well designed to draw out the right qualities, especially problem-solving.
After I graduated, I didn't come into practice straightaway and worked in a travel agency business as its financial controller, for about a year and a half. I moved jobs, realising that being a financial controller wasn't for me. I took a pay cut to move into public practice.
I very much welcomed the challenge to come into advisory and practice in 1995. Then around 1998, we received one of the biggest corporate restructuring jobs in the country. The head of the division left, and I was asked to take the lead on that job – with no background in restructuring and insolvency.
It was a big challenge, and I wondered if it was right for me, handling businesses that are in trouble. I took the role on because it was needed. In retrospect, I am glad I did that. It gave me an opportunity to progress, and I enjoyed it. I look back with a great sense of satisfaction.
Another challenge was becoming a partner in BDO in early 2002. I knew I had to have a specialism and become a centre of knowledge in a field of my own, and that was healthcare. I made the big personal commitment and investment to ensure I had a deep understanding of the healthcare sector and I am grateful that I now have clients around the country. I'm an adviser nationally.
I became interested in healthcare because, at 17, I worked as a care assistant in a care home in the West Midlands for people with advanced dementia. I went back for three summers. In the second year, I faced a big challenge – I blew the whistle on wrongdoing. I needed to call it out. I am very conscious of the risk of being a whistleblower – it takes a lot to do it.
This experience has stood me in good stead. I am now the chairman of Ireland's healthcare quality body, the Health Information and Quality Authority (HIQA). Those experiences of working in the home in my late teens has given me an insight to help me be a non-executive director at this care commission.
What does being a Council member mean to you?
BM: I got involved with ACCA soon after graduating – it's been the biggest shaper of my professional career.
But I still have loads to learn.
The day I went to the International Assembly as a member, I was very proud and delighted to see the operations of ACCA, how the organisation worked to support members and students. I'd been involved in ACCA in Ireland and what was then the district network – Munster and Connaught. I was Irish regional president in 2009. What I got at that level was visibility of skillsets, from chairing meetings to giving speeches and being an advocate for ACCA.
I've taken that experience into Council. It's like being a non-executive director for a multinational. I sit on the market oversight committee and what I see there are the challenges, risks and opportunities of operating in 180 countries.
But it's an immense privilege to be able to do this work for ACCA, for what is effectively a large, multinational operation. I've been nine years on Council where I have learned so much – from what good governance is to how to improve strategy to how to do change management, how to work on committees on a global basis. I've learned about strategic planning and taken problem-solving approaches to what we face.
I've learned to work together, to be open minded, to be part of a collective – this association is after all a big collective. Council members can't be egotistic or seek personal recognition. We're here as trustees and to use our experience for the good of ACCA.
The role of a Council member is to represent our global members throughout the world and our students too. We have to do the right thing and knuckle down to it. It's been a great learning experience, and I'd say to any member: stand for election, join in if you have the time and dedication.
What does being a member of a professional body mean to you? Why does professionalism matter?
BM: We need to understand what being a professional means. For me, it's integrity, competence, good communications skills. It's important that ACCA ensures the development of competent people. The level and relevance of our qualification does that. It gives people the modern skillsets demanded today, plus the relevance. Being a member of a professional body and being a finance professional also means being trusted – that our skills and knowledge and ethical approach all equate to trust.
What are the biggest issues facing the profession now, in five and in 10 years' time?
BM: I go back to what I've said – trust. We need to make sure we learn from the mistakes of the past, and I'm very mindful of that, having been through the Irish downturn.
What's the biggest misconception about the work that you do?
BM: That accountants are not strategic. I want more people to know just how strategic we are, much more than they realise. I look at my team and I see how strategic they are. They are advisers. They are adept at a great number of things. The role of an accountant or finance professional is only limited by how far you yourself want to take it.
Who has had the greatest impact on your career development?
BM: I have a mentor. He's 10 years older than me and has been very helpful to me in my career. He's someone I can turn to and ask questions, run things past. He's now a senior person in public life. We trust each other. He offers good advice and good guidance. He's a shrewd individual, a leader and decisive. I am lucky to have him as someone to help.
I also like to offer advice and provide judgment. Every finance professional needs to cherish the fact that someone – from an SME owner to the CEO of a FTSE 100 – will put a premium price on our judgment.
Why do you continue to be an ACCA member?
BM: It's my passport to success and always has been. For me to be able to say I am an ACCA member makes me proud. The day I became an ACCA member was one of the biggest days of my life.
What's the most important part of your role on Council?
BM: It's about alignment and balance – to ensure that we are aligned with the executive team, that we co-create the best strategy, and drive forward with great positivity.
It's also about creating the balance between being a representative of the membership and being a trustee/non-executive. It's important in my role to challenge the executive team, but always with the aim of being on one bus – the ACCA bus – and going on the same journey.
My role as a Council member and as incoming president is to believe in the executive team. There's a phrase in Irish, mol an óige agus tiocfaidh siad, which means praise the young and they will thrive. Council and I should be happy to praise and thank our executive team in a no-blame culture so that we can move forward with positivity, like a youngster being praised. Being in Council is about being a partner to the executive – to let us all achieve the opportunities, face down the challenges and be dynamic.
"The biggest misconception about the work I do is that accountants are not strategic"