In a life-long career with insurance group Legal & General, Roger Young FCCA, director of financial reporting and operations, has seen his fair share of change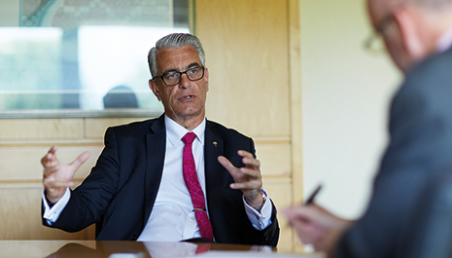 This article was first published in the October 2016 UK edition of Accounting and Business magazine.
Even when some things remain constant, it's not hard to find ceaseless change. And when there is ceaseless change, it's important to find the things that are constant.
It's a lesson that can be perhaps be gleaned from the career of Roger Young, director of financial reporting and operations at Legal & General Group (L&G). Young has been with the life assurance, general insurance, pensions and investments group for 35 years, almost all of that time in L&G's Kingswood site in leafy Surrey.
But, he says, that doesn't mean he hasn't experienced – and sought out – change and new challenges. 'Companies don't stand still,' he says. 'If you look at the FTSE 100 now, it's not the FTSE 100 that was there 10 or 20 years ago. Companies evolve. Cultures change, the boards and executive managements change and they bring different ideas and different ways of doing things. The company I joined in 1980 bears absolutely no resemblance to the company it is now – as you would expect.'
More to the point, Young has taken on a succession of new opportunities over the years. In fact, he started off in an actuarial department and didn't switch to the accountancy path until several years into his career at L&G, qualifying with ACCA in 1995.
'The new generation want to be more mobile, to move around. I managed to do that within the organisation,' Young says. 'If I look back on my last few roles, my average tenure in a job has been two-and-a-half, three years. So I've not been doing the same thing all that time. And being on that journey you get a sort of loyalty and a real commitment to the organisation.'
One of Young's most significant new challenges in recent years was to establish a finance shared service centre for Legal & General Assurance Society (the main operating business) and for the group. Today he heads a team of around 280 people, based mostly in Cardiff and Kingswood, with a small, growing team in Hove in West Sussex. The functions include payroll, expenses and accounts payable, some cash management functions, and agent remuneration, as well actuarial reporting, financial accounting and Solvency II-related risk modelling and reporting.
The shared services model wasn't just a new one for Young, but for L&G itself. Everyone was outside their comfort zone, but that's no bad thing, Young believes. 'You want a career with new challenges. You want to do something new,' he says. 'So a role where you can set up something from scratch and learn new things is really attractive.'
But of course he didn't have the luxury of a blank piece of paper: 'You have all these functions that you're bringing together and then you have to work through how you can do things differently, what things can you stop doing, what things can you merge together.'
The trick is to get the dominoes to fall in the right order. Young worked out, for example, that by merging a Birmingham team dealing with general insurance agent remuneration with a separate agent remuneration team in Cardiff – along with some Lean Six Sigma processes – L&G could create a centre of expertise in the Welsh capital. The Birmingham team would then have the bandwidth to take on extra finance and credit-control duties.
'Asking more of people and just expecting them to work harder is just unrealistic. You have to give them the tools to take on more,' Young says. 'It's about planning and trying to fit all those things together and work out how you can best optimise your use of resources.'
Amidst all the change, it's important to keep all the stakeholders and internal customers on board and to reassure them that service levels will remain constant – and ultimately improve. 'Business operations cannot stand still and wait for you to catch up,' he says. 'You need to manage those relationships and continue to get the buy-in. Part of that is doing the job well. And part of that is demonstrating that the plans we have in place are going to make a difference.'
Having built the shared service centre, Young now has the task of moving operations out of the Kingswood site, which is closing in 2018 having been one of L&G's most important locations since the 1950s. As for the people affected by the redeployment to Cardiff and Hove, Young is absolutely committed, as is L&G, to ensuring that they remain supported through this period of significant change.
'You work really hard in engagement and communication, meaningfully talking to people and giving them the opportunity to ask you questions and find out what's going on,' he says. 'You can't make this sort of thing work in an information vacuum. It just creates uncertainty and resentment in your employees. But if you talk them through it, they aren't necessarily going to be happy about it but they will start to understand some of the commercial rationales and some of the plans and outcomes.'
Adapting to change
Far from abandoning things such as career development, it becomes even more important. 'We need to make sure that people are equipped to do different roles and are much more flexible, more agile in their career, whether that's with L&G or elsewhere,' Young says. That means the more obvious things such as helping people with interview skills and building their CVs.
However, there's more to it than that: 'It's about giving people some tools for managing change, and personal resilience training,' he says. 'There is a lot of change going on. Moving 200 roles in my team out of Kingswood is quite a complex operation. You need the support of your people to achieve that.'
Young himself will be splitting his time between Cardiff, Hove and head office in London – he's been doing so for some time anyway. 'We refer to it as agile working. I'm pretty agile now. That will continue. I just won't be going into Kingswood any more. Things never remain constant.' No change there, then.
Andrew Sawers, journalist
"A role where you can set up something from scratch and learn new things is really attractive"