By embracing what new technology can offer, accountancy firms will be better able to support their clients into the future, say David Truscott and John Waller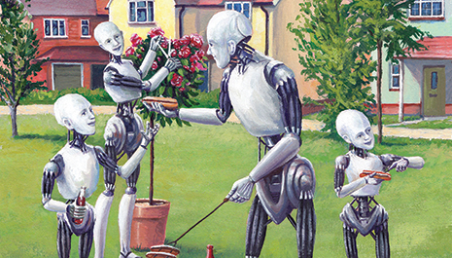 This article was first published in the October 2016 UK edition of Accounting and Business magazine.
Clients' expectations of service are increasing all the time in response to technological advances. As automation makes the basics of compliance more straightforward, the most successful practices will be those that build enduring relationships with their clients and move towards a more holistic, multidisciplinary model that encompasses financial planning as well as accounting and tax advice.
So how can accountants use digital technology, as well as more traditional tools, to make their practice more efficient while building stronger relationships with clients? How can they stay ahead of both their traditional competitors and 'disruptive' online accounting services such as Crunch and My Digital Accounts?
Personalisation
A good starting point is customer relationship management (CRM) software, which is a great way to build relationships with clients. By using tools such as Microsoft Dynamics, Salesforce and Zoho, you can keep a record of every interaction that you have with a client – whether that's an email, meeting or phone call – as well as the issue that was discussed and the advice you gave them. Having this information recorded will be especially valuable if there is an occasion when the client's primary adviser is unavailable and someone else in the practice needs to pick up a matter instead.
Ultimately, CRM software will only ever be as effective as the information contained within it so the higher the quality of the information you record, the more personalised the service you can provide. If you note the client's hobby, or the name of their favourite football team, along with details of their financial assets, you will be able to build rapport and foster trust in future communications.
CRM offers exciting possibilities for the future. Software providers are now developing analytics engines that will enable the CRM to automatically predict the services or products a client will need, based on historical data. CRM will also increasingly integrate with social media, raising its potential to identify new opportunities based on discussions that your clients are having on social networks – as long as you are connected with them, of course. For example, your CRM could alert you to the fact that your client is thinking about buying a holiday home abroad, giving you the chance to offer tax advice relating to the purchase of property in their desired destination.
Ahead in the cloud
We live in a world where information and feedback are shared instantaneously. Clients expect to be able to share critical information about their businesses or personal tax affairs at a click of a button, bringing their accountant immediately up to speed.
So how can you best collaborate with clients? Probably the most efficient way is through cloud-based portals and software that can be integrated into your systems and those of your clients. This technology means that you and your client can discuss real-time data, even when you are not in the same room or even the same time zone. You can therefore base your advice on current information, rather than information from last month or last year, and your client is better placed to make a considered business decision. For example, when the higher rate of dividend tax was introduced in April 2016, we were able to advise some of our clients to make accelerated dividend payments where appropriate, based on our real-time view of their company profits.
Besides giving accountants the opportunity to provide real-time advice to their clients, the other advantage of cloud technology is security. Reputable cloud providers offer highly encrypted, password-protected security, which greatly reduces the risk of client data being compromised. As information is backed up on multiple servers, the risk of losing information due to individual computers, or the entire in-house network crashing, is virtually eliminated.
What's to come?
As the digital revolution continues to gather pace, what trends can we expect to see in the near future? At the forefront of change are mobile and wearable technology, artificial intelligence and blockchain technology.
You can already access CRM systems and the cloud through apps on your smartphone. Connecting with your clients is set to become even easier, however, thanks to wearable tech such as smartwatches. Receipt Bank recently launched its Practice Platform app for the Apple Watch, which enables accountants to track which clients are slow at submitting invoices and receipts, and whether they lack the appropriate supporting documentation for transactions.
Furthermore, accountancy practices will soon be able to take advantage of developments in artificial intelligence (AI). This is where computer systems perform tasks that humans would normally do, mainly by recognising patterns and relationships in data. So instead of an accountant spending time matching an entry on a bank statement to the correct account, the software selects the correct general ledger account automatically.
AI also has major implications for auditing since it will be able to predict audit risks and disclosures, build the audit file and estimate the fee that an accountancy practice should charge for doing the audit.
Blockchain technology, which is currently being explored by the financial services industry, could also disrupt the auditing process. Effectively an automated digital ledger, blockchain is a trusted way of storing transactional data because the validity of the transactions must be confirmed by a majority of users with access to the database. It is also secure since every user of the database holds a copy of it on their computer and the data is replicated and synchronised in real time. So audits may take place in real time in the future, with auditors themselves spending less time checking the veracity of data and more time analysing it.
Despite all the scaremongering about robots being about to take our jobs, accountants have nothing to fear from technology. In fact, we should embrace it because it will help us to run our practices more efficiently, give more advice and support to our clients, and become even better at what we do. Technology is our partner but, like any partnership, we need to invest in it if we want to see the best results.
David Truscott and John Waller are partners at PK Group, serving high-net-worth individuals and owner-managed businesses
"The higher the quality of the information you record, the more personalised the service you can provide"