While increasing numbers of Chinese investors are being attracted to the glamour of top-flight European football clubs, such acquisitions are not necessarily straightforward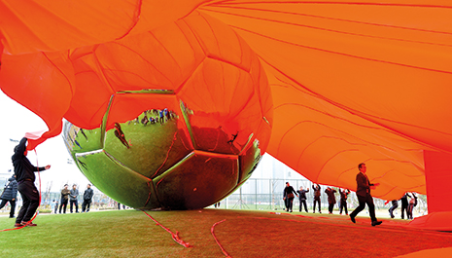 This article was first published in the November/December 2016 China edition of Accounting and Business magazine.
Flush with cash, Chinese investors are now looking to acquire what may be the ultimate status symbol: sports teams. The most successful Chinese companies, entrepreneurs and investors have shown a proclivity to invest in football teams and leagues, both domestic and overseas.
The recent spate in investment follows President Xi Jinping's call in April to boost China's football expertise and make China a 'world football powerhouse' by 2050. The plan includes getting 50 million children and adults playing by 2020, and opening 20,000 football training centres and 70,000 pitches by 2020.
But if the push into sports could bring new opportunities, it is not without its challenges. Locals have been disappointed with the performance of China's national football side at international competitions such as the World Cup. Still, football (or soccer, depending on geography) remains the most popular sport in the country and in much of Asia.
The national drive to improve the sport, the enthusiasm of fans and plenty of liquidity in the rather full war chests of the country's largest companies add up to large investments in both teams and players. The average salaries of players in the Chinese Super League (CSL) are among the highest in Asia and the 15th highest worldwide. During the January 2016 transfer window, CSL clubs paid significantly more for players compared with any other league, spending US$365m.
Among the hundreds of millions of diehard fans are billionaires pouring their money into the sport. In 2014, Jack Ma's Alibaba, an e-commerce goliath, spent US$192m on a 50% stake in a football team in Guangzhou, in southern China. The following year, property and entertainment conglomerate Dalian Wanda Group, chaired by Wang Jianlin, paid US$52m on a 20% stake in the Spanish club Atlético Madrid. Then, in December 2015, China Media Capital took a 13% stake in City Football Group, the parent company of English Premier League team Manchester City FC, for £265m (US$400m).
Tip of the iceberg
And these deals are just the tip of the iceberg. In June, Suning Holdings Group bought a 70% stake (worth US$307m) in Italian club Inter Milan, closely followed by Recon Group, which acquired the English team Aston Villa in a US$101m deal. The rush for English clubs didn't end there: in July, Fosun International, led by Guo Guangchang – dubbed 'China's Warren Buffett' – fully acquired Wolverhampton Wanderers for US$59.7m; and in August, West Bromwich Albion was sold to Chinese investment group Yunyi Guokai (Shanghai) Sports Development, which is led by Guochuan Lai.
According to Xinhua News Agency, Wang plans to buy three more sports companies and that 'upon the completion of these mergers and acquisitions, Wanda is going to be the world number one in the sports industry'. That may sound like empty bragging from anyone else, but Wang has previous form, following through with similar plans for Chinese shopping malls and movie theatres globally.
There is no doubt that Chinese investors will be adding more European football clubs to their portfolios; the only question is who will be next. English soccer giant Liverpool FC is rumoured to be the next target, with suggestions that a consortium led by a Chinese investment company is interested in buying a stake in the club, now valued at £1bn.
Such acquisitions will undoubtedly strengthen the ties between Chinese and international football, perhaps paving the way for future Chinese football stars. For some fans, the hope is that China could feasibly host – and perhaps even win – a Fifa World Cup.
But there are hurdles that investors have to overcome, both financial and cultural. As with many other investments overseas, acquiring a stake or a whole club can be difficult. Investors often find themselves unaccustomed to the local culture, where lengthy and complex approval processes can hinder progress and potentially make the investment more risky.
'I am still quite prudent in overseas football club purchases,' says Dong Shuangquan, a partner at Great Wall Law Firm and founder of the China Sports & Law Research Centre. 'We should not only read newspapers about how overseas clubs are top-notch and making profit. Actually, until now, we have not seen many successful cases.'
Myriad challenges
Dong notes that one difficulty that Chinese investors often meet comes from the different regulatory environments, which are more established elsewhere. Such issues could limit the possibility of sending Chinese players to play and train in Europe. 'The reality is that you cannot just make any decision you want even though you are the biggest shareholder,' he says. 'In the UK, for example, there are very strict labour laws about importing foreign players.'
Then there are questions of marketing and goodwill. There is much noise surrounding Chinese buyers and they can sometimes be viewed with scepticism. In the UK, for example, investors need to show proof of funding before they can engage with club owners about potential purchases or investments, and must to show their willingness to commit to the purchase by paying financial and legal advisers to assist with the transaction.
Liu Chi, a Chinese sports and entertainment lawyer and partner at JunZeJun Law Offices, points out that Chinese investors may well face similar legal challenges to those investing in other industries abroad, 'including but not limited to conducting thorough legal and financial due diligence; working with foreign management; dealing with labour or player unions; complying with local laws and regulations; managing media relationships; and overcoming cultural differences and challenges'.
Coordination is a key part of the process, particularly among the professionals, including accountants and lawyers, who structure the deals and investment. This type of coordination, adds Liu, is critical 'to ensure that the Chinese investors not only enjoy a "honeymoon" with the foreign football clubs but also a happy life after, especially when this type of "celebrity marriage" is crowded with fans and media'.
Pearl Liu, journalist
"Chinese investors acquiring foreign football clubs is one more aspect of China's successful 40-year economic reform"