The Modern Slavery Act seeks to drive slavery out of businesses' supply chains. Steve Giles explains which businesses are affected and what they need to do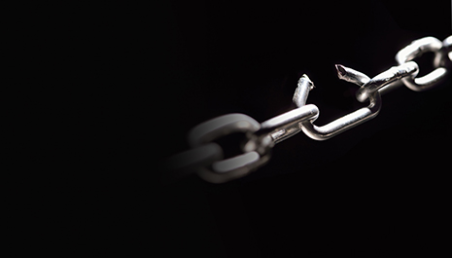 This article was first published in the November/December 2016 UK edition of Accounting and Business magazine.
Theresa May describes modern slavery as 'the great human rights issue of our time'. In a recent article, the prime minister sets out the scale of the problem: 10,000-13,000 victims in the UK and over 45 million across the world. She details the harm it causes and states her determination for Britain to lead the fight against modern slavery on the global stage. Throughout, May makes clear her personal commitment to defeating modern slavery. Central to this is the Modern Slavery Act 2015.
The act is the first legislation of its kind in Europe. It sets out tougher penalties and sentencing rules for offenders, establishes an anti-slavery commissioner and provides enhanced protection for victims. But there are also important new reporting requirements for business (in section 54), which have significant implications not only for larger organisations but also for SMEs operating in areas of high slavery risk.
Modern slavery is an umbrella term covering the two offences in the 2015 act: slavery, servitude and forced or compulsory labour; and human trafficking. In short, modern slavery means depriving people of their freedom and exploiting them for commercial advantage.
Although slavery is illegal in almost every country in the world today, abolition has not ended the practice. Vulnerability to modern slavery is complex, but there are two key factors that all organisations should consider when assessing the implications of the 2015 act:
Location: Benchmarks such as the Walk Free Foundation's Global Slavery Index identify those countries with the highest prevalence of modern slavery. The 2016 index highlights that 58% of those living in slavery are concentrated in five countries: India, China, Pakistan, Bangladesh and Uzbekistan. Organisations with operations or supply chains in these countries are at risk of association with slavery.
Industry sector: The abuse of low-skilled migrant workers is a recurring feature of modern slavery. Those sectors with a propensity for using low-skilled, sometimes seasonal, labour are at risk; they include agriculture and food production, mining, construction, electricals, catering and cleaning.
Transparency and accountability
The purpose of the groundbreaking section 54 of the act is to prevent modern slavery in organisations and their supply chains by increasing transparency and accountability.
Section 54 requires an obligated business to publish a slavery and human-trafficking statement annually, disclosing the steps it has taken to ensure there is no modern slavery in its own business and its supply chains. If an organisation has taken no steps to do so, then the statement should say so. The statement must be approved by the board, signed by a director (or equivalent), and published on the website, linked prominently to the homepage.
Section 54 applies to commercial organisations with a global turnover of over £36m that carry on a business (or part of a business) in the UK supplying goods or services. Transparency statements are required for financial years ending on or after 31 March 2016 and should be published either with the annual accounts or within six months of the year-end.
The act lays down no criminal or civil penalties for failing to produce a statement under section 54, so non-compliance will attract no immediate sanctions. Complacency, though, would be dangerous. The government could seek an injunction in the high court requiring an organisation to comply with the act, with the prospect of an unlimited fine if the organisation continued to ignore the injunction.
However, the government is relying primarily on reputational risk to drive compliance with the act. An organisation's failure to produce a statement (or a statement saying that no steps have been taken) will be picked up by consumers, investors and non-governmental organisations, with negative publicity likely to result in significant brand damage.
What to include
There is no prescribed format for the section 54 statement, but there are indicators. The act lists six areas that should be considered for inclusion, and annex E of the Home Office's Transparency in supply chains: a practical guide gives examples of information that might be disclosed, as follows:
organisational structure (business model and structure, summary of operations and supply chains)
policies (for example, anti-slavery policy, ethics charter, codes of conduct for employees and suppliers)
due diligence (evidence of good governance around ethical trade, human rights and corporate social responsibility; consultation with stakeholders; supplier audits; engagement with both first-tier and lower-tier suppliers)
risk assessment (risk profiling by country, sector, etc, together with mitigation and incident response plans)
performance indicators (use of KPIs and targets to measure the effectiveness of anti-slavery actions, such as grievance and whistleblowing procedures)
training (human rights training targeted for maximum effect – for example, employees who might encounter victims directly, and supply chain managers).
This is the first full year of mandatory reporting. Many organisations are uncertain about the detail needed in their statements and how far-reaching their actions against modern slavery should be. The issues are complex, and organisations need some time to develop their approach. Here are five tips that might help:
Be clear about what is required. An organisation is obliged to report on what it is doing rather than to do anything in particular – it is certainly not expected to guarantee that its entire supply chain is slavery-free.
Adopt a proportionate approach. The government expects statements 
to be credible and accurate but understands they will evolve and improve over time. Organisations should avoid overstatement, take actions proportionate to risk, and review the content of statements made by others in their sector.
Develop minimum standards. The baseline for the first year 
could be straightforward: an anti-slavery policy, an initial risk profile, and contractual assurances that suppliers have provisions around human rights and zero-tolerance of modern slavery.
Care needed by small and mid-size businesses in high-risk sectors. Section 54 applies explicitly to larger organisations but it is having a ripple effect. Increasingly, large customers are unwilling to do business with SMEs that have opaque supply chains. SMEs need to develop appropriate preventative measures and an anti-slavery culture.
Ensure there is appropriate oversight of third-party risk. The board is accountable for the transparency statement required by the Modern Slavery Act. Top-level commitment is therefore essential, and senior managers should focus on two areas to minimise reputational risk. First, they need to create an anti-slavery environment and a wider ethical culture. Second, they need to ensure the robust management of third parties. Previously due diligence has often been confined to technical activities such as anti-money laundering or mergers and acquisitions. Today it is an essential part of good governance.
Steve Giles is an independent consultant, lecturer and author specialising in governance, risk and compliance
"Organisations with operations or supply chains in India or China are at higher risk of association with slavery"