Finance professionals should take ownership of their careers, plan for the long term and take the actions needed to maximise their opportunities, says Steve Giles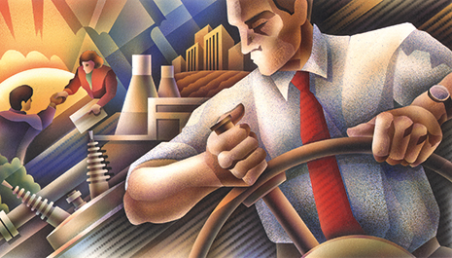 This article was first published in the November/December 2016 UK edition of Accounting and Business magazine.
Where do you see yourself in five years' time? It's the familiar – and often dreaded – interview question for accountants starting out in their careers. They find it difficult to answer without resorting to cliché because, as students or newly qualifieds, many don't know what they really want out of their career. But can experienced finance professionals provide any better answers when the timespan is extended over 10 or 20 years?
Coming up with a decent response to the question requires the investment of time and effort to draw up a realistic personal development plan, recalibrated periodically, that aligns your skills and experience with your aspirations. Without undertaking such an exercise, accountants will struggle to achieve their ambitions before retirement.
Business coach Fran Moscow is well aware of the issue. 'For many professional accountants, looking forward to the final roles of their career can be challenging,' she says. 'They need a clear vision and purpose to achieve their objectives.'
So what are the career options for experienced accountants, and what personal qualities and skillsets are needed?
Opportunities
We live in a fast-changing world. ACCA's 2016 report Professional accountants – the future identifies four broad themes defining that future: globalisation, demanding compliance and regulatory standards, the rapid development of digital technologies, and the growing expectations of employers and clients. To succeed, you need to be aware of the challenges these themes present and adapt your skills accordingly.
The opportunities have never been better. Research by recruitment specialist Robert Half, How to climb the ladder to the top spot, shows that financial experience is one of two key factors in the appointment of FTSE 100 CEOs (the other is industry knowledge): 55% of CEOs have a background in finance and 23% are qualified accountants. The research findings suggest that finance people are more ambitious than ever, with 86% of CFOs aspiring to become a CEO.
Most accountants focus purely on the executive route for career progression. They are thinking of a journey through the management ranks to become finance director (then possibly CEO) or partner. But is there an alternative?
One option, often overlooked, is to seek non-executive directorships. Non-execs play a vital governance role, bringing independent scrutiny to board discussions and executive plans. Accountants are well placed to contribute in the boardroom – financial acumen is highly valued, not least on the audit committee, as is broad business experience. The demand for high-quality non-executive directors is growing across all business sectors, so the role provides opportunities for second careers for senior accountants.
As accountants progress up the organisational hierarchy, their success depends less on technical competence alone and more on a broad range of skills and personal attributes:
The requirements of a modern finance director include good business knowledge, excellent communication skills, resilience and reliability under pressure.
Partners in professional firms must demonstrate industry knowledge, vision and organisational skills, not just accounting or tax expertise.
CEOs need entrepreneurial drive and excellent commercial and strategic skills, so accountants with aspirations to become CEOs will need to demonstrate ability in these areas.
Non-executive directors require a wide spectrum of skills and experience and, above all, an independent mindset.
ACCA's 2016 report confirms that technical skills are simply no longer sufficient for success. It identifies seven 'professional quotients': technical and ethical; intelligence; creative; digital; emotional intelligence; vision; 
and experience. A combination of all seven is required. However, the report also highlights the overarching importance of the technical and ethical quotient – these are the baseline qualities, essential for all accountants, but especially for those aspiring to senior positions where trust is paramount.
A trust model from the Institute of Business Ethics shows this clearly. It says that we judge another's trustworthiness along three dimensions: their ability (technical competence), their benevolence (motives and interests) and their integrity (honesty and fair treatment).
Roadmap to success
Here are five recommendations to help you arrive safely at your chosen career destination.
Build a personal brand. As accountants get more senior, visibility becomes as important as ability. You should work hard on your networks and contacts, while being accessible, responsive and enabling solutions. Searching for external roles requires something extra. 'It is not only a question of competency and operational capability, but also of personal branding,' Moscow says. She encourages senior accountants to ask themselves two questions: how do you show up on social media (LinkedIn, Facebook, etc), and are your achievements and experience visible enough if others are searching for you?
Embrace professional development. Finance professionals benefit from being exemplars here. You should look to bring out the best in your team by encouraging (and being part of) internal training programmes, acting as a mentor and encouraging diversity and debate. You also need plans for self-development including: tailoring your CPD to meet personal requirements, seeking out and learning from others who do things differently, and working with a coach. Crucially, all accountants looking for promotion to the boardroom should invest in courses and qualifications to position themselves better for future executive or non-executive roles. Examples include executive MBA courses run by organisations such as the Cranfield School of Management, and the Institute of Directors' Chartered Director qualification.
Find a cause. Professional accountants stand out when they stand up for something. You should identify an issue that is important to you, develop expertise and promote it wholeheartedly. Examples might be: a commitment to business ethics, including fair treatment for suppliers; the development of real-time reporting and dashboards; embedding a risk-aware culture; or excellence in cash management. Above all, you need to be self-confident and willing to take a stand when it's called for.
Keep up to date with technology. Accountants need to be current to be credible, and fast-changing digital technologies present challenges. Minimum requirements today might be safeguarding data integrity and improving systems efficiency, although these could quickly extend to digital finance, cloud computing or the use of data analytics, depending on business needs. Accountants will have to make greater use of video and social media platforms in the future too.
Hold annual 'personal career retreats'. You should take one day out of your schedule each year essentially to hold a meeting with yourself. The aim is threefold: to be clear about your ambitions, to set learning goals and to formulate the steps you need to equip yourself with the necessary skills for success. You should look to challenge yourself by moving outside your comfort zone. When you do, interesting things will happen.
Steve Giles is an independent consultant, lecturer and author specialising in corporate governance, risk management, internal audit and ethics
"Accountants stand out when they stand up for something – identify an issue important to you, develop expertise and promote it"