Tech and finance have combined seamlessly. Professional accountants must have the skills to understand the transformative power of fintech, says ACCA president Brian McEnery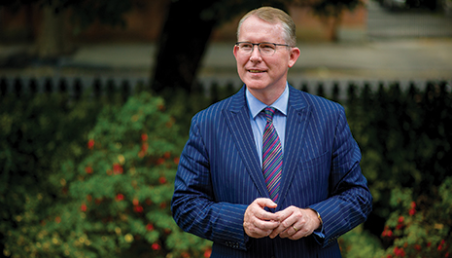 This article was first published in the November/December 2016 China edition of Accounting and Business magazine.
You only have to look at one financial sector to see the fintech transformation – banking. Most banks now have online services, and some have moved from the bricks-and-clicks model – bank branches plus online banking – to just the clicks.
Of course, fintech's rise is not confined to banking services – it covers a wide swathe from lending and financial advice to foreign exchange and payments. And it's proving truly transformative – hence the title of our new report, Fintech – transforming finance (see page 38), which asks where and what next for the accountancy profession and fintech.
Getting to grips with fintech is a must. The ability to manage and use it is increasingly important; having the skills to understand its transformative powers is essential. We accountants need to invest in our own digital quotient. We need to nurture our awareness and application of existing and emerging digital technologies, capabilities, practices, strategies and cultures.
This digital quotient is a necessity because, as we point out in our report, Professional accountants – the future, managing the regulatory, tax and financial implications of the fintech surge offers many opportunities.
We must also be able to manage the disruption fintech causes – the relatively new developments of bitcoin and blockchain remain somewhat untrusted.
Fintech has fallen foul of shocks, too, highlighting the inherent risks. UK-based Powa Technologies, an e-commerce firm that was valued at US$2.7bn, went into administration in February. At P2P lending firm Lending Club, which managed US$1.15bn-worth of funds as of December 2015, the resignation of the CEO over alleged internal mismanagement of loans has highlighted the importance of sound financial management practices.
Our value comes in providing sound analysis on fintech and future developments, from the regulatory landscape to raising capital, and playing an important part in valuations, especially for startups and entrepreneurs.
Fintech will remain a part of our economies and societies, and our role is intrinsically linked to it. Developments will place greater emphasis on the need for forward-thinking professional accountants, equipped with strong digital understanding and vision to guide firms through what lies ahead. Our technological and digital abilities are already much in demand, and I see
a future where they will be needed
even more.
Brian McEnery is a partner specialising in corporate restructuring and healthcare consulting at BDO Ireland
"Developments will place more emphasis on the need for forward-thinking accountants with vision and digital understanding "