Getting to the top takes time, forward planning and a willingness to step into the unknown, says Harry Lorton FCCA, chairman of Bank of Ireland Mortgage Bank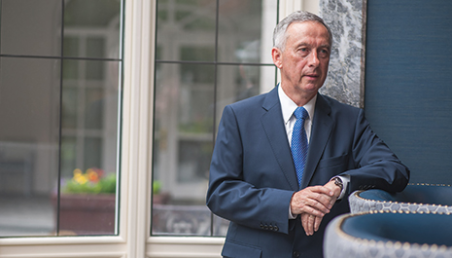 This article was first published in the November/December 2016 Ireland edition of Accounting and Business magazine
There's a line from Mark Twain that neatly sums up the approach of Harry Lorton FCCA to his career: 'Twenty years from now, you will be more disappointed by the things you didn't do than by the ones you did do.'
When he became CEO of the newly formed Permanent TSB back in 2001, it was the culmination of one 30-year journey and potentially the starting point of a new one. For many in a similar position, it would have seemed as though the world was at their feet. Lorton, however, had other ideas. A year after the merger that created Permanent TSB, he decided to follow through on the rest of Twain's famous dictum: 'So throw off the bowlines. Sail away from the safe harbour. Catch the trade winds in your sails. Explore. Dream. Discover.'
Stepping down as CEO, Lorton went on to pursue a variety of senior roles, becoming a non-executive and a chairman of organisations in a wide spread of fields – software, pension administration, law, the car industry and marketing. Sail far enough in one direction, though, and you may well end up where you began. This year, Lorton's career comes, in some sense, full circle, as he takes on a new role in banking, having been appointed chairman of Bank of Ireland Mortgage Bank in early 2016.
Banking on a portfolio
Leaving a high-profile role in Irish banking just as the sector was about to enter its most recent cycle of boom and bust by ramping up its financing of increasingly feverish housing activity, was, Lorton says, nothing to do with any prescience or concern about what lay ahead. 'I'd been CEO of TSB for 11 years, and the task of merging with Permanent was something we concluded over a year and a half period. Having found a home for TSB, and with its market share growing and the future looking positive, I saw it as the opportune time to leave. I was fully aware that if you step down as the head of a large clearing bank without a specific plan to do something else the chances of being invited back are very slim. I had to be very sure of what I was doing.'
After some travel and time spent improving his French and Spanish, Lorton gradually moved into non-executive directorships, drawn to the portfolio career espoused by the business thinker Charles Handy. He joined the boards of a diverse range of organisations, including Royal Liver Assurance, Johnson & Perrott Motor Group and the Independent Trustee Company – all, however, reflecting a longstanding interest in how businesses market their products and communicate to their customers. 'In my time running the bank, I always believed that the CEO was also the chief marketing officer. Every action that occurs in a company has the potential to be customer-related, therefore you have to have the customer in mind at all time. If you, as a company, believe that one of your competitive advantages is that your customer doesn't know something, then you are in real trouble.'
In terms of the skillset required to play non-executive roles well, Lorton says it comes down to a sense of dispassionate concern for the best interests of the company. 'Trust but verify has always been a guiding principle for me. That's in essence the non-executive role – to be sceptical but not hostile. The chairman has the extra duty of making sure that, where a challenge takes place, it is done in a respectful way. So it all comes down to relationships. If a director feels management are hiding things or glossing over events, then trust is at risk, and of course, once that's gone it's very hard to get it back.'
For those interested in becoming board members, Lorton's advice is to 'make sure people in your network know this is something you are interested in. Then make sure you can explain very succinctly what skills you bring to the table.'
In October 2012, Lorton was part of the first cohort to complete the newly launched Certified Bank Director programme run by the Institute of Bankers in Ireland, a qualification he says brought him back up to speed after a decade out of the sector. For anyone interested in serious non-executive roles, 'having something like this qualification or the Institute of Directors' Chartered Director programme is a huge plus. It demonstrates competency to your potential new employer.'
In this brave new post-crisis world, Lorton also has a word of caution for aspiring board members for what they are committing to. 'As a non-executive director, more time must be given to dealing with what can appear to be routine issues but often come with legal obligations. You need to spend north of 20 days per annum on each board. Anything less than that isn't giving it enough time. The old days of a board nodding wisely to executive plans are gone; it's much more interactive and it requires commitment.'
Getting to the top
Growing up in Cork, Lorton joined Bank of Ireland straight from school in 1969 and quickly found a role in its emerging corporate sector. It was an exciting time as technology was coming into the field, allowing banks to appeal to the mass market in a way they hadn't before. His 10 years with the bank saw him win a scholarship to pursue first business studies in Trinity College Dublin and then ACCA – he became a member in 1978. A year later, he took up the role of financial controller with Cork Savings Bank, becoming chief executive of Cork and Limerick Savings Bank, then the first CEO of TSB Bank, and finally the first CEO of Permanent TSB. It's a journey he attributes directly to his membership of ACCA. 'I qualified in 1978 and became financial controller the following year. That would never have happened without a solid well-recognised qualification such as ACCA.' He also became involved in the local ACCA committee in Cork, gaining a national profile when he served as president of ACCA Ireland in 1989-90.
Lorton's tenure as CEO also saw the TSB settle what might seem an unusual question for a financial institution – its ownership. 'In both the UK and Ireland, it had never been fully clear who owned trustee savings banks. They began as local voluntary organisations in 1800s; over time they gained assets, and there was a question mark over who owned them. The customer didn't, as they had a purely contractual relationship with the banks; and the trustees didn't, as that was set out in their constitution. In the 1980s, the TSB in the UK went to the House of Lords to settle the matter, which ultimately held that any extra proceeds were owned by the state. The law effectively applied here too. What it meant was that, if the TSB was ever sold, proceeds would go to the government.'
That clarity set the framework for the 2001 purchase of the bank by Irish Life & Permanent for €430m. As to what followed in Irish banking later that decade, Lorton has little time for those who say we'll never really know what went wrong.
'We know exactly what went wrong,' he says. 'Read the Nyberg report; read the Honohan report: you now know what went wrong. A few years ago academics from the London School of Economics responded to a request from Queen Elizabeth II to give her an explanation of what had happened globally. They described it as a failure of the collective imagination and said it was difficult to recall a greater example of wishful thinking combined with hubris. Everyone was relying on someone else and everyone thought they were doing the right thing. Banks don't give loans if they think they will go belly up, so they genuinely became part of this belief that things would go on for years to come as they were and that, even if they did come to an end, it would be with a soft landing.'
Growth and recovery
This year, Lorton was appointed chairman of Bank of Ireland Mortgages, a role that follows a number of years on its board. While excited to become chair, he sees it very much in terms of stewardship, rather than anything more radical. 'It's a very well-run board in a very compliant company. I don't see myself playing a transformative role as such but I will be trying to ensure we are following the right strategy, with a full awareness of the competitive threats coming down the road.'
While the Bank of Ireland mortgage book is, he adds, in the best shape of any Irish bank's, he knows there is no room for complacency. 'There is a huge amount still to be done. It will be many years before we can all sit back and say either the banks or the property market are as they should be.' Reflecting on the current housing crisis, Lorton says it's going to take years to address. 'Even if everything the government plans is delivered, we will still have housing issues – that's how serious the problem is.'
While the experiences of the past decade have changed Irish people's relationships with banks, Lorton argues that it is technology more than anything else that will forge that relationship in the future.
'If you are a certain category of customer with Amazon in the US, for example, when you click to buy, they'll give you a loan to do so. A whole range of financial services is being disintermediated, especially by the newer, nimbler fintech players. Banks are increasingly going to have to deal with that, and the fact that banking customers are looking around a lot more too. Consumers view us with a kind of contingent loyalty. The thinking is that "I'll do business with you so long as you give me a top-class service across all channels at a price that's right; if you don't, I'll go somewhere else."'
The health of the economy will naturally be vital to the health of the mortgage and property market, and as the interview takes place, a new and unexpected uncertainty has only recently been thrown into the mix. 'Brexit was a very bad decision for Ireland and has already had an impact,' Lorton says. 'Time will tell if it's a bad decision for the UK too.'
As a former board member for the National Competitiveness Council, Lorton warns that we have to be very careful we are to remain competitive. 'The UK has suddenly become a lot more competitive as a result of a weaker sterling. That said, I would still be sanguine that if we keep our heads down and costs under control, we can still be very positive about our recovery and the future.'
Donal Nugent, journalist

"Banks are increasingly going to have to deal with disintermediation, and the contingent loyalty of customers"