The successful integration of IBM's PC division is an ongoing exercise in harmonisation, says Patrick Leung FCCA, Lenovo's corporate chief accountant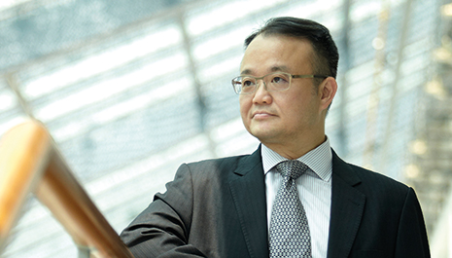 This article was first published in the November/December 2016 China edition of Accounting and Business magazine.
Transparency' and 'balance' are two words that frequently come up in conversation with Patrick Leung, corporate chief accountant at multinational personal technology company Lenovo. Driving growth in what may be the first true Chinese multinational corporation (MNC) requires big doses of both.
'Accounting is a form of art,' Leung tells Accounting and Business from his office at Lenovo's Beijing headquarters, to which he travels frequently from his office in Hong Kong.
Leung is among the few staff who joined Lenovo right after the Chinese company acquired US tech giant IBM's personal computer business in 2005. He was immediately challenged with the convergence of two very different international accounting teams; today, he oversees a global accounting practice that spans more than 60 countries.
Growing up, Leung had an elder cousin who was an executive at Peat Marwick (now KPMG), giving him the chance to see first hand the hard work that goes into making a top-flight professional. 'To some extent, my cousin did influence me to become an accountant,' Leung says. 'I saw him working very hard for very long hours.'
At university, Leung placed a great deal of value on maintaining a balanced life over rushing to pass his accountancy exams, waiting until his first year after graduation. 'Some classmates finished the tests by year three in college,' he recalls. 'But they sacrificed a lot of their time and I wanted a more balanced campus life.'
This search for balance is one he has carried into professional life and which he uses to ensure that Lenovo maintains best-in-class standards of accounting and corporate governance, ensuring transparency, accuracy and and the delivery of timely information. 'The key word for corporate governance accounting is transparency,' Leung says.
Enable but safeguard
At the same time, Leung notes that it is important to strike a balance between enabling transparency while safeguarding the interests of the company and investors. 'If we reveal too much information, it will expose the company to many risks from its competitors,' he says. 'If we don't, the public and external investors will not gain enough information. This applies to all companies in different industries, not just ours.'
The approach appears to be working. Since 2013 Lenovo has received three consecutive platinum awards in the H-share Companies and Other Mainland Enterprises Category of the Best Corporate Governance Disclosure Award, organised by the Hong Kong Institute of Certified Public Accountants.
The company has come a long way since acquiring IBM's PC division, Leung says. At that time, Lenovo was still very much a local Chinese company, while the IBM PC division was a key business within the US-based MNC. 'We really made history,' he says. 'It was the first time a Chinese company acquired a big business like this.'
Leung recalls that, ahead of the first meeting with their new Chinese counterparts, the US team prepared a detailed, 100-page PowerPoint presentation. He realised that for there to be effective communication between the two teams he needed to be decisive and efficient to proceed with the convergence.
'Integration is difficult, especially when we acquire a business overseas,' he admits. 'Depending on how the original structure operates, changes may bring negative impact. Whether » we should integrate all those acquired businesses within a short period of time or give it time is all debatable, but sometimes it may not work'.
Leung's key task for the first two or three years was to develop an initial shape for a new set of accounting practices. One of the biggest challenges he had to deal with was locating the right people to assist him with the integration, which had to take account of not only language issues but also the fact that while Lenovo used International Financial Reporting Standards, IBM followed US GAAP accounting practices. And whenever the two sides couldn't come to a consensus, Leung had to find the balance point again.
Limit surprise
Another challenge was to mitigate the financial impact of harmonisation in order to limit the number of surprise events along the way. 'Whenever we're harmonising, inevitably there will be changes in accounting practices that will have potential financial impact,' he points out. 'For example, the adjustment of depreciation estimates may impact on the financial results by causing an increase in depreciation charge that is likely to hit profit and loss.' Whenever the team made a change to accounting practices, Leung adds, a public disclosure was required. The accounting team also reviews practices regularly to make sure that they are in line with the industry requirements.
The prime objective of the process has been to achieve a standardised practice that can be used in all countries. Under Leung's leadership, Lenovo has developed a unique accounting practice council (APC) to oversee all accounting practices, processes and policies. This is supported by people from different teams around the world.
The APC reviews new standards, examines their impact and decides how to implement them. If harmonisation was the beginning, then the APC is the sustainable model that will keep the process moving.
'For an organisation like us, this kind of structure helps with the standardisation and the implementation of the related requirements,' says Leung. 'Harmonisation is a continuing process. I wouldn't say we have accomplished it yet.'
Overseeing the entire accounting operation at Lenovo is very different from Leung's previous role at PwC. There, his focus was on generating revenue and building his client portfolio. By contrast, at Lenovo he has to not only maintain accounting standards but also manage hundreds of staff from different functions and backgrounds. All require both long-term planning and cost control.
'At PwC, the way I interpreted the accounting standards was from an auditor's perspective – 100% perfection for every detail,' he recalls. 'But at Lenovo, I need to strike a balance, be practical and give consideration to different stakeholders and business owners at the same time. Then, I was managing revenue; now I'm managing costs.'
The hardest part is to drive down costs wisely and carefully. In 2015, Lenovo launched the largest restructuring programme in its history, leading to a better cost structure and savings of US$690m in the second half of the year. That effort was not just about cutting costs but also about reallocating resources and reconfiguring the company structure to improve efficiency. 'People would normally associate restructuring with cost reduction and layoffs, but I think it's about redefining the scope of the work of your staff; that should be the priority,' Leung says.
Leung also offers advice for the growing number of Chinese companies that are now engaging in merger and acquisition deals abroad. Due diligence is key, he cautions: 'Either do it yourself or hire third-party accountants to make sure you don't end up buying a company that's not what you're expecting.'
Cornelia Zou, journalist
"Harmonisation is a continuing process. I wouldn't say we have accomplished it yet"