A 2016 ACCA report identifies the 100 fast-growing Chinese companies that are 
most likely to outperform others in emerging and developed markets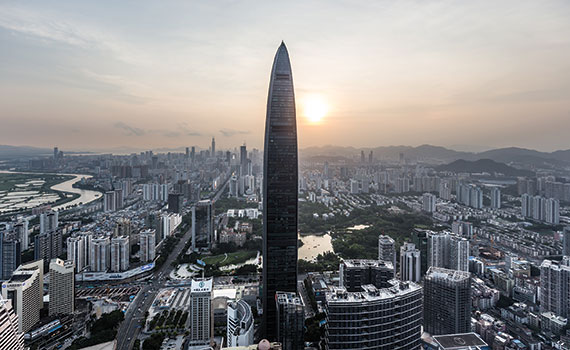 This article was first published in the January 2017 international edition of Accounting and Business magazine.
A downturn in the local or global economy is often cited as a reason for disappointing business growth. But some companies can and do achieve high growth rates in spite of this – and many of them are currently to be found in China.
As the 2016 edition of China's next 100 global giants shows, dramatic revenue increases are being achieved – and over a sustained period of time. The ACCA report, written by academics at Lancaster University in the UK, assesses a range measures of performance and competitiveness to identify China's emerging global success stories – those businesses most likely to follow in the footsteps of the likes of consumer electronics and home appliances giant Haier, technology multinational Lenovo and e-commerce enterprise Alibaba.
The 100 companies identified as likely future global giants all generated at least five consecutive years (2010 to 2014) of annual revenue growth of between 12.2% and 63.4%. Given that the Chinese economy for the same period grew by between 5.5% and 6.5% per year, even the slowest growing of the 100 ranked companies expanded at double the pace of national GDP, while the fastest achieved 10 times national growth rates.
That highest rate of growth (63.4%) was achieved by Huapont Life Sciences, a manufacturer of pharmaceuticals, pesticides and active pharmaceutical ingredients. Perhaps not surprisingly, the company tops the 2016 rankings, moving up from second place in the first such ACCA study, published in 2014. Second place in 2016 went to Hongfa Technology, a manufacturer and vendor of relays (electrical devices that switch electrical circuits on and off), which achieved revenue growth of 58.5% over five years and moved up five places from 2014.
Overall, however, the 2016 emerging global giants were found to be growing more slowly than those listed in 2014. And their ability to sustain extremely high growth in future will be reduced, the researchers noted, by the continued sluggishness of the economies of China and the rest of the world.
Models for growth
Sustained revenue growth is not the only factor determining placings in 2016. The researchers also used four other measures: size (based on turnover), domestic presence, international presence and the business model. When assessing a company's international presence, the researchers considered not only export markets and export sales, but also international acquisitions, partnerships and presences, including logistics hubs and design and research and development (R&D) centres. They looked at business models and strategies on the grounds that getting these right is essential for business success and growth.
By scoring all these factors, the researchers produced their list of the 100 fastest-emerging Chinese businesses that they believe could become major global competitors within the next three to five years. Based on the average growth rate of 16.3%, the typical top 100 business could have turnover of RMB12bn (US$1.74bn) by 2020, while many could achieve almost RMB30bn (US$4.35bn) – well ahead of the average turnover in 2016 of RMB5.7bn (US$0.83bn).
'These emerging global giants will increasingly influence the future of business life,' says Faye Chua, head of business insights at ACCA. 'As well as growing domestically they will be expanding across borders, generating global revenues and building partnerships with other multinational businesses. Finance professionals might want to keep an eye on these emerging giants in order to anticipate and understand business trends and help to create powerful business relationships.'
Diverse businesses
The top 100 come from diverse sectors. The largest number (21) operate in computing and communication equipment, but other well-represented sectors include chemicals (12), electronics (10), equipment and machinery (8), internet and information (7), metal and non-metal products (7) and pharmaceuticals (6). In total, 18 companies are operating in non-tangible markets, including digital, services and advice.
The 100 next global giants are based in various parts of China, but many have headquarters in the country's major cities or along the eastern coast, reflecting the extent of economic development in these areas. The researchers did find an apparent shift southwards, with an increase in the number of companies headquartered in Shenzhen (from seven in 2014 to 11 in 2016), and a fall in the number headquartered in Beijing (from 17 to 13). This is seen as reflecting the growing economic significance of Shenzhen, which is closely connected to Hong Kong and to the world economy.
Almost all the companies are very strong, if not dominant, in their domestic markets, creating what the researchers call a 'home base' for globalisation. Many have proven their business models at home, building market share and power domestically before looking to increase their presence overseas. The researchers also found evidence that some companies were re-focusing back on China, probably in response to lower growth elsewhere, an overall decline in trading conditions and relatively strong demand in China. Overall, however, the 2016 next global giants are more 'outward facing' than those of 2014, with one third being highly internationalised.
A greater number are acquiring international businesses to gain access to expertise and technology. Much of this activity is focused on the US and Europe, fuelled by international profits, the accumulation of significant corporate cash holdings, and the improving availability of funds within China. For example, Ctrip International, identified by ACCA as one of the 100 global giants in 2014 and 2016, recently announced its acquisition of Scotland-based airfare comparison website Skyscanner for US$1.7bn.
In terms of strategy, the researchers also found signs that more of the 100 companies were focusing on R&D, product and service development, integration of value chains and being more innovative. As a result they were becoming more competitive and were improving their ability to sustain growth.
'Their growth outstrips global growth considerably,' says Andrew Atherton, one of the report's authors, a professor of enterprise at Lancaster University. 'And they have sustained a track record of hyper-growth over many years. Their future prospects appear bright, and they look very likely to outperform businesses in other emerging economies and in the developed world – in the latter case, by quite some margin.'
Nevertheless, predicting the next global leaders of the business world is inherently difficult. Of the 2016 emerging giants, fewer than half (46) were also listed in the 2014 study. The majority are newly identified businesses making their presence felt in China and further afield. The changing membership of the ranking indicates the dynamic, competitive nature of the business environment in China and the challenge of remaining a high growth generator.
Sarah Perrin, journalist
Top emerging companies in China
| 2016 rank (2014 rank) | Company name | Revenue (RMBm) | Revenue growth (2010-14) |
| --- | --- | --- | --- |
| 1 (1) | Huapont Life Sciences | 4,867 | 63.4% |
| 2 (5) | Hongfa Technology | 4,063 | 58.5% |
| 3 (2) | Hangzhou Hikvision Digital Technology | 17,233 | 38.5% |
| 4 (new) | Zhejiang Unifull Industrial Fiber | 2,479 | 37.0% |
| 5 (new) | Sanan Optoelectronics | 4,580 | 41.0% |
| 6 (-5) | Jiangsu Hengtong Photoelectric Stock | 10,444 | 34.7% |
| 7 (63) | Shunfeng International Clean Energy | 35,408 | 39.5% |
| 8 (-5) | Zhejiang Dahua Technology | 7,332 | 40.5% |
| 9 (new) | Bitauto Holdings | 2,442 | 40.5% |
| 10 (new) | Suzhou Dongshan Precision Manufacturing | 3,524 | 35.8% |