The term 'unicorn' has pranced out of fairy tales and into the realms of business. So what does a modern-day unicorn look like?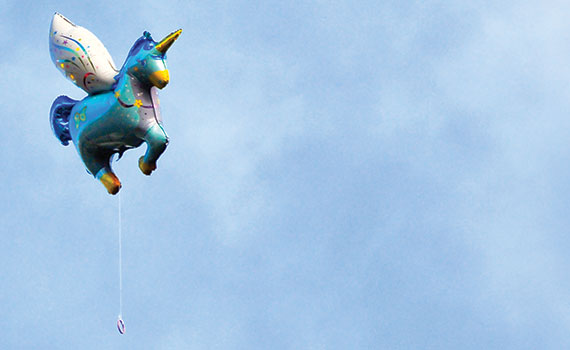 This article was first published in the January 2017 UK edition of Accounting and Business magazine.
Unicorns are elusive creatures, complex to define as they come in so many different forms. But their common denominator is that they are unlisted startups with estimated values in excess of US$1bn – often fast-growing technology businesses. According to research outfit GP Bullhound, Europe has 47 of them, including 10 that gained the designation in 2016.
So what do they typically look like? One of the latest unicorns to emerge is Anaplan. It crossed the magic threshold in early 2016 when it raised US$90m, valuing the company at US$1.09bn.
Around the same time it became an official unicorn, Anaplan also gained a new CFO: Silicon Valley veteran James Budge. Anaplan's technology is a planning and performance management platform, with more than 140 applications aimed at integrating enterprise planning processes. And although the company was born in a Yorkshire barn – and still has R&D in York – it is now headquartered in San Francisco, nestled next to dozens of other tech companies. Budge joined because he had become so enamoured with its product. 'The Anaplan technology was the only solution purporting to integrate the end-to-end planning process of an organisation, and I received loads of great references from many colleagues,' he says.
Shrugging off the label
Budge is cautious about the unicorn label. 'It was a cool name near the end of 2015,' he says. 'Then toward the beginning of 2016, "unicorn" seemed to become synonymous with a grow-at-any-cost and wasteful spending culture, including some business models where profit was perhaps never likely.'
Anaplan's business model is all about growth. Budge explains: 'We are a KPI-driven culture. We are certainly a growth company, so several of our KPIs [key performance indicators] centre around maintaining our growth profile, but long-term sustainable growth and profits also matter to us, so we supplement our short-term aspirations and KPIs with development goals and profit-based metrics that will help us build toward our long-term objectives. We want to be known as a growth company for many years to come. Profits matter, but they don't matter as much as growth.'
And what growth! Anaplan's revenue for 2016 will be over US$120m, up from US$71m in 2015, and US$35m in 2014. In April 2016, CEO Fred Laluyaux left, and since then Budge has also acted as an interim co-president, along with chief revenue officer Paul Melchiorre, but the change has done little to dent the pace of progress. Anaplan has 650 customers, with 85% of its revenue coming from Global 2000 businesses. Its customers get a platform that enables planning and performance decision-making in every area of the business.
'Planning in large enterprises has traditionally been stitched together within a maze of cumbersome and poorly thought out Excel files,' says Budge. The finance department is tasked with stitching these together and then trying to mend the maze as it breaks when, for example, assumptions change. In contrast, Anaplan is an integrated planning approach, which should not break and where the plans can be stress-tested against corporate objectives throughout the year. The fact that large enterprises are using it suggests it works.
'Our customers remain excited about what Michael Gould built from 2006 to 2011, and they have shown a desire not only to remain Anaplan customers, but to expand their use cases across more departments at record rates.'
To drive progress, the company has three linked metrics: faster product delivery (faster to market, more code and features), which requires greater R&D spend; improved sales productivity; and profitable growth. Those three goals spawned 14 KPIs, with Anaplan's seven major functional areas producing their own key metrics. These included feature/upgrade release and system uptime targets, bringing the salesforce up to speed more quickly, improved management performance, and so on.
Being pragmatic
As co-president, Budge's short-term goal is organisational alignment around Anaplan's most important goals and KPIs. As CFO, he spends considerable time with investors and strives for transparency with all stakeholders. 'I am a big fan of transparency. I find it empowering and the result more often than not is much improved decision-making and speed. I would rather be right 90% of the time and move things along at three times the speed than waste time on cycles seeking 100% perfection.'
He is equally clear about the need to produce great financials as well as great tech: 'The ability to demonstrate profits and produce cash speaks to the long-term viability of any organisation.'
Anaplan is cashflow-breakeven, which Budge says is much more important than P&L-breakeven, which will come later.
There will ultimately be an initial public offering (IPO) – Anaplan needs a CEO in place for at least two quarters for that. But the company has the revenue, the annual growth and the market. Aging business intelligence solutions masquerading as planning tools are used all over the world. If Anaplan convinces more corporates to switch to its platform, its success would make today's valuation look like small change.
Peter Williams, journalist
Most valuable unicorns
| Company | Valuation (US$bn) | Country |
| --- | --- | --- |
| Uber | 68 | US |
| Xiaomi | 46 | China |
| Didi Chuxing | 33.8 | China |
| Airbnb | 30 | US |
| Palantir Technologies | 20 | US |
| Lu.com | 18.5 | China |
| China Internet Plus Holding | 18 | China |
| Snapchat | 18 | US |
| WeWork | 16.9 | US |
| Flipkart | 16 | India |
| Spotify | 8.5 | Sweden |
| Skype | 8.5 | US |
| Zalando | 8.1 | Germany  |
| Markit Group | 6.2 | UK |
| King Digital | 5.6 | Sweden |
| Rightmove | 5.6 | UK |
| Sources: GP Bullhound, Statista, CB Insights |   |   |