ACCA Ireland's chair, Etain Doyle FCCA, discusses her aims for her year in office and how she is passing on the lessons she learned as Ireland's first regulator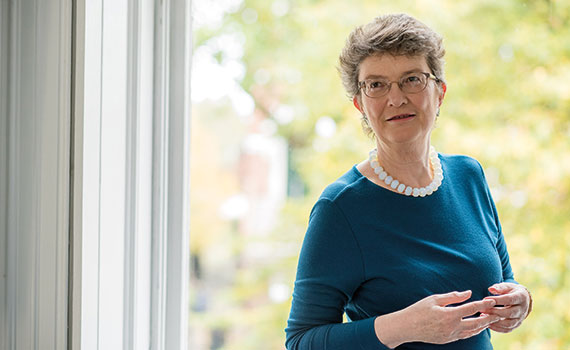 This article was first published in the January 2017 Ireland edition of Accounting and Business magazine.
It is 13 years since Etain Doyle FCCA stepped down from what was arguably the most high-profile role in her career – a veritable eternity ago in political and technological terms – yet many, on hearing her name, still link her to the role. Doyle was charged with setting up the then Office of the Director of Telecommunications Regulation (ODTR), later ComReg, in 1997, steering it through its turbulent, formative years.
Frequently making front-page news, and often before the High Court, ComReg's task was to deregulate a telecoms marketplace that had, until then, been dominated by a state monopoly. In the process, Doyle was also setting out the framework for a rollout in Ireland of technologies now not only taken for granted but utterly indispensable to modern life, from DSL (digital subscriber line, the technology used to transmit data over telephone lines) and digital TV to broadband and 3G.
'People still associate me with ComReg and there are a number of probable reasons for that,' Doyle, now chairman of ACCA Ireland, observes with a wry smile. 'Firstly, I was the first of these odd things called regulators that the state had never had before. Prior to the setting up of the ODTR, there was a question mark over whether competition could actually work. When people thought telecoms they thought of Telecom Éireann, and when they thought broadcasting they thought of RTE. The idea that these were fundamentally consumer services was not generally understood. Secondly, I was operating in the communications industry, where there were powerful players who were very happy to make their views known about what I, as regulator, was or wasn't doing. A third important factor may have been that the ODTR set up a website very early on, which was pretty innovative at the time. As a matter of routine, we would put consultation papers and decisions online. That gave journalists immediate access to a lot of information in a way that wasn't commonplace before.'
Legal challenges
ComReg would frequently find itself in the crossfire as the incumbent market provider and emerging challengers wrestled for competitive advantage. 'I don't pretend that, with a magic wand, I solved everything, but a lot of things did move on in those first years,' Doyle reflects. 'Relatively early on, we got a lot of major issues out of the judicial area and into being solved by ComReg. I was sued many times, but barring one case on mobile phone licences that I lost in the High Court and had overturned by the Supreme Court, I never lost a High Court case. My team did a very good job in often very difficult circumstances. Regulation was put on the map and people came to understand that competition could deliver higher quality and better prices.'
It's a sign of how far the world has moved in a relatively short period of time that one of the most polarising early issues now seems like something from another era entirely. The issue of licensing deflector operators, who for years had brought British television to homes in rural Ireland, had been going on for a decade. 'One of our first successes, after some very difficult negotiations, was to get this sorted. As satellite and digital TV arrived, the issue faded, but it was so contentious at the time that a TD had been elected on the matter. If we hadn't solved it, you'd have to wonder if the office would have survived.'
Career ladder
Growing up in Dublin, Doyle studied history and politics at UCD before beginning a career that would mix a variety of civil service and private-sector roles at home and abroad.
Ireland had just joined the then European Economic Community when she gained her first post, in agricultural finance within the Department of Finance, a placement that happened in part thanks to a policy of not putting people with farming backgrounds into such roles. While it left her with a steep learning curve, it also put her at the heart of a country adapting to its new relationship with Europe.
'I was very lucky because I was dealing with what was one of the few very dynamic sectors at the time. People had a picture of Ireland as being full of small, unproductive farms, but there was a relatively small number of very well-run farms that produced the vast bulk of our agricultural produce. So while the average figures for farm productivity looked dreadful, they masked this go-ahead and progressive group.'
Less surprising was the fact that she also found herself in an 'astonishingly male world. The marriage bar had only been abolished the year after I joined and, in the history of the state to that point, there had only been two women who had held very senior roles in the civil service. It wasn't an especially welcoming environment, but my view was that it wasn't going to be much easier anywhere else.' Her historian's hat comes on as she analyses why this situation prevailed. 'The political administration in the Irish state had a zero-sum-game view of jobs. It didn't matter if a woman was better qualified; if a woman had a job it meant that a man didn't. I'm very glad those days are gone.'
The gradual realisation that an arts degree might not be a passport to success in an environment where colleagues routinely boasted masters and PhDs in finance and economics led her to pursue ACCA in the early 1980s. 'I decided I would do accountancy so as not to give anyone any reason to overlook me,' she recalls. 'It proved to be a great investment because ACCA has been hugely valuable to me throughout my career. I think many people still have the view of accountancy as sitting at a computer looking at spreadsheets, but it has a much broader focus in terms of strategic planning and leadership. The evidence of that is the rising number of CEOs who come up through the finance route.'
That said, a grounding in the arts has proved useful too. 'The study of history has been very valuable to me and not just because it gave me an understanding of my own country and many other countries. It also gave me a capacity to consider different accounts of the same event and to understand why one writer might view things one way, and another differently. A lot of life in whatever context is about engaging with people and assessing their views, reading material and seeking to come to conclusions about it, or finding appropriate information to make decisions.'
Newly equipped with ACCA membership, Doyle's career took a number of interesting turns in the late 1980s and early 90s. In 1993, after four years of leading the Irish bilateral aid programme, she took the job of setting up and managing the monitoring and evaluation agency for EU aid in Russia, a role that took her to Moscow and provided a unique perspective of Russia and Eastern Europe as they opened up to capitalism and change following the collapse of the Soviet Union.
Following this, she worked briefly with the international division of the Electricity Supply Board, which was involved in international projects on the liberalisation of energy markets, before seeing an advertisement for the new role of regulator of telecoms in Ireland. The rest, as she notes, is history.
Knowledge transfer
After stepping down from her role in ComReg in 2004, Doyle took a decision that surprised some. 'I'd spent seven years dealing with the nuts and bolts of the delivery of content and I thought it would be interesting to get some understanding about its creation. I applied to a film school in New York and was accepted. Some people thought I was aiming to be the next Scorsese, but it was really about taking some time out for myself. There was also the fact that, by going to New York, I wouldn't find myself walking down Grafton Street being asked by someone what I thought about the latest move on the interconnect rate. You do a job to the best of your ability and then, when you leave it, you should be done with it.'
Returning to Dublin, Doyle relished the opportunity to make a fresh start, choosing a route that drew positively from past experiences as an executive coach and mentor. 'In one way or another, I've been involved in an awful lot of startups over the years. I've always realised you've got to have a team, you've got to give them the opportunity to learn and you've got to set up processes. Things are most likely to go wrong are at the human end.'
Doyle describes mentoring and coaching as related but slightly different. 'Mentoring involves working with someone who has developed to a certain level and wishes to talk to a more experienced person to gain insights and advice on how to handle issues. Coaching moves a step further, with the coach providing a framework of probing questions within which the coachee can develop their own solutions to problems. Most CEOs have been dealing with complex projects for years, so they do not daunt them, but they might be unsure of what to do about a particular HR or departmental issue in a company. Getting them to focus on questions that are important but not screamingly urgent is a considerable help to them. They also appreciate being able to talk about issues they can't talk about with anyone else. At no stage are they going along for a nice chat. If it's a nice chat, you're not playing your role as a mentor.'
Having worked with CEOs throughout the recession, Doyle reflects that 'the people who have come through it have such a wealth of experience that nothing will ever faze them again. People who never had to let someone go before had to make a whole department redundant; people whose whole reason to be in business was to grow and expand found themselves in positions where they were trying to retrench and hold on. My role wasn't to advise on particular actions, but to draw attention to what they could look at and what could give them the capacity to survive.'
After becoming a member of ACCA in 1985, Doyle admits she played little part in the organisational side until she joined the Business Leaders Forum a few years back. 'I found I was enjoying it greatly and then was asked if I'd like to run for ACCA Ireland chairman. My first response was "no", but then I thought "why not?" I'd never run for a position before. I'd never done any of this stuff, so why not give it a go?'
Doyle has set a number of goals for her year in office. 'Firstly, I believe it's hugely important that we challenge any negative view of accountancy among young people. Secondly, as the world is changing, the whole regulatory framework is changing. Technology is impacting greatly on how accountants do their work and our CPD needs to take account of that. Working with the Ireland committee, we are running some excellent seminars on areas such as data analytics and how they apply in the accounting world.' A third goal is to support the initiative of getting ACCA members on organisational boards. 'There are huge benefits for companies having members with accountancy qualifications. We have a website set up, and I'm very keen to see that develop and to provide support.'
After the intense years of ComReg, Doyle has strived for a better work/life balance in her career since then. She acknowledges, however, that 'as soon as I step back from one role, another comes to fill the void. At the moment I'm not looking for anything more. That said, I think my career has shown that I don't have a problem with saying, "Just because something is new, it doesn't mean I won't look at it".'
Donal Nugent, journalist
"Regulation was put on the map and people came to understand that competition could deliver higher quality and better prices"