Accountant and life coach Sean O'Leary FCCA talks about the many different careers an accountant can have to feel happy and fulfilled while applying their professional skills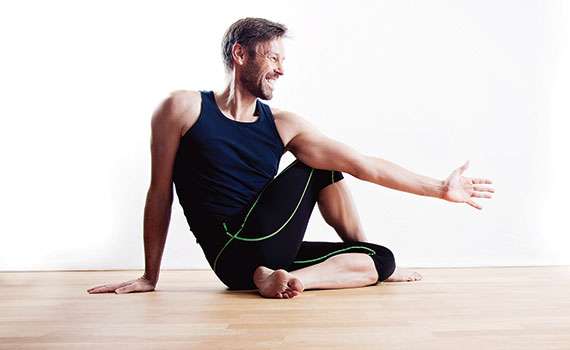 This article was first published in the January 2017 UK edition of Accounting and Business magazine.
Downward-facing dog and cow face are not terms you'd normally associate with the world of accountancy. But then Sean O'Leary FCCA has enjoyed a career that has been far from normal, encompassing practice partnership, property crashes, world travel, wellness coaching and his own form of yoga instruction.
Sitting relaxed with a trim beard and slim figure, O'Leary exudes an aura of calm and contentment. This stems in large part from his years of dedicated yoga classes and teaching. Although now in his 50s, he is supple enough to stretch and contort his body into all sorts of shapes and positions – similarly reflecting his career path, which has taken many twists and turns.
He still works in the offices of Ward MacKenzie, the accountancy firm he helped set up 25 years ago in Tunbridge Wells. But rather than overseeing the expanded team, he is simply renting office space. It no longer reads 'senior partner' beneath his name, but 'life and business strategist, collaborative property professional, investor'.
'I teach a few of the guys here yoga and do a bit of wellness coaching for their clients,' says O'Leary. 'But other than that, I no longer have any business connections with the firm.'
O'Leary set up the practice in the early 1990s after training at a small firm in Sutton in Surrey called Turpin Barker & Armstrong, where he was made partner at just 26 years old.
Direct approach
'It had always been my plan to set up a firm,' he says. 'At Ward MacKenzie we did quite well and were pretty innovative for the time period. The profession was quite staid, so we challenged the norm by doing direct marketing. We even had our own marketing manager, despite just being a team of five or six people. It was an exciting time for me with a young family and growing a startup.'
But after six years, and as the firm became more successful, O'Leary took the brave and ultimately rewarding decision to step away from it all and go travelling with his family for a year around Europe and the US.
'We put the kids (all five of them) in a seven-seater car and took off with a rough itinerary, staying in campsites and youth hostels, with the odd five-star hotel to recover. It was great to spend time with the family,' he enthuses.
Upon their return, the family moved back to O'Leary's home country, Ireland, where he took up a management post at KPMG. He was the interface between the partner group and the managers. But his time there only lasted six months. 'It was sold to me as being a very senior role, but I didn't really have responsibility for people or resources. It was quite frustrating, but gave me insight into the workings of a large organisation and I met great people there.'
Once again, his entrepreneurial spirit kicked in and he set up his own recruitment firm, SOLV Group, despite having no experience in that sector. 'I applied some of the principles I'd learned when setting up Ward MacKenzie, including identifying the market, what clients needed and what they weren't getting, such as not being kept informed when they went for a job.'
O'Leary created an employees' and employers' charter, outlining the services they provided and what was required. It proved successful. But then the dot.com crash hit in 2000 and pretty much overnight the recruitment market dried up.
'That was hugely challenging,' O'Leary explains. 'It required all of my accounting skills to try and fix the resulting problems. I had trained in insolvency before I qualified, which helped when I had to restructure SOLV, selling off parts of the business and closing other bits down.
'This was my first professional setback and required me to appoint a liquidator, which was painful. It was a big lesson after believing I was invincible.'
O'Leary was also feeling disillusioned with Ireland at the time, so he returned to the UK. Again, he decided to set up his own business; again, in a field that he had little experience in. This time it was property development finance.
'I put together a product that helped developers raise funding from a mix of bank and private finance,' he says. 'This then led to me working with someone I knew as a shareholder and finance director of a development business. We brought in some finance and independent shareholders, and by 2008 we had built up about 21 sites on our books.'
Unfortunately, lightning struck for a second time. The financial crisis hit and it was suddenly not a good time to have a number of properties. Once again, O'Leary had to utilise all his accounting skills to deal with the situation. A number of their subsidiaries went into special measures with the banks, while they finished, sold off and rented the other sites.
Getting a grip
'It was very challenging and it was the stress of this that led me in my late 40s to think about breaking the pattern of my life. I had got pretty overweight, I drank too 
much and realised I didn't like the place I had come to,' says O'Leary.
'I initially worked with a teacher on the traditional Iyengar type of yoga, which is a slow, spiritual alignment-based form full of "omms" and chanting. I then moved on to a more physical Ashtanga style yoga class, taught by a former punk rocker. I still practice with both occasionally.'
O'Leary now teaches his own form of yoga, incorporating both styles, to business people in their 50s and 60s. He also changed his diet dramatically, losing three-and-a-half stone in the process. This led to him taking a diploma in personal performance coaching and studying neuro linguistic programming. He is now a life and business coach.
'I work through a programme with my clients on the personal side that addresses the fundamentals of wellbeing, covering nutrition, sleep, relationships, connections, etc. This then inevitably often tips over into a business relationship.
'Clients ask me to look at their business and make improvements. They appear successful on the outside, but there's often something missing, usually meaning or purpose. I then work through a model I've created tackling the purpose of the business, if they've got the right people buying into that purpose, and the right processes. Once those are sorted, then come the profits. The final stage is posterity.'
On top of all that, O'Leary still works in property finance, blogs on life issues and has written some e-books.
'Everything I do now is about a good work-life balance. If you don't look after yourself physically and emotionally, no matter how hard or tough you are, you're simply not going to perform at your best.
'My ACCA Qualification has given me a professional, ethical framework and analytical prism through which to examine any of my goals and challenges.
'The most important question to ask yourself is why do you do what you do. If you can understand that, you might end up choosing to do something quite different.'
Chris Evans, journalist