As finance director of The Ritz Hotel, Tara Ridgeway FCCA finds many advantages to spending her working day in the luxurious surroundings of London's most iconic hotel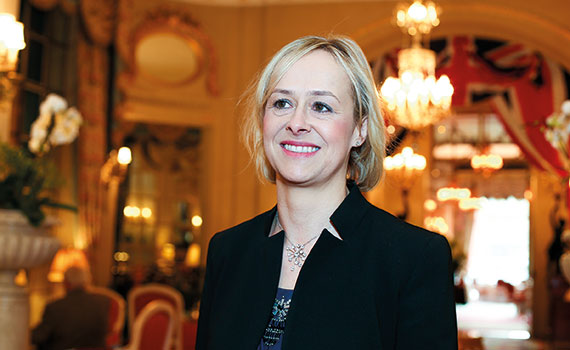 This article was first published in the January 2017 UK edition of Accounting and Business magazine.
The Ritz in London is one of the world's great hotels. It prides itself on legendary service and being a byword for luxury and elegance, and is as iconic a symbol of London as Big Ben and Tower Bridge. 'It is a very special brand,' says Tara Ridgeway, the hotel's finance director. 'I still walk in every day with awe – you can never tire of seeing such a wonderful building.' A stay in a Ritz 'signature suite' comes with a butler whose job it is to ensure guests' wishes are fulfilled. And we're not just talking tickets for the opera or Wimbledon's Centre Court; this in the past has included a warship and a couple of Lipizzaner horses.
The Ritz – which in 2016 celebrated its 110th anniversary, as well as being awarded its first Michelin star – is run by the general manager, Sal Gowili, who reports to the CEO of Ellerman Investments' hotels division, with the help of a six-strong leadership team that includes Ridgeway.
She praises the 'wealth of knowledge' of that leadership team. 'We can make the decisions on how best to run the hotel for our guests, whereas lots of other hotel chains will have restrictions on the signature service offered.'
She cites the 2014 investment in an induction kitchen, the first of its kind in a hotel in the UK, and new suites – The Green Park and The Piccadilly – opened in recent years. While it retains its classic Louis XVI style, the subscription TV, unlimited Wi-Fi and free phone calls to 10 top destinations across the world ensure the hotel functions in the 21st century.
Ridgeway notes how the ownership structure allows for ease of decision-making over the direct investment required by the hotel. This is in contrast to the bureaucratic hurdles faced by some hotel chains to secure funding.
The roster of regular meetings includes a monthly presentation and discussion of the results, and a daily 9am meeting to run through key events such as guest arrivals and departures, and food and beverage bookings in the restaurant and Palm Court. She says: 'It helps me understand who is in the building, and I need to be aware of guest requests, such as the need for petty cash for the butlers to go and buy extra flowers for an arrangement.'
Also at that daily starting point, Ridgeway presents the previous day's and month-to-date figures, broken down by room, where the key indicator is revenue per available room; by restaurant cover; and by average spend. At other times she will go through weekly forecasts. 'The idea is that everyone is aware of where the business is.' Sad news for those who would like to peek at the financials for The Ritz London – nothing is publicly available.
While the rest of British business may worry about uncertainties, as finance director Ridgeway can take comfort in the hotel's enviable repeat business, which protects it to an extent against the economic shocks that lesser commercial entities may feel. 'We have more repeat business than any other hotel chain I've worked in. Last year was a great year for London, and for the hotel.' A key external factor was sterling's devaluation – although room guests can choose which currency they pay in. And departing guests are always asked – subtly of course – when they are likely to return.
As well as her role in the leadership team, Ridgeway ensures the smooth running of the hotel from a finance » perspective. She joined The Ritz in June 2014. Despite her vast experience of hotel groups (see CV box) – at Guoman & Thistle Hotels she was responsible for six establishments with finance teams in each – before The Ritz she had never worked inside a hotel. 'I did have a base in each but it is very different being permanently located in one. Here I'm responsible for running the hotel on a day-to-day basis, and being based here means it is possible to give an extra level of service to the general manager and other team members, and to add value directly.'
Ridgeway has always sought out challenging roles in her career, and has always been keen to foster and mentor talent. In joining The Ritz she has repeated that pattern. She has brought in new members of the finance team, encouraging them to be open and communicative with the rest of the business, and has developed the reporting and the decision-support analysis. 'I get a great deal of pleasure in developing people. It's true that you are only as good as the people who work for you.'
But that desire to develop runs deeper than just finance colleagues. 'I have also worked on finance training for the department heads to improve their commercial acumen and ensure they understand their P&Ls.' Ridgeway has enabled them to develop their own budgets for 2017 to drive their departments forward from a financial perspective.
Part of the reporting revamp has included looking again at the daily report so that the results are in sharper focus, allowing the hotel team to decide where to focus resource and effort. 'This is useful from an upselling perspective. We have the levers to drive the business in the right direction.' A cancellation in the salon? Never mind, the concierges can be informed so they can suggest to guests that there is an opportunity for special treatments they may like to try.
Heading the finance function, Ridgeway has a financial controller and a further five members on her team. She likes to view the team as efficient, using shared drives for file working and working hard to be sustainable through initiatives embracing paperless reporting. And she wants the team to think further than just finance, encouraging them to be involved in projects, for instance, where they can be pushed.
Founder César Ritz was keen on innovation. He was the first hotelier to install the early 20th-century version of central heating, and his successors are still embracing the latest technology. Ellerman Investments' operating companies share a finance system that enables monthly head-office consolidation. The group – including The Ritz – went live with a new package, PS Financials, on 1 October 2016. To ensure all was going smoothly Ridgeway worked over a couple of weekends. 'While never dull or quiet in finance, it has been particularly busy. If you have your processes in place it should not be a difficult transition. Fortunately, I have implemented finance systems at previous companies so I did know what needed to be done. There are always a few teething issues, but nothing of any significance.'
Walking the floor
Working in a hotel guarantees there is no such thing as a typical day. For Ridgeway the 9am meeting is the only consistent factor. Apart from that, work could be establishing the credit worthiness of a new client, handling a guest's query over an upcoming function, dealing with suppliers, organising payment runs. And perhaps it comes as no surprise that you won't find Ridgeway in her office – at every opportunity she is walking the floor, visiting the various departments. 'It is such a beautiful building, and it is always interesting to see what functions are on.' She is on hand to take over photography duties for a guest struggling with a selfie. And when we were walking around the corridors, her eye for detail picked up a scrap of paper that was spoiling an otherwise pristine, blue-carpeted corridor.
Ridgeway was interviewed by AB in 2012. Before joining The Ritz, she was finance director of Guoman & Thistle hotels, with responsibility for six hotels (five four-star, one five-star), six direct reports, a financial controller in each establishment and an overall finance team of 45. She admits: 'It was very different from here but I decided that if I was ever going to work in one hotel, this would be the best one to do so: British, in a great location [it is the only hotel on Green Park, and Buckingham Palace is down the road]. It is on everyone's bucket list – everyone wants afternoon tea at The Ritz.'
Special guests
Hotels, and this hotel in particular, have crept into her blood. 'You either love or hate hotels. As a finance professional you can work in any industry: the principles, fiscal obligations, the reporting are the same. But in hotels you have the guests, which bring a fabulous element to daily life. It makes it special.'
Ridgeway does not deny she is driven. 'I said it in 2012 and it is still true today: I love adding value to an organisation, working with the management team to see how it can be developed commercially as well as operationally.' She is upfront about her personal targets too, which include taking on non-executive director roles. And she has an outstanding goal of reaching CFO by the age of 45 and managing director or CEO in the longer term.
Although she has encountered no discrimination, Ridgeway admits it can be challenging being a woman in business. 'As a woman you do need to be more considered in how you react. Industries are generally male-dominated. Generally, however, the glass ceiling is coming down.'
Among its many claims to fame, The Ritz was the first hotel to allow ladies to be unaccompanied. Even the boldest of those ladies might have been surprised to see a woman in the top finance role. But The Ritz, like any other business, needs the best FD it can find, male or female. And in Ridgeway it has one of five-star quality.
Peter Williams, journalist
"We have more repeat business here than at any other hotel chain I've worked for"