Technology is transforming the way cars are driven and connect with the outside world, producing new business opportunities for companies operating in Ireland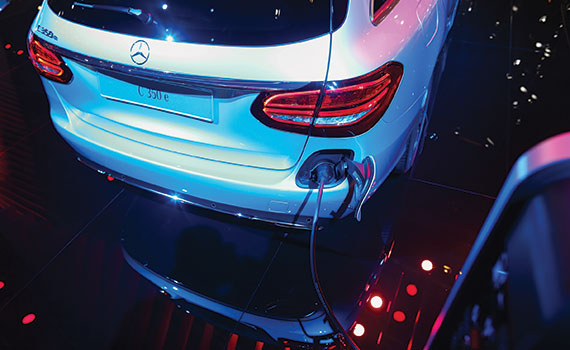 This article was first published in the February 2017 Ireland edition of Accounting and Business magazine.
The word 'revolution' is overused. But the changes affecting the automotive industry are genuinely revolutionary. Profound technological developments are taking place that are fundamentally reshaping the nature of car manufacture as well as the driving experience.
Management consultancy McKinsey calculates that today's car has the computing power of 20 PCs, features around 100 million lines of programming code and processes up to 25 gigabytes of data an hour. Yet while automotive digital technology has traditionally focused on optimising the vehicle's internal functions, attention is now turning to developing the car's ability to connect with the outside world and enhance the in-car experience. This is the connected car – a vehicle able to optimise its own operation and maintenance as well as the convenience and comfort of passengers using onboard sensors and internet connectivity.
According to PwC's consulting arm Strategy&, connected mobility will be one of the major industrial growth areas in the coming years – with the sector likely to expand threefold by 2022 to achieve a global turnover of US$156bn. By then, it is predicted, two in every three cars worldwide will be connected online. Such developments will also affect many associated business activities, including assessing risk, residual values and financing options.
Improved road safety is one of major benefits of the connected vehicle, providing warnings of bad weather, accidents ahead and road closures, as well as information about traffic jams and local services and access to social media. In addition, connected cars could offer reduced costs through ride-sharing software, as well as by connecting cars to traffic sensors that can reduce fuel consumption through more efficient management of speeds and routes.
The largest car manufacturers and their traditional suppliers are investing substantially in connected car technologies, but so are others. Companies like BMW, Mercedes-Benz and Audi are increasingly under competitive pressure from both new entrants into the market and also from the makers of the connected technologies, which are expected to grab a significant share of the auto sector's revenues.
Alex Koster, co-author of Strategy&'s Connected Car report, explains: 'Major manufacturers have already bumped up their development budgets by 8% as compared to the previous year, and in some cases have realigned the focus. In spite of this, they are being overtaken by newcomers. Manufacturers will need to succeed in marketing connectivity features and packages at a high price via simple pricing before these come to be expected by the customer as standard equipment, or be cheap to obtain in the aftermarket as a plug-and-play solution.'
Global leader
Irish company Cubic Telecom is a global leader in the development of connected car technology. It recently announced an agreement with Audi for the provision of in-car high-speed broadband and 'infotainment' capabilities that are bringing connected cars to Ireland for the first time and providing a technology solution that works across Europe. Cubic's SIM card provides high-speed internet access, giving access to Google Street View, traffic and parking information, and social media.
'The Cubic global platform with over-the-air provisioning enables Audi to sell a standardised connectivity solution globally,' says Cubic Telecom's CEO, Barry Napier. 'Real-time network and software updating are key to meeting Audi's requirements for a truly premium and continuously improving in-car connectivity experience.'
Audi's partnership with Cubic has led to the creation of 60 additional jobs in Cubic's Dublin offices, bringing its workforce up to 140. Announcing the expansion, Taoiseach Enda Kenny said: 'Cubic Telecom is a brilliant example of an Irish company excelling on the world stage, and its partnership with a global brand like Audi is further testament to this. This announcement is yet more evidence that the Irish economy remains productive and innovative, and our indigenous tech sector is growing from strength to strength.'
IBM's operations in Ireland are also at the cutting edge of the development of the connected car, with the company describing its project as 'the ultimate internet of things'. This included looking at how parked cars could be utilised. 'In a city, there are parked cars everywhere, and they're maybe considered a nuisance. But we started to think of them as a resource that's not really being used,' explains Martin Mevissen, IBM's research staff manager. 'Cars are parked 95% of the time during the day, and they are more and more equipped with sensors, computing power, batteries and all that's unused when they're parked.'
As a result, IBM has examined how vehicles can communicate with each other to improve the driving experience. 'So, for example, you could use parked cars to detect, via their onboard cameras and parking sensors, empty parking spaces in the vicinity,' Mevissen says. 'You can transmit that information to somebody driving downtown.'
Life-saving technology
Governments are now rapidly moving ahead with proposals for regulatory structures for connected cars that enable the vehicles to communicate with each other as well as with traffic lights and other street infrastructure. The US, UK and the European Commission all published consultation documents at the end of 2016 on how to create the right regulatory framework. The US Department of Transportation is consulting on proposals that would require all new vehicles to be fitted with vehicle-to-vehicle technology, believing that this has the potential to save thousands of lives on US roads every year.
The UK, meanwhile, is considering a regulatory environment that would support the development of both connected cars and the trialling of 'autonomous' or self-driving ones. The European Commission has been criticised – including by its own member states – for acting too slowly in bringing forward its proposals on regulation, but its report, A European strategy on Cooperative Intelligent Transport Systems, complains that 'for this [shared regulation] to happen, coordination is urgently needed at European level'. A spokesman for Ireland's Department of Transport, Tourism and Sport said that 'Ireland will monitor closely any EU requirements in the area of autonomous and connected driving.'
Despite the evident concerns within the automotive industry that Ireland and the rest of the EU are being left behind, there is much greater interest in the media in the potential for self-driving cars. Google has been at the centre of much of this, with its self-driving car division – which recently changed its name to Waymo – reporting that tests conducted over the last six years and two million miles have not involved any accidents while in self-driving mode.
A Waymo statement comments: 'We continue to test and learn on real city streets across four locations in the US. We plan to bring fully self-driving cars to the world soon.' The company is confident that it will be able to launch self-driving vehicles, though there is no clear timetable for this. Apple has also disclosed that it is developing a self-driving car.
Telematics: a halfway house
Meanwhile, telematics – using in-vehicle technology to capture and transmit data – is gaining ground among manufacturers. The insurance industry is particularly keen on the greater use of telemetry as a way of monitoring driver behaviour. Allstate, one of the biggest US-based insurers, has large operations in Northern Ireland, in Belfast, Strabane and Derry. It has just announced that it is spinning off its telematics division Arity, based in Belfast, in order to sell services across the insurance industry. Arity's technology provides on-board diagnostics to record the quality of driving and so improve insurers' capacity to price risk.
Telematic applications can also monitor driver awareness, detect tiredness and automatically brake a vehicle heading for a collision. The use of some automation to assist with the manual function of driving is now common in luxury cars. Many vehicles use sensors to assist with parking, while Volvo, for instance, provides technology to assist drivers to stay within lanes on motorways. Volvo predicts that what it calls 'highly autonomous vehicles', with much of the driver function under the control of automation, will be widely available from 2021 or so. Ireland may have less regulatory work to do to facilitate this reform than many other countries, as it is not a signatory to the Vienna Convention on Road Traffic of 1968, which specifies that every vehicle must have a driver who must be in control in all circumstances.
NUI Galway is at the forefront of self-driving development, partnering with car components manufacturing and design company Valeo. The university's researchers are working on the technology for fully automated vehicles, focusing in particular on how signal and image processing technology can be used to detect pedestrians and other vehicles. This is intended to provide drivers with additional time and opportunity to avoid accidents.
Aengus Parsons, director of research at NUI Galway, comments: 'The long-standing collaboration between NUI Galway's CAR Group and Valeo is a testament to the commitment of both parties in fostering a research programme that combines the university's expertise in signal and image processing with the needs of industry. It highlights the relevance and value of NUI Galway's research in contributing to the commercial and economic development in the Galway region and further afield.'
The adoption of connected and automated car technologies is leading towards a fundamental change in the concept of car ownership and auto manufacturers' business model. Several factors are coming together to raise the prospect of cars being shared, rather than owned by the individual. Taxi drivers' least favourite company, Uber, is at the forefront; its automation technology is being developed to completely do away with drivers and provide an even cheaper door-to-door journey service.
Existing auto manufacturers also believe that car-sharing services may represent the future. Firstly, manufacturers have invested so heavily in research and development that it may be impossible to recoup their costs from the traditional business models of sale or lease at a price the market will bear. Secondly, cars are typically idle for upwards of 90% of the time. Thirdly, roads are increasingly congested – and simply making and selling more cars may create unsustainable levels of traffic and car parking, especially in emerging markets.
Honda, BMW, VW, Ford, Volvo and Toyota are all considering the potential of car sharing as an option to develop the market – Mercedes Benz already offers customers the technology to car share – putting themselves in competition with technology companies such as Uber and Google for dominance of the future car-share market.
'In the midst of the dramatic structural change of the mobility industry, the "sharing economy" that is rapidly expanding all around the world has great potential to broaden the concept of mobility itself,' says Shinji Aoyama, Honda's operating officer.
Paul Gosling, journalist
"Cubic Telecom is a brilliant example of an Irish company excelling on the world stage"