Africa's startup ecosystem is flourishing, with a number of indigenous initiatives tackling access to funding and other challenges to SME growth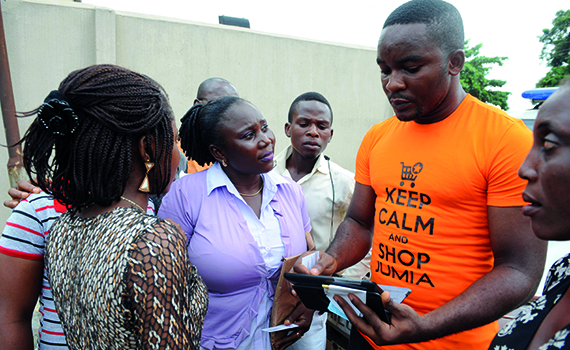 This article was first published in the February 2017 international edition of Accounting and Business magazine.
Technology and internet penetration has become so far-reaching in Africa that it is driving the startup ecosystem, especially in the e-commerce space. Many of the burgeoning startups are not only creating alternatives to traditional brick and mortar stores, they are also offering patrons a convenient and attractive shopping experience. Examples of African e-commerce platforms include Jumia, Konga and DealDey – the latter recently raised US$5m from Swedish investment company Kinnevik.
Such is the upsurge in African startups that the rest of the world is beginning to sit up and pay attention. Facebook founder Mark Zuckerberg, for instance, made his first trip to sub-Saharan Africa last September, visiting Nigeria and Kenya, two powerhouses in Africa's startup environment. The focus of his trip was to interact with startup communities in the two countries and support the next generation of African tech entrepreneurs.
Zuckerberg was particularly interested in mobile money on his visit to Nairobi and took the opportunity to visit a number of startups doing great things. He also met and exchanged ideas with promising developers and entrepreneurs. Before his visit, Zuckerberg had clearly been eyeing up Africa – his foundation, the Chan Zuckerberg Initiative, had earlier made an investment in Andela, a New York-based startup that trains software developers in Lagos and Nairobi. Andela's business model is to train people up and then send them to technology partners for a couple of weeks. The company's objective is to form the next generation of developers and technology gurus, who will use their skills to support their communities and come up with groundbreaking ideas.
A peep into the ecosystem
According to startup information portal Disrupt Africa's African Tech Startups Funding Report 2015, African tech startups received more than US$185m in funding last year, with South Africa, Nigeria and Kenya the biggest beneficiaries. The sectors that attracted the biggest investments were solar, fintech and e-commerce.
For example, ToLet, a Nigerian startup that specialises in classified property adverts, raised US$1.2m from Frontier Digital Ventures, a Kuala Lumpur-based venture capital business. The financing will help ToLet expand across Nigeria and improve its platform. The same venture capital company had previously invested US$500,000 in MeQasa, a Ghanaian web-based property platform with a vision to become as big as Zillow and Realtor in the US.
In the accounting sector, startups like Accountinghub are trying to grow organically. The Nigerian company was founded by a professional accountant with varied experience at the Big Four and in industry. It exploits technology and cloud computing to offer accounting and bookkeeping services to small and medium-sized enterprises (SMEs). In only its second year of operation, it was a Tony Elumelu Foundation prize winner.
It's instructive to note that African startups are not just technology and internet-based. Some ventures cater to the unmet needs of Africans by providing innovative and groundbreaking solutions. Their impact can be seen in agriculture, healthcare and other areas. The reason why technology startups are more common is simply due to the preponderance of technology over the past two decades.
Take Chabana Farms, a startup in the agricultural sector in Botswana that began with a poultry project and is now producing livestock feeds locally, eliminating the need to import them from neighbouring South Africa. A traditional sector that was not so long ago mainly about subsistence farming is now seeing change in the shape of innovative ideas brought about by economic realities. Chabana Farms is achieving its mission to feed Africa by empowering smallholder farmers, especially women. Chabana Farms is also a Tony Elumelu prize winner.
Funding challenge
African startups face a daunting challenge in securing seed capital and early stage funding – a source of frustration to many entrepreneurs – as a result of the tough investment climate. However, it has to be said that some entrepreneurs lack the financial know-how required for raising capital. Even though they possess the technical knowledge to get their business going, they sometimes present very weak business plans that leave potential investors unconvinced.
Nevertheless, there are many initiatives that are helping to bridge the capital gap as well as the knowledge gap. For example, Startup Africa supports entrepreneurs by making seed investments in businesses and providing training and mentoring to help startups to gain traction and attain sustainable and profitable growth.
IFC, a subsidiary of the World Bank, also supports tech startups in North Africa in the struggle to get financing. It set up a US$10m fund managed by Wamda Capital, whose programmes and networks help entrepreneurs achieve success, not only by providing financing but also through mentoring.
While crowdfunding could have offered another major source of capital, the financing model has not really gained traction in Africa, even though it is commonplace in Europe and North America. African countries are among the lowest performing in the world in terms of utilising crowdfunding despite its potential for expanding access to capital for startups. According to the World Bank's Crowdfunding in Emerging Markets: Lessons from East African Startups report, the African crowdfunding market was worth US$70m in 2015, which is less than 0.5% of global crowdfunding activity.
Nor is access to capital the only challenge. A lack of enabling environment and little support from governments present further problems for SMEs. Government policies can be inconsistent and erratic, while immature infrastructure – unreliable power supply, inadequate roads, poor internet connectivity – especially in sub-Saharan Africa, is a major obstacle.
Pitching platforms
The story of startups in Africa is not complete without mentioning the various technology hubs where entrepreneurs connect to exchange ideas and take advantage of economies of scale by sharing resources. Over the past few years Africa has also seen the emergence of platforms where entrepreneurs can pitch their ideas to the world.
Kenya's iHub allows young and aspiring entrepreneurs to connect. The hub has helped speed up the growth of the Kenyan startup community by allowing bright minds with innovative and novel ideas to link up with each other. It has been around for about six years and has largely achieved its aim of consistently influencing technology development in the African technology space. Meanwhile Nigeria has the Co-Creation Hub, which is dedicated to accelerating the use of technology for economic prosperity, creating jobs to grow the Nigerian economy.
There are also pitching platforms, such as Aso Villa Demo Day event, aptly named after Aso Rock, the seat of power in Nigeria. The business community converges on the Aso Rock presidential villa in Abuja once a year to listen to young entrepreneurs pitching their thought-provoking ideas. The aim of the Nigerian government in supporting the initiative is to stimulate entrepreneurship, innovation and job creation. There is a strong belief in government that establishing an enabling environment for businesses to thrive can drive job creation.
Many creative and innovative ideas were pitched at the 2016 Aso Villa Demo Day. They included everything from a device that monitors household power consumption in real time to a mobile app that helps blood banks manage their records and connect with donors. The most interesting part is that these are authentic African ideas helping to find African solutions to African problems.
The future
With democracy on the rise, the sociopolitical environment in many African countries is expected to improve and job creation to become the focal point of government policy. The role the private sector has to play in this is not lost on governments, so the startup scene is likely to continue to flourish in the coming years given the number of global players that want to make inroads into Africa.
Glimpses of this can already be seen with the Andela example. The Chan Zuckerberg Initiative has demonstrated that there is something interesting coming out of Africa and that the younger generation of Africans have keyed into this by advancing their potential through learning.
There is a vibrant and interesting space for growth in Africa and the potential is mind-boggling. In future, there will be more partnerships between entrepreneurs in frontier markets and investors from all over the world. The forces of globalisation and technology will keep disrupting the business world in the way that mobile technology and internet penetration has affected businesses in Africa.
The seeds that will drive innovation, job creation and entrepreneurship in Africa are being sown right now, with the first movers keen to establish themselves and harvest the rewards in the not too distant future.
Kayode Yusuf FCCA, finance professional and journalist