Despite new US president Donald Trump's pre-election protectionist rhetoric, some experts believe that emerging markets may not be as badly affected as initially expected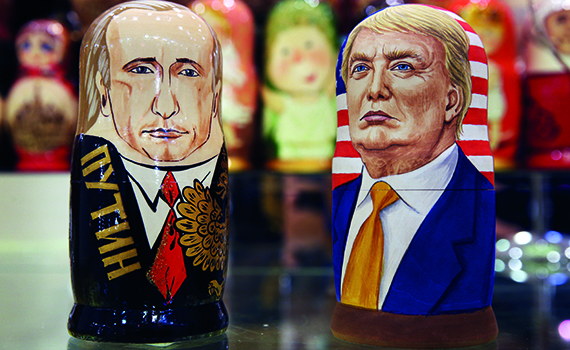 This article was first published in the February 2017 international edition of Accounting and Business magazine.
New US president Donald Trump is fond of dividing the world into winners and losers. In the wake of the real-estate mogul's unexpected election triumph, economists and investors are starting to follow his example. Much of the post-election analysis has focused on who will win and who will lose from a Trump administration. So far, many investors and economists are assuming that most emerging nations will fit firmly into the second category.
'Trump's policies have the potential to harm emerging markets in two main ways,' explains Marc Chandler, global head of currency strategy at Brown Brothers Harriman. 'First, he has accused top trading partners such as Mexico and China of abusing their access to the US market and promised to clamp down. Second, his pledge to ramp up government spending and cut taxes could lead to a stronger dollar and higher borrowing costs – creating an economic headwind for emerging nations with large dollar debts.'
That helps explain why the Mexican peso fell by a record 12% on the day Trump's victory was announced and why a rally in emerging market stocks and currencies that lasted through most of 2016 has gone swiftly into reverse. But will Trump's policies be as damaging for emerging markets as some experts suggest? And could his plans produce winners as well as losers?
The first caveat is that Trump is widely recognised as the most enigmatic incoming president in modern US history. 'Economists have probably never had less certainty about the direction a president-elect will take,' says Mark Calabria, a former senate aide and now an analyst at the Cato Institute. 'He is the first president since Dwight Eisenhower in the 1950s to come to office having never held elected office before. Added to this, many of his public pronouncements during the campaign were contradictory.' The net result, says Calabria, is that there is a wide range of possible outcomes from his term in office.
That said, any analysis of Trump's likely impact on emerging markets starts with trade. During his run for the White House, Trump made a series of protectionist declarations. Much of his ire was directed at Mexico and China, which along with Canada are the US's most important trading partners. (These two nations together account for 35% of the value of US imports, excluding oil, according to the US Census Bureau.) Trump characterised both nations as threats to American workers. Mexican 'sweatshops', he said, 'undercut US workers' while China manipulated its currency and stole US trade secrets to gain an unfair advantage. Unless both countries mend their ways, he said he would consider a 45% tariff on Chinese trade and a 35% tariff on goods coming from Mexico. He also said he would renegotiate the North American Free Trade Agreement (Nafta), a 1994 accord that largely eliminated tariffs between the US, Canada and Mexico.
Delicate economic balancing act
If Trump carried through on his protectionist agenda, Mexico would be first in the line of fire. About 80% of Mexico's exports end up in the US, which accounts for around a quarter of the nation's GDP. Equally, a trade war between the US and China would have harmful consequences for both nations and beyond. China has been engaged in a delicate economic balancing act, seeking to sustain a growth rate of around 6.5% while also cutting back on industrial overcapacity and avoiding a debt bubble. This is hard enough without the added complication of a large increase in tariffs from the US.
But some economists are taking comfort from several assumptions. For a start, several of the largest emerging nations are not particularly vulnerable to rising US protectionism. Exports to the US account for just 13% of foreign sales for Brazil and 15% for India. What's more, since both economies are more driven by domestic demand, US sales account for less than 2% of GDP in both countries.
There is even some reason to believe that trade relations with Russia could benefit from Trump's election, potentially leading to the lifting of US sanctions imposed against Russian companies due to the conflict in Ukraine. During the campaign Trump exchanged compliments with the Russian president, with Trump calling Vladimir Putin a 'strong leader' while Putin dubbed Trump 'very talented'. And relations appear to have got off to a good start since the election. A call between the two leaders resulted in a commitment 'to normalise relations and pursue constructive cooperation on the broadest possible range of issues', according to a Kremlin statement. This was reinforced after outgoing president Barack Obama expelled 35 Russian diplomats in December; Trump described Putin's decision not to retaliate as a 'great move'.
'Free but fair'?
More promising still, some economists doubt that Trump will make good his broader protectionist threats against the US's top trading partners. Shortly after the election, one of Trump's economic advisers said that the president-elect believed in 'free-but-fair' trade, a departure from the virulently anti-trade rhetoric of the campaign. That has fuelled hopes that once in office, he will likely make rational calculations of national interest.
'One reason to suspect that Trump might back away is that Mexico has become so integrated into the supply chains of US companies,' says Neil Shearing, chief emerging markets economist at Capital Economics. 'In some cases goods will cross the border six or seven times and up to 40% of the value of some Mexican exports comes from the US.' As a result, punitive tariffs would arouse plenty of opposition from US companies that rely on their southern neighbour.
It is possible that Trump will content himself with symbolic victories. For example, a clause in the Nafta treaty allows signatories to review the terms of the deal on an annual basis. Invoking this long-neglected right could give Trump the illusion of being tough but without actually damaging trade.
Trump would have equally powerful incentives to avoid an out-and-out trade confrontation with China, the world's second largest economy. 'The US imports nearly US$500bn in goods a year from China, so a 45% tariff would put considerable upward pressure on US inflation,' says Mark Zandi, chief economist at Moody's. 'US importers would not quickly find other sources to replace Chinese imports and would have to pay more for them. What's more, it is almost certain that China would retaliate.'
With these assumptions in mind, Moody's economists have calculated that the tariffs Trump has threatened against China and Mexico alone would boost the price of America's imports by approximately 15%, leading to a three percentage point increase in consumer prices. Tit-for-tat trade measures would then slash US goods exports by a quarter. So again, Trump may decide to go for a symbolic win versus China without actually harming trade. 'He could declare China a "currency manipulator", without taking additional concrete action to inhibit trade,' Shearing suggests.
'Given the configuration of US interest, I would not expect any rush towards protectionism,' says Chandler. 'Assuming this proves to be the case, emerging markets may not be as badly affected as some have argued.'
Domestic economic agenda
A second challenge, however, is that Trump's domestic economic agenda will also create global headwinds. The real-estate developer has promised a US$1 trillion infrastructure drive along with large tax cuts both for individuals and businesses. With the US economy already growing steadily, such a stimulus programme could lift inflation and encourage the Federal Reserve to raise interest rates at a faster pace.
Meanwhile, higher US interest rates would put upward pressure on the US dollar, a potential challenge for emerging nations with high levels of debt in the US currency. Markets have already started to adjust for this outcome, with the dollar rising to its highest level in 13 years on a trade-weighted basis in the weeks after Trump's victory.
So how big a problem could this be? And which nations would lose most? Among the most vulnerable emerging nations is Turkey, where dollar debt is equal to around 50% of GDP, according to an estimate by Capital Economics. 'A good deal of Turkish companies in emerging markets borrowed in dollars rather than local currency, in order to take advantage of lower borrowing cost,' Shearing observes. 'It is not totally clear how big a problem this could be for Turkey since we don't know how many corporate treasuries hedged their currency exposure, but there would almost certainly be some pain.' Peru and Malaysia also look exposed.
But more broadly, the level of emerging market vulnerability to a higher dollar is lower than in recent decades. Capital Economics estimates that dollar debt is equivalent to around 10% to 25% of GDP for emerging nations overall, down from 60% to 80% in the 1990s.
Again, however, it is not clear whether the Trump stimulus will live up to early expectations. A large share of the proposed infrastructure bonanza relies on private capital; of the US$1 trillion promised, only US$140bn would come directly from the Federal coffers. Instead, companies would be offered a tax break of 82 cents for every dollar spent. That leaves open the possibility that companies will not stump up much net new cash, choosing instead to redirect currently planned spending towards subsidised projects. And while a Republican Congress is likely to back tax cuts, fiscal conservatives may deliver a package that is more modest than the Trump White House might desire. This, too, could limit the downside for emerging nations.
'It would be too complacent to say that Trump does not pose risks for emerging nations,' admits Chandler. 'But they may not end up being the big losers it's currently assumed.'
Christopher Fitzgerald and Fernando Florez, journalists
"Economists have probably never had less certainty about the direction a president-elect will take"