With an incubator programme and free space for startups in branches, Bank of Ireland's Galway City head Brian Carey FCCA has good reason to be confident about the future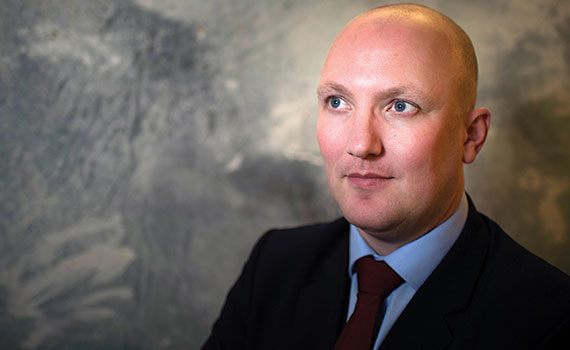 This article was first published in the February 2017 Ireland edition of Accounting and Business magazine.
Galway City's selection in mid-2016 as one of the two European Capitals of Culture for 2020 came as little surprise to seasoned observers. Although tiny by international standards (The Financial Times named it the Best Micro City in Europe in 2014, and best for economic potential in 2016-17), the City of Tribes has long boasted the kind of cultural self-confidence and vitality that many much bigger urban centres would envy.
A bustling student town with a vibrant arts scene, Galway City has also quietly established itself as one of Europe's medtech capitals, employing a third of the industry's estimated 25,000 staff in Ireland, and hosting such heavyweights as Medtronic and Boston Scientific. The stability of this multinational base proved a major asset during the recession years. While important infrastructure issues, notably the chronic traffic problem, remain unsolved, Galway is on a firmly upward trajectory as its Capital of Culture 2020 plans take shape.
'Galway came out of the downturn largely in good shape,' says Brian Carey FCCA, head of Bank of Ireland in Galway City. 'Job losses were limited compared to other parts of the country. Its large-scale employers were focused internationally, so they weren't reliant on a stymied Irish marketplace. And, of course, for every major international player that sets up here, a satellite system of smaller suppliers emerges, so the region was very lucky to have employers that weathered the storm very well.'
The Capital of Culture announcement came as Galway was in the midst of one of its best tourism years ever. Buoyed by the outstanding success of the scenic route of the Wild Atlantic Way, tourism now employs 15,000 people in the city and county and contributes €620m to the local economy.
'The strength of Galway has always been its culture, lifestyle and people,' says Carey. It's a fabulous place to live in as well as to visit. Being selected for the Capital of Culture is a great endorsement of that, and what's really exciting, from a legacy perspective, is that it sets the context for some much needed infrastructure investment. The pressure and the motivation is now there to deliver.'
While Galway has thrived economically on the back of medtech, a lack of quality office space within the city has constrained what could be further promising developments. A member of Galway's Chamber of Commerce, Carey sees a clear determination in the business community to address this. 'There is an appetite here to change perceptions of the city so that it is seen not just as a place to visit, but to live and work in too. In Dublin, Silicon Docks has shown how you can draw global brands and thrive at the heart of the city. Galway doesn't yet have an offering to match that, but there is definitely pent-up demand. If we could meet that in the next few years, we could potentially see thousands of new jobs come here.'
Galway's notorious traffic problems are also a high priority for the business community. 'When you look at the investment that's happened in Dublin, Cork and Limerick over the last few decades, I don't think that has been matched in Galway, and it will hold back the city's development until it is. The Capital of Culture will hopefully be a catalyst for change.'
Changing roles
Appointed head of Bank of Ireland in Galway City in 2016, Carey is determined to play his part in supporting growth and renewal in the city and the wider region. The new position came just a year after he took up the role of manager of the Eyre Square branch of Bank of Ireland in Galway City, which in turn built on his seven years' experience as a senior business manager with the bank in Dublin.
Moving to Galway was a big step-change – and not just because it involved taking his family with him. He explains: 'There are similarities between business banking and being a regional bank manager, but there are differences too. Retail banking often comes down to managing a team, and to go from working alone or with one or two others to managing a team of 30 to 35 people was something new for me. But a lot of the skills that you acquire through business banking are still relevant. You are still trying to paint a picture for a customer in terms of how they will repay a loan, and are helping them to understand their payment capacity.'
Over the last few years, the movement of banking to an online service has been rapid and relentless. For many it leaves open the question of the future of the traditional branch bank. At the same time, banks' own requirements for physical space is also rapidly diminishing as a result of process automation.
For Carey, this creates an exciting new opportunity: the chance to become multipurpose, with community and business spaces that actively contribute to social and economic development. 'In Galway, as everywhere else, the manner in which customers want to interact with banks is changing. But you still need a physical footprint, a location where people can come and talk to us. Most of our branches are in prime locations and we are there for the long term. But what we are trying to do, and Galway is a perfect example of that, is convert our spaces to become available for startups and local community groups. Replicate that across the towns and cities of Ireland, as we plan to, and you have a really powerful national resource.'
Startup support
Emblematic of this new approach was the establishment of Workbench Galway at the bank's Mainguard Street branch in Galway City in 2015 and Startlab in its second Eyre Square branch in 2016.
Workbench Galway offers free co-working spaces for startup businesses, with flexible meeting, breakout and exhibition rooms. 'Workbench is about getting people who are involved in startups out from working in their apartments or their parents' houses and into a professional working environment where they can bounce ideas off like-minded people. As well as providing the facilities, we take the opportunity to introduce them to mentors who can help shape their ideas and take them to the next level.'
Startlab, meanwhile, is an intensive six-month incubator programme focused on technology companies. The first cohort of startups arrived in early 2016. Among them was Bluedrop Medical, which later in the year secured €600,000 in investor funding to develop its connected health devices. These allow doctors to detect foot ulcers in diabetics, thereby averting potentially serious medical complications.
With students making up to 25% of the city's population, Carey sees both initiatives as an ideal way for the bank to respond directly to their ambitions and build long-term relationships. 'The days of people wanting safe jobs are largely gone, and young people in particular aren't afraid to adapt and change. They are willing to invest time and effort in getting a business idea off the ground. For us, it makes sense to use our capacity and resources to support them along the way.'
For more established businesses looking to build their relationship with banks in 2017, Carey's message is equally positive. 'I would absolutely encourage people to recognise that we are open for business. Any perception to the contrary is simply not true. We want to lend and help grow the Irish economy.'
With Brexit and the Trump presidency set to dominate the headlines this year, Carey argues that, while there will be greater uncertainty, Irish businesses are entering the new reality in generally good shape. 'Irish companies learned to be far more competitive during the recession years and have proved themselves capable of dealing with challenge. They have also learned to diversify in terms of markets. If this was 10 years ago and Brexit hit, I don't think I would be as positive, but today we are certainly in a more competitive place.'
Born in Dublin, Carey moved to Ballinasloe, Co Galway, aged 10 when his father took a job as a lecturer in the area. After secondary school, a professional accountancy course ultimately led him to ACCA. 'Coming out of college with a business qualification, the question for me was how I differentiate myself from my peer group. ACCA was a great way to do that and the qualification has been brilliant to me over the years. The international aspect in particular appealed to me, and overall the recognition and credibility that it offers is off the charts.'
Career challenges
That said, he was also clear that the practice route wasn't for him. 'Since I started working as a teenager, I've always felt drawn to the whole customer service and relationship interface. The idea of an accountancy role where you plough a lone furrow was never going to work for me.'
Joining Bank of Ireland in 2007, as the organisation was about to go headlong into the biggest existential crisis of its history was, Carey says, a far more positive and rewarding experience than might have been expected. 'There's an enormous and inherent level of loyalty among the staff of Bank of Ireland to the organisation. People really knuckled down to ensure we got through the crisis to the best of our ability. From the start, I felt included and that my opinion mattered. I also felt my career progression was really important here.'
Involved in the organisational side of ACCA since he became a member, Carey has been chair of the Leinster members' committee and served on the ACCA Ireland executive committee; he is currently on the Connaught members' panel. 'I thought that getting involved with ACCA in a formal capacity would be really rewarding and it has certainly proved to be. One of the things I also enjoy is helping to build the profile of the organisation. I genuinely do believe that the qualification has no peer in business, so spreading that message as widely as possible is something I try to do.'
Involvement with ACCA has helped him build his network across the country and underpins his advice to new members: 'Your network is the single most important attribute you have outside your own skills and capability. You've got to build it and cultivate it, making sure that when you engage with people you do so in a meaningful way.'
Looking forward to what is likely to be an unpredictable year economically and politically, Carey says that, from his own perspective, 'there will be the usual metrics for how I will measure success, but at the heart of it is developing our position here as a community bank, one that's there to support the growth of business and help people to achieve their ambitions. That's something I will be striving for in 2017.'
Donal Nugent, journalist
"Galway's selection as Capital of Culture sets the context for infrastructure investment. The motivation is now there to deliver"