Xinkai Chen FCCA, general manager and director of finance and operations at Hugo Boss China, talks about how the company is moving forward in the country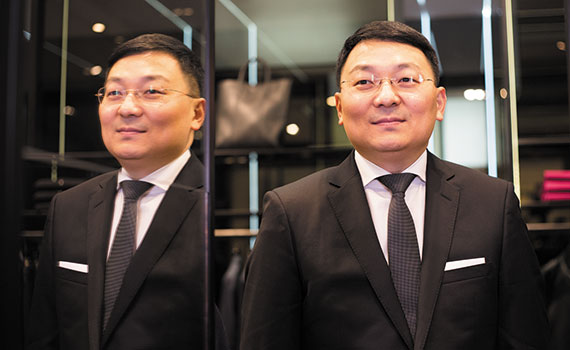 This article was first published in the February 2017 China edition of Accounting and Business magazine.
Heading into the Jing'an Temple Metro station, the most prosperous downtown area of Shanghai, one will naturally catch sight of the facade of Hugo Boss, an upper premium German fashion designer. This is also the location of its flagship store.
Over the past 18 months, the company's shares have almost halved. It is not alone, with the global economic comeback still seeming elusive and with other luxury brands feeling the pinch. But Hugo Boss is determined to make a comeback.
'2017 will be a year of stabilisation; it's already happened in mainland China,' says Xinkai Chen, general manager and director of finance and operations at Hugo Boss China. '2018 will see a return to growth.' Xinkai, whose role has recently expanded to cover Greater China, including Taiwan, Macau and Hong Kong. He also serves as deputy chair of ACCA Eastern China's steering committee.
Hugo Boss has just unveiled its strategic development plan, the key element of which is focusing the portfolio on the two brands Boss and Hugo. With the global harmonisation of sales prices and structural improvements in distribution, the company is also ensuring that its brand image remains consistent worldwide. 

In the age of the 'new mediocre' of persistent slow growth and uncertainty, the luxury market seems likely to be stuck in a holding pattern for the foreseeable future. Some consulting agencies attribute the difficult luxury environment to a decrease in tourism across Europe, a slowdown in the US and China, and instability in the Middle East.
'However the global picture has changed, one thing that remains unmoved is that we change to meet our customers' needs,' Xinkai notes.
In mid-November, Hugo Boss announced an update on its strategic development plan, which aims to steer the time-honoured German brand back towards sustainable growth in the challenging landscape.


In order to appeal to customers, the company will operate with only two brands in future: Boss and Hugo. 'Boss will offer upper premium business wear as well as sophisticated casual wear,' Xinkai explains. 'Boss Orange and Boss Green will no longer be continued as independent brands, but instead both lines will be integrated into the Boss core brand in order to offer the customer a consistent brand experience across all wearing occasions.' Previously, Boss Orange was the contemporary, trend-driven label, while Boss Green focused on sportswear.
In addition, the company expects to significantly strengthen its market presence in the growth segment of casual wear. Hugo will in future appeal to a broader base of younger customers, with fashionable collections offered at attractive prices.
'Hugo's entry-level price range will be around 30% lower than that of the Boss core brand,' Xinkai says. 'The realignment of the brand portfolio is to be completed with the delivery of the spring 2018 collection.'
Rather than focusing merely on the high-end group, 'we aim to cater to the needs of a whole spectrum of customers,' he continues. 'Not carrying any flashy logos, Hugo Boss makes its own aura felt in a low-key way. In Boss and Hugo we have two strong brands with their own identity, which appeal to different target groups.'
Global harmonisation
Contrary to first impressions, womenswear is becoming an important part of the core business, and the cooperation with artistic director Jason Wu will provide significant inspiration to this segment. However, the company is planning to focus more closely on its menswear collections and has just presented the Boss Menswear collection at the New York Fashion Week.
Another major strategic adjustment lies on the pricing side in the global harmonisation of sales prices. 'The company will continue the harmonisation of its global price architecture,' Xinkai says. '2018 in particular will see a number of further adjustments made. Any remaining price differences will result entirely from disparities in transport costs, taxes and customs charges. While this will therefore result in further price decreases in Asia, average prices in Europe are expected to rise slightly. The price structure in America will remain stable.'
Hugo Boss has already introduced a range of measures in response to the difficult market environment. These include cost savings of around €65m in the current year, closing loss-making stores and adapting the sales structure in the US market, as well as significant price reductions in China.
The company's outlook for 2016 suggests that sales will grow steadily or decline by up to 3% on a currency-adjusted basis. The company still expects the operating result (earnings before interest, tax, depreciation and amortisation) to decline by between 17% and 23%.
China is a battleground that is too large to be ignored. As the country transitions from an investment-led growth model to a consumption-led one, there is more potential to tap into this enormous market, which Huge Boss can't miss.
Despite the economic slowdown, Chinese consumers' appetite for 'quality products' seems to be growing. In 2016, Chinese tourists bought everything from cosmetics to high-tech toilet lids while travelling abroad, provoking a fierce debate on the attractiveness of Made-in-China products. 'That's why we should focus more on the supply side, which is the quality and service in this market,' Xinkai says.
A year ago, Hugo Boss cut its high prices in China by roughly 30% to bring them closer to the global average as e-commerce and travel made the differences more obvious to Chinese consumers. Third-quarter sales in China were 4% lower than the previous year at the constant currencies. 'Yet given store closures and price cuts this was actually a heartening result,' Xinkai says.
Digital strategy
But success also relies on the tailwind of the internet. The rapid rise of Taobao, a Chinese version of eBay, has pioneered the trend of online shopping in China. With this in mind, digital strategy has become another crucial part of Hugo Boss's development plan, with the aim of increasing the performance of the e-commerce business in the short term.
Xinkai points out that the business's website has recently been overhauled and a new mobile app introduced. 'The website is now being commercially optimised with a variety of measures planned,' he says. 'Hugo Boss in China again posted positive growth on a like-for-like basis in the third quarter 2016.'
Additionally, the group attaches great importance to the digitisation of central processes in development, sourcing and distribution.
Customer service is another key area. According to recruitment firm Spherion, luxury retailers are hit hardest when customers who are accustomed to exclusive shopping experiences are unhappy with service. This is why Hugo Boss's stores 'will not lose their charm,' Xinkai says. 'As an upper premium brand, customers come to Hugo Boss for a better experience. For example, we also provide a tailor-made service to our customers who come to our stores.'
Luckily, Hugo Boss China has already caught the hearts of many Chinese customers, appointing Wallace Huo, a popular Taiwanese actor, as its 'Man of Today' Hugo Boss ambassador in 2016. Huo is nicknamed by his female fans 'lao gan bu', which means 'old cadre', giving him the air of a poised and stylish figure. 'This just perfectly clicks with the positioning of the Hugo Boss menswear brand,' Xinkai says, adding that the firm has boosted its marketing output since 2015. 'The ultimate goal that we hope to meet is what echoes our image and core value.'
Accounting genes
Xinkai could be said to have been born with accounting genes; his grandfather was a member of the Chinese Institute of Public Accountants' standing committee and owned an accountancy firm prior to 1949. After graduating from Jilin University of Technology in Changchun in 1992, where he studied international trade and industry, Xinkai gained financial experience with Tianjin Leader Group Import & Export. 'At that time in China, there was no "Big Five" in the real sense – just representative offices,' he recalls. 'So I chose to start from a trade company.' The post also meant that Xinkai gained international experience in Singapore and Hong Kong.
Ideal formula
In 1995 he moved to multinational textile manufacturer Esquel Group, where he was senior manager of finance and administration, based in London, Hong Kong and Singapore. His ACCA journey began when he studied at Cass Business School in London in the late 1990s. ACCA's syllabus combined with work experience was, he discovered, an ideal formula for honing his financial talents.
He joined Hugo Boss in 2007, helping the company to expand its presence in mainland China. 'There were only two representative offices focusing on sourcing back then but in 2009 we started to focus on retailing by taking over our franchising partners, building our own distribution.' This led to the formation of a joint venture with Rainbow Group in 2010. After fully taking over the joint venture in 2014, Hugo Boss started to reorganise its distribution network to build for future growth in mainland China.
2015 marked another milestone for Xinkai, when he spent two months on Harvard Business School's Advanced Management Program, which allowed him to hone his business skills. The course, Xinkai says, enables senior executives to bring about a full-scale transformation – in themselves and in their organisations – and on his return to Hugo Boss, he took on a more general management-oriented role.
As finance's depth and scope of responsibility grows, so does the need for highly skilled talent. Xinkai also suggests that younger professionals should spend time on career planning in order to prepare themselves for challenges, and should continue to hone their skills not only in finance but in other key areas such as law and language.
As Hugo Boss continues to go through a major reorganisation and prepare for future high growth, attaching more importance to emerging markets such as Greater China, Xinkai's role has been being increasingly that of a business partner to the CEO – a move in line with the general trend. According to EY's Partnering for performance report, 64% of CFOs surveyed said that collaboration with the CEO has increased, with 76% reporting greater involvement in corporate strategy, driven by a focus on growth.
'Financial talents nowadays should not restrain themselves only to accounting; rather, they should engage more actively in the daily business of the company, for they are the ones who can get a whole picture of the company operation,' Xinkai says.
Various CFO surveys show that talent availability has become one of the top concerns in finance sectors, and this chimes with Xinkai's views. While there has been a lot of buzz recently around digital disruption and its effect on the accountancy profession, he firmly believes that 'financial talent still remains the core of the whole business'.
Zhou Ailin, journalist
"Financial talents should engage more actively in the company, for they are the ones who can get a whole picture of the operation"