The Princess Royal opened ACCA's new global operational centre in Glasgow, with its round-the-clock customer contact centre and technology and exam delivery expertise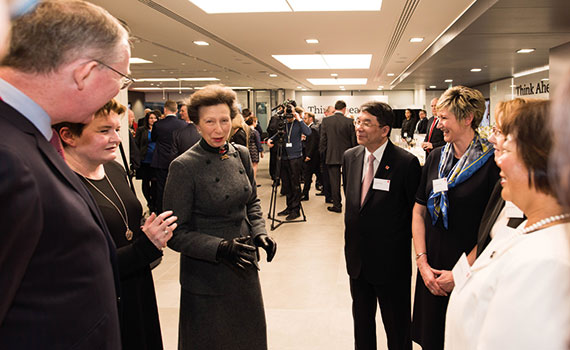 This article was first published in the March 2017 UK edition of Accounting and Business magazine.
The Princess Royal, Princess Anne, opened ACCA's global operational centre at 110 Queen Street, Glasgow, last month.
She was welcomed to the new Glasgow offices by ACCA chief executive Helen Brand and president Brian McEnery.
'It was an honour for me and my 600-strong team here in Glasgow to welcome the Princess Royal to ACCA's new offices,' said Brand. 'Glasgow has always been an essential home for our global operations – from technology, to exam delivery, to our 24/7 365 customer contact centre ACCA Connect. It's an operational centre of excellence that deserves its new Glasgow home. This marks an exciting new chapter for ACCA in a city that is a thriving financial and cultural centre.'
VIP guests included employers and learning providers, along with contractors who had worked on the new premises. ACCA's partners received a special mention from ACCA's president, who said: 'ACCA thrives because of the wonderful working relationships we have with employers, learning providers and regulators. I am delighted that so many of you are here with us to share today's celebration, which also gives me an opportunity to thank you for your support of ACCA.'
The fit-out of ACCA's new premises was managed by Clark Contracts, based in Paisley, Scotland. The design was heavily influenced by the refurbishment of ACCA's London headquarters in the Adelphi, an Art Deco landmark. The ACCA brand and new ways of open plan and flexible working have been embedded in the centre.
Glasgow has hosted ACCA operations since the 1970s, and in his launch address, McEnery said: 'ACCA has a long and proud history in Scotland, with exceptional staff. These talented individuals ensure that members and students are fully supported as they follow and achieve their dreams.
'It is fitting that our dynamic and successful professional body is moving into new, modern premises – this very office has been named a finalist in the British Council for Offices Awards 2017.
'This new Glasgow home both recognises our rich heritage here in the city, while also looking to our future vision for ACCA and the profession.'
"This new Glasgow home recognises our rich heritage here in the city, while also looking to our future vision for ACCA and the profession"