IAASB member and former ACCA president Brendan Murtagh FCCA is on a mission to ensure that standard-setters understand the needs of small and medium-sized practices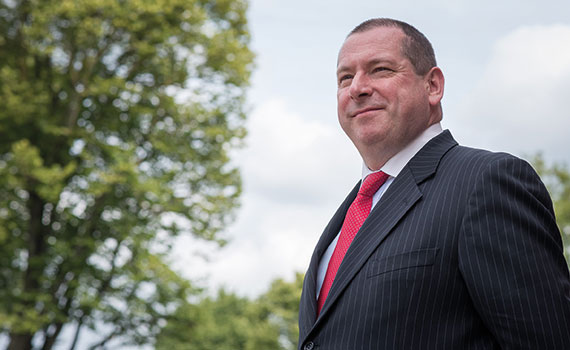 This article was first published in the March 2017 Ireland edition of Accounting and Business magazine.
Having been a founding partner of his accountancy firm in Dublin, in the 1990s, Brendan Murtagh has personal insight into the challenges and opportunities that arise for small and medium-sized practices (SMPs). He now shares his knowledge and experience with colleagues at the International Auditing and Assurance Standards Board (IAASB), which he joined in January 2012.
As Murtagh notes, because of the importance of the capital markets to the public interest, much of international standard setting is focused on listed companies. 'Bringing the non-listed and SMP voice to the standard-setting process is really important,' he says, 'an appreciation of how the world works outside listed entities, including in the small and the medium firms, can provide further input on how changes may impact that community.'
The IAASB is attuned to the needs of SMPs and their SME clients, Murtagh believes. 'In all its consultations it will specifically ask for views from SMPs,' he says. 'It will look to assess the impact on SMPs of any proposals. We will look at the SMP perspective, along with the public sector perspective, in the standard-setting process.' That said, the IAASB's starting point will always be to consider the public interest and how proposed changes to existing standards or proposed new standards are serving the public interest. 'The challenge then becomes how to foster consistent application within the various environments where those standards are utilised,' Murtagh says. 'This includes how they are implemented at an SMP level, but also at a much larger level. It is therefore important to get an appropriate and balanced representation of the SMP perspective in the standard-setting process.'
Murtagh doesn't support a separate regime for SMPs. 'Globally it is generally accepted that an audit is an audit and there has to be a level playing field in terms of what an audit means,' he says. Auditing standards have to be fit for purpose across the range, from listed companies to the smallest businesses, and everything in between. The IAASB is looking to see how that flexibility can be demonstrated, while at the same time maintaining the integrity of an audit. 'The IAASB continuously looks at the scalability of the standards and how this can be enhanced, communicated and applied. In doing this it ensures that the value of an audit is maintained together with the public interest and public confidence in the audit. The audit needs to be comparable in markets around the world. It needs to be comparable for all stakeholders, whether to a bank or a customer. If a stakeholder reads an audit report, they have to be able to understand and rely on it, irrespective of the nature, size or complexity of the business or the jurisdiction from which it operates. The global application and comparability of the standards across jurisdictions is one of the reasons for widespread adoption.'
Flexibility and scalability
The outcome of the IAASB's Auditor Reporting project provides an example of the flexibility and scalability. The extended reporting requirement, namely the 'key audit matters' element of the new audit report, is mandatory for listed entity audits but optional for non-listed. 'That's a clear example of how the needs and challenges of the SMP community and the small and medium enterprises they act for are heard and responded to in the process,' Murtagh says. 'We now have a balanced, scalable solution. If an SMP feels this is of value to the stakeholders in a particular audit, it is open to him to use the extended reporting. It's a good example of scalability in the standards. If the market decides this is good and would like to see it for everybody, then we will get that feedback in our post-implementation review. Based on the feedback from preparers, users and others, we can determine whether we should retain the status quo or whether extended reporting should be mandated for all audits.'
Scalability will also be considered in the IAASB's ongoing audit quality project. Responses to its December 2015 Invitation to Comment on Enhancing Audit Quality in the Public Interest are currently being considered. The quality-control systems within firms present a 'major element' of the project, Murtagh notes. 'The extent to which quality control systems and standards are scalable for small firms is a significant element of the feedback that has been received,' he says. Changing a quality-control system could be costly and time-consuming, so the IAASB will think about the impact on SMPs. 'What is encouraging to see is that, even in the detail of the consultation document, the SMP perspective is embedded throughout,' Murtagh says. 'Specific questions have been asked and we've got insightful responses that will help us develop our thinking as we move to exposure drafts.'
When it comes to maintaining appropriate audit quality, Murtagh does not think that SMPs necessarily need to implement systems as complex as those used by the big firms. 'The audits SMPs are dealing with are, in the main, less complex, may be smaller in size and they are in a different environment,' he says. 'Therefore, the standard is currently scalable to take account of the size and complexity of both the firm and the engagement. You need to be able to document and evidence that audit quality has been given appropriate consideration and that the systems in place achieve what is required. Enhancing this scalability will be a feature of the revisions to the quality control standards both at firm level, in ISQC 1, but also at engagement level, with ISA 220. This project is now well under way with the project proposal approved by the board in December 2016. The project will see some very significant enhancements to quality control including the move to a risk based model with the Quality Management Approach, which is based on the COSO framework.'
Beyond the auditors
Regulators have an important part to play in quality control in making sure that they don't simply react to quality control challenges in larger firms in a way that imposes 'what may not necessarily be an appropriate remedial action in a smaller firm', Murtagh says. 'It's also important for all stakeholders in the audit process to understand their role in achieving audit quality.' The IAASB's 2014 publication, A Framework for Audit Quality, addresses these wider stakeholders and the various elements of audit quality. 'It recognises that if we are going to address audit quality properly, we have to recognise that this goes much further than the auditors,' Murtagh says. 'Standard setters have a key role to play, but so do many other stakeholders in the process, such as those charged with governance in the entities being audited, audit committees and educators to name some. It's about everybody doing something in their element of the arena to improve audit quality.' For example, the IAASB is in the early stages of a project on professional scepticism. 'If you think about the formative elements of a challenging mindset, they come long before anyone gets near an audit firm,' Murtagh says. 'They come culturally, socially and academically. A lot of the foundation work is done before people choose a career as an auditor. That's one illustration of how there are many stakeholders in audit quality.'
The SMP perspective is also being taken into account in the IAASB's project on data analytics, which has involved outreach and consultations. 'As a tool it is changing how we approach an audit,' Murtagh says. 'In the context of SMPs, we have looked at whether this presents any unique challenges or barriers. Some of the early indications suggest the opposite. In the SMP market, the level of data analytics involved would not necessarily have the same characteristics and complexities as that required for the larger end of the audit market. We are seeing that there are powerful data analytics tools in the marketplace. This could present an opportunity for SMPs and the market has responded. It's then a personal and individual matter how firms and individuals want to embrace this. From the board's point of view it is important that nothing in the standards inhibits appropriate innovation, in the context of the audit, in this area.'
Murtagh's insights and input to the IAASB has been shaped by his own experiences of setting up and running his own firm, LHM Casey McGrath, in Dublin. 'I qualified with a mid-sized firm and wanted to see if I could do it myself,' he says. He quickly proved that he could. He now heads up his firm's assurance function and works with both SMEs and some larger corporates and subsidiaries of multinational entities. He enjoys acting as a 'trusted business adviser', providing holistic advice to help businesses grow.
The knowledge and experience he has gained from both his IAASB work and his ACCA involvement – Murtagh is a past ACCA president – have helped to attract some larger clients than might otherwise have been the case. 'It's given me a slightly different international perspective,' he says. 'I've had an opportunity to gain a greater understanding of different markets, not just in Europe but in the US and elsewhere. Ireland is a strong inward investment location for US companies. We have quite a few US businesses as clients and, from a cultural and regulatory perspective, I have a degree of understanding of their local requirements and the differences from what we do here. That can be helpful and it's not always something you would find in a smaller mid-tier firm.'
Sarah Perrin, journalist
"Standards have to be fit for purpose across the range, from listed companies down to the smallest businesses"