Technology has changed how the ACCA Qualification is delivered, but it still pays to stick to the basics, says Dave O'Donoghue FCCA, co-owner of AccountancySchool.ie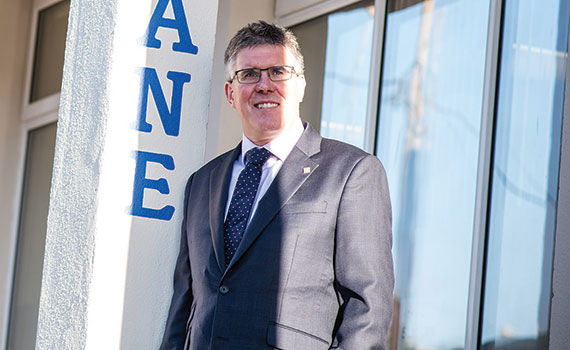 This article was first published in the April 2017 Ireland edition of Accounting and Business magazine.
When he first began to lecture ACCA students some 23 years ago, Dave O'Donoghue FCCA remembers that what immediately struck him was the sense that this was a role where you either 'sink or swim'. 'It's intense from the beginning and there is no time for bluffing. Students expect to learn a certain amount in the classroom and they expect you, as the lecturer, to be focused on their exams.' This year looks set to be another pivotal period for O'Donoghue, as AccountancySchool.ie, the college he now co-owns with fellow lecturer Liam Doran, opens for business in a prime Dublin location. In addition to the new college, he has just taken his place on the newly created ACCA Global Education Committee, giving him not only a bird's eye view of ACCA's rapidly changing educational landscape, but a chance to contribute to its further growth and development.
The idea of teaching as a vocation is one that O'Donoghue relates to strongly. Indeed, he argues that for anyone who teaches and is unsatisfied with their job, 'the best advice is to get out. There are plenty of people who are in the profession who shouldn't be. It's a tough cross to carry if you don't enjoy it.'
That said, this self-confessed people-person admits that his own teaching career came about almost by chance. 'I was working as a manager in audit in Cork when the opportunity to lecture for ACCA arose. I was getting married at the time so having some extra money through what was a very well-paid part-time job was a big attraction,' he recalls.
Something immediately clicked, he says. 'There was a kind of eureka moment when I thought: I could make a career of this. The old adage that if you find something you enjoy doing you'll never work a day in your life has a ring of truth to it.'
Having studied for the ACCA Qualification directly after leaving school, O'Donoghue thought it would be wise to bolster his academic credentials further before turning the weekend job into a full career. He gained a Masters in accounting at University College Cork and soon after was offered his first permanent position with Athlone Institute of Technology and, a year later, an opportunity in Griffith College, Dublin arose. There he would lecture for almost a decade, ultimately becoming head of its accounting school.
While the move from a highly regarded lecturer to owner/manager of an accountancy school may seem an obvious one, it was a journey that, in fact, played out over a decade, and involved an unlikely amalgam of Ireland's once richest businessmen, a flagship American newspaper and the chessboard world of boardroom politics.
'When Tony O'Reilly was CEO of Heinz, he sat on the board of directors of The Washington Post,' O'Donoghue explains. 'The newspaper was involved with the American education provider Kaplan and O'Reilly was impressed with how the relationship worked between the media outlet and education provider. He decided it was something he would like to replicate in Ireland through the Independent News & Media (INM) group, of which he was then chairman'. O'Reilly's newly formed Independent Colleges would seek to replicate what The Washington Post and Kaplan had achieved, with a strong educational offering backed up by heavy media promotion. Focusing on professional qualifications, and with plans to go international after its Dublin launch, the college opened to a huge fanfare in Dawson Street in 2007. The initial focus was on law and accountancy, with O'Donoghue and colleague Liam Doran recruited to head its new accountancy school.
Maximum exposure
'It was a good business model in a good location and it caught the imagination,' O'Donoghue remembers. 'As lecturers, we found ourselves all over the Independent and the Sunday Independent. There were full pages with pictures of us on some occasions. It was huge exposure. My mother was delighted.'
As the heavy promotion suggested, the college was to be no niche enterprise, but fully integrated into INM. 'To raise the profile of the college, it was decided one year that we would host a board meeting of INM there. We were meeting people like Kenneth Clarke, who sat on the board of directors at the time. For those us of used to the quieter life of academia, it was exciting to be part of something really different.'
When the economy soured and O'Reilly's control over INM receded, new management refocused INM on its core media offerings. 'There was less interest in the education side and when the lease on the building in Dawson Street came up for renewal there was no appetite to extend it.' While the college had cut class sizes in the recession years, O'Donoghue was never in doubt about its long-term viability. For him and Doran, investing through a buyout was not just a strong business proposition, but also an opportunity to continue on their chosen career paths. 'I'm in the lucky position of loving what I do and we knew that what we offered in education would always be commercially viable. We were confident we had a strong, portable business, with a very strong lecturing team and management.'
For about a year after the buyout, the school traded as Accounting School at Independent Colleges. In late 2016, it became AccountingSchool.ie and, with the relocation to 5 Lad Lane in Dublin, where it opened in early 2017, the transformation was complete. The Lad Lane building was previously well-known in the education field, having been home to the UK-based BPP for a number of years before it withdrew from the Irish market. Up until 1975, it also took advantage of its prime but discreet Dublin 2 location as the showroom for Rolls-Royce Ireland.
New expectations
With nine full-time lecturers, a similar complement of part-time lecturers and a small administrative staff, AccountingSchool.ie is a tightly run operation that has managed to hit the ground running in its new location: up to 800 students are now studying for the ACCA Qualification here and, of these, more than 90% are young professionals working in practice or industry, O'Donoghue says.
With almost a quarter of a century of teaching under his belt, he has witnessed different generations emerge and progress. Despite all the talk of a shift in attitudes among the current millennial generation, O'Donoghue says there are no major differences in their view of study as a path to career progress. 'Our students are focused on passing their exams and our advice is to always keep that focus, knowing career development will come naturally once you gain the Qualification.'
That said, 'people certainly expect things a lot more quickly now and a lot of that is down to technology. If we, as a college, didn't engage with that demand then I don't think we'd be in business.' Whereas a decade ago, lectures would have been routinely given using overhead projectors and acetate rolls, today, Microsoft's OneNote and the intranet service Moodle are central to the process. Classes are also streamed live, for the benefit of students who study for the ACCA Qualification remotely, and can be watched later online by students who have missed a lecture.
As to what makes a good lecturer, O'Donoghue says there is no one defining style, but a few necessary characteristics: 'Different people can bring different approaches, but there's an underlying need to be personable and have a lot of patience. You've got to be able to explain difficult concepts to an audience hearing them for the first time. I haven't really changed the way I teach over the years, apart from moving with technology; my approach has always fundamentally been "chalk and talk".'
One of the pleasures of teaching the ACCA Qualification is seeing students achieve high world rankings in their exams, and O'Donoghue boasts a number of successes in this regard. 'If someone comes first in the world in an ACCA exam, it's fantastic for the college and the lecturer. It tells you that what you're doing is working and it's recognised as a great feather in the cap. However, it's fundamentally down to the student. It shows an individual who is particularly bright and who has put in a huge amount of work.' He adds his belief that, for a lecturer, the focus is more on the pass rate for the class as a whole. 'First in the world is great, but if it meant that the rest of the class was left behind that would be a problem.'
For those who might be interested in pursuing an education role, O'Donoghue explains that the field can be difficult to enter, but for good reason. 'We frequently have people asking for teaching opportunities, but there tend not to be that many openings. Students coming to the classes expect a certain level and it's very important for them that we have a lecturer who is able to deliver that from the start.'
Global change
The opening of the new premises at Lad Lane coincides with a time of change in ACCA's own approach to education. From September 2015, ACCA introduced four exam sessions a year in a move to give students and employers greater flexibility. 'Students want to get through their exams quicker and don't want to wait six months if they have to repeat. Some people can't do exams in December, so the new system allows them to do them in March. This strengthens the appeal of ACCA.'
Relevance was ACCA's target in September 2016 with the introduction of computer-based examination (CBE) for the Fundamental skills papers, adding to the F1-F4 modules already available by CBE. From early 2018, ACCA will begin phasing out the traditional paper-based exams completely for all the Fundamental papers. In September of the same year case study exams will be introduced for the first time.
'A lot of changes have happened over the last few years and there are more on the horizon,' O'Donoghue says. 'As well as benefiting students, these are undoubtedly enhancing the appeal of the Qualification with employers.'
From October 2017 ACCA is introducing a new ethics and professional skills module aimed at meeting employability skills demanded by employers, and new strategic professional exams (including an integrated case study) from September 2018.
Having served as an ACCA Ireland committee member for a number of years, where he saw his role as providing a link between ACCA and the students who would be its future members, O'Donoghue was a natural choice as the Irish representative on the newly created ACCA Global Education Committee. With its first meeting taking place in February, O'Donoghue is excited about the opportunity to play a part. 'There have been huge changes in the last two to three years and, as part of the ACCA Ireland committee, I was able to explain to people what those changes were and what the implications were for students out on study leave. It's a new opportunity to share perspectives with ACCA educators from all over the world and it will be very interesting to see how it evolves. I'm very much looking forward to being part of it.'
Donal Nugent, journalist
"The old adage that if you find something you enjoy doing you'll never work a day in your life has a ring of truth to it"