Ivan Mitringa FCCA, finance director at Dell, discusses how communication and transferable skillsets provide finance prowess in today's business landscape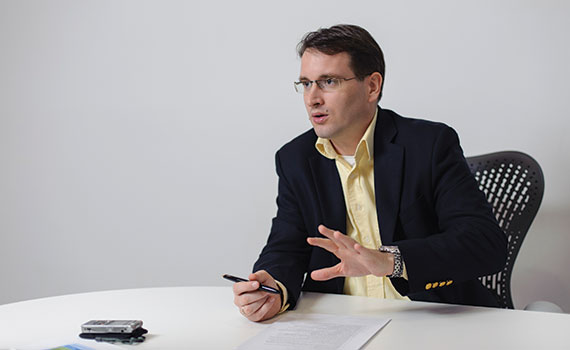 This article was first published in the April 2017 Singapore edition of Accounting and Business magazine.
Today's finance professionals are participating in what is termed as the 'fourth industrial revolution' characterised as a blurred combination of various technologies mystified by buzzwords such as big data, analytics and the internet of things. More than a decade into his professional evolution in Dell, Ivan Mitringa is a fine example of a data-conversant finance individual.
'This is the present and future our company lives in and lives for nowadays!' Mitringa says. 'If I am to translate it to our finance evolution, over the recent years we have moved from spending lots of time on gathering and consolidation of the data to almost real time analytics and translation to our business partner language.'
Communication is key
Entering the company only a year after his university graduation, Mitringa recently celebrated his 13th year with Dell. He is currently located in Singapore, managing remotely a larger team in Penang, Malaysia and Bangalore, India.
As a finance director, responsible for the APJ Commercial Sales' finance planning and analysis department (FP&A), he and his team have shifted their priorities from simply analysing the vast amounts of information to providing relevant business intelligence and counselling used for either day-to-day operations or strategic decisions by the executive leadership inside Dell.
'Today, you are certainly more valuable if you can provide more predictive analytics,' Mitringa says. 'That's where FP&A and my team come in. We are prepared to explain the past but also to advise on the future by conveying the right recommendation or reasonable options to the leadership team. It gets more difficult as there is so much data today and many ways to interpret it, which forces you to elevate from the details and apply the wide-angle lens to explain the story behind it all.'
While his role is already complex by nature, it gets more interesting as Mitringa and his team are in separate countries. Most of Dell's finance staff are located in a few hubs around the world, while Austin in the US, Ireland, Singapore and others serve as HQ or regional hubs for senior leadership.
'In this role, some of my skills have been stretched to a different level. My entire team is out of Singapore, so I really need to be proactive, especially in communication,' he says. 'A really good finance business partner cannot be too much of an introvert; you have to be able to proactively communicate if you want to deliver. You have to be confident in discussions with people beyond your peer level or outside of your organisation, or on specialist knowledge teams.'
Mitringa should know – having been in the first small team of finance individuals who started when Dell did in Bratislava. Mitringa spent the first six years learning key finance skillsets, which he later utilised when he entered Dell's global senior finance development programme called the Finance Rotation Program. Within three years, he was given the opportunity to rotate in three different roles in two locations. Each year globally between 20 and 30 finance employees embark on the programme; Mitringa was first posted to Dell's headquarters in Austin for two years, then back to Bratislava in Slovakia.
Leading by example
After he graduated from the programme, Mitringa's desire for constant challenge and professional growth opportunities was translated into his being relocated to Singapore. He has eyed the Asia region for quite some time as he believes that to be globally versatile and exportable you should explore opportunities that provide you with what's necessary to achieve it.
Nowadays, no matter where you look, the word 'growth' is mostly connected with Asia and Mitringa wanted to be in the thick of things. He travels at least twice every quarter to meet with his team beyond Singapore, maintaining a nimble footing to keep ahead of progress. He checks in with his team frequently because he believes in the importance of connecting his people with leadership decisions and sharing information transparently. 'You have to be honest and genuinely care for your people. If you don't explain how their work is connected with the bigger picture, it's very difficult to get a really good outcome,' he says.
'The internet for consumers started only when I was at university. These days, the young population are very technology-savvy and much more comfortable to work with technology and extract the information,' Mitringa says of his experience with the younger generation. 'Finance leaders have to stay vigilant and ready for many changes – not only in technical skills, but more and more in soft skills as communicating, connecting and motivating both direct and indirect teams.'
'Changes are inevitable, no matter what industry or place. I encourage my team to be in the driver's seat and not the passenger. It would add to their professional career if they can demonstrate that they lead the change rather than being led. Especially in the technology industry where Dell is, the pace of change is incredible. Just looking at Dell, in 2013 we went private in one of the largest LBO [leveraged buyout] transaction in technology and in 2016 we closed the largest integration in the technology industry so far. And finance was a key part of these two mega changes.'
Mitringa joined Dell in 2003 and originally thought he would stay only a few years. More than a decade into his first company, he credits this to the enormous effort Dell spends on developing people. The company is committed to supporting finance professionals, either by internal development programmes that are at the top of industry standards, or via various external certifications where Mitringa sees himself as an example of Dell's belief. 'When I finished my ACCA Qualification in 2005, there were probably two or three of us in Dell Slovakia who decided to give it a try,' he says. 'With the very early take-up of ACCA, Dell Slovakia created a movement of people who were keen to develop themselves continuously, even beyond their university education.'
Learning and being prepared
Mitringa is unflinching about the need for continuous learning no matter where one is in life. 'If you start working in a multinational company, want to progress and move around the globe, you should invest in yourself to have a globally recognised professional qualification. It's not everything but it gives you the competitive advantage,' he says. 'For people who don't have a qualification from a globally recognised institution, you need a world-standard stamp of quality to be recognised internationally. This is where accreditations like ACCA step in. It is difficult to convince people unless I am first committed myself, and I've only gotten this far by means of constant upgrading.'
Dell, like many others, is a data-driven company and, for a long time, finance has been a vital business partner in every key decision, ranging from the supply chain to selling to customers. The recent combination with EMC started many integration activities across the company and Mitringa's team has been intensively engaged in planning for both businesses in APJ for next year, with each team having to change its existing model so that they come together finally.
'The effort has to be in creating synergies from day one, starting with everyone being on the same page, understanding the same basic principles and timelines,' he says. 'This gets interesting because teams are dispersed all over the globe with different time zones. Once again, proactive communication is key.'
'I need to underscore that to successfully pull these types of changes in the company, finance professionals have to be very open and not be afraid to voice their concerns. They need to be self-driven, ready for constructive feedback and be able to make tough decisions and move on.'
Mitringa highlights three factors that drive him professionally: people, development and opportunities. 'I've had the luck to have great managers. Most people leave their managers, not jobs or companies. People I work with are down-to-earth, humble, experienced, and eager to learn' he says. 'And because Dell invests a lot in talent development, I was able to achieve substantial professional development since joining, apart from the ACCA Qualification.
'We may not have every opportunity to gain practical experience in different fields, but that should not stop us from attaining knowledge. Continuous interest and intent to invest our efforts in our field are necessary. That's why I have internal audit and treasury professional certifications, besides ACCA. If I can't get the practical experience straightaway, I look for theory first and nobody can tell me that I wasn't interested or did not go the extra mile.'
Mitringa's keen sense of personal development is his personal branding. He has already experienced eight jobs in Dell and had to prove his mettle each time. Staying in the same company, showing progress and being continuously recognised takes dexterity, and that is his trademark. 'Dell has a global outlook,' he explains. 'When we launch a development programme, most of the time it is set in a global environment where people in different regions are in the same programme, so staying here is like taking a mini MBA: finance professionals build resilience and the ability to communicate across regions.'
Mitringa aims to be a versatile finance professional, fluent in more than one field, and with the abilities of a global leader. 'I've been demonstrating that I'm able to work in a challenging environment. I don't know everything – nobody does. But identifying the best people to work with can make things happen with great results. I'm confident in that,' he says.
'You would expect that I want to be a CFO one day. Yes, that's an option, but to get there I would like to be first somebody who is "deployable" and valuable in different finance domains, leading people no matter where I'm placed.'
Joen Goh, journalist
"Changes are inevitable, no matter what industry or place. I encourage my team to be in the driver's seat and not the passenger"