A new study by the International Federation of Accountants confirms the vital role that professional accountants play in tackling corruption across the globe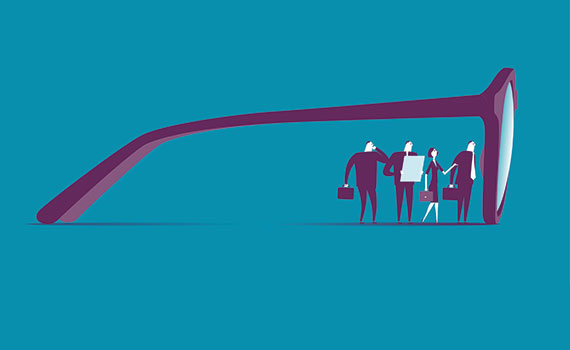 This article was first published in the May 2017 China edition of Accounting and Business magazine.
Accountants were meant to be numbers people, not detectives. And yet, a new study from the International Federation of Accountants (IFAC) shows that the profession is playing a major role in detecting and reducing corruption – a scourge on the global economy estimated to account for 5% of GDP, and which Fayez Choudhury, IFAC CEO, calls 'an economic cancer that disproportionately impacts those least able to absorb its malignancy'. The study, he says, shows that the accountancy profession – acting in the public interest – is an important part of the cure.
'It confirms that the accountancy profession is a crucial part of strong national governance architectures that confront corruption, in partnership with good government and strong businesses,' he says. 'And, vitally, the study shows professional ethics, education and oversight – at the core of the global accountancy profession – are key to our positive impact in tackling corruption.'
Choudhury believes that The Accountancy Profession – Playing a Positive Role in Tackling Corruption, conducted by the Centre for Economics and Business Research, is the first study to draw a link between the number of accountants in the workforce and better outcomes in Transparency International's global Corruption Perceptions Index.
Stronger governance structures
Examining the profession's impact in nations with stronger governance structures, the correlation was significantly greater in G20 countries and member nations of the Financial Action Task Force, the international anti-money laundering and terrorism financing initiative. There is also a strong correlation between adoption of the global accountancy profession's ethical, education, and investigation and discipline requirements, and more favourable scores on international measures of corruption.
The IFAC report also coincides with the release of Transparency International's latest region-specific Global Corruption Barometer, based on the responses of nearly 22,000 people in 16 countries and territories in Asia Pacific. It found that just over one in four people surveyed have paid a bribe to access public services. In China, nearly three-quarters of respondents said they thought corruption had increased over the last three years, despite government efforts to the contrary.
The role of accountants in combating fraud is not a new phenomenon, Choudhury points out. Indeed, more than a century ago, he said, the judge in a fraud case in England, in exonerating an accountant of involvement, ruled that an accountant was supposed to be a watchdog, not a bloodhound. 'So the role of the accountant is not primarily to detect fraud; it's to ensure that there are good systems of control, which reduce the prospects of fraud, but there can be no guarantees,' he says.
What's changed is that society has more awareness of, and less tolerance for, corruption. This is due partly to an increasing distrust of governments and large corporates, but also the sheer scale of fraud in the modern world.
More concerted action
'The World Economic Forum estimates the global cost of corruption to be US$ 2.6 trillion annually,' Choudhury says. The African Union puts that figure at 25% for African states and, even in the US, the OECD estimates that 5% to 10% of the annual budget of the US health care programmes, Medicare and Medicaid, is wasted as a result of corruption. 'Those are the kind of numbers which capture the public imagination and [are on] policymakers' radar. This awareness has driven more concerted action than there has been in the past,' Choudhury says.
The study sees part of the solution in greater global adoption of high-quality international standards on financial reporting, auditing and ethics as a nexus across integrity in both private and public sectors. But it also highlights how professional accountants can contribute positive action both individually and collectively.
'The study identifies that a strong, active and engaged accountancy profession does operate in a national context where corruption is reduced,' Choudhury says. 'To me, that demonstrates the relevance and importance of the profession in the broader context of social good.'
Therefore, as a career choice, he adds, accountancy should be attractive to young people who research suggests are increasingly looking to enter professions that they believe allow them to serve the greater good. However, in a world where the business environment and regulation becomes ever-more complex, accountants need to equip themselves to adapt to these changes.
'At its core, accountancy is about transparency, trust, integrity and accountability,' he says. 'If the numbers are right, consistently presented, and comparable in terms of what you're trying to measure, that is the absolute foundation of transparency.'
Transparency, he adds, is both a requirement for detecting and preventing corruption, but also key to being able to hold accountable the people who are entrusted with decision-making, based on the financial information presented to them. 'Accountants need to be constantly reminded that ethical behaviour is at the core of our profession. Most professional development programmes stress this,' Choudhury says.
He also calls on accountants to prepare for the changes that technology is bringing. 'For accountants to serve their clients, themselves and their employers in the financial arena, that involves technology development: how you collect data, how you process it, how you store it, how you use it,' he says. 'And, if you're an auditor, the whole audit landscape is shifting. Work that we once did to maintain a company's accounts is now highly automated, so you have to move up the value chain and be responsive to those changes.' Reputable CPD curricula are designed to capture these emerging needs, he says.
United in commitment
On a broader scale, the study highlights how the global accountancy profession is united in its commitment to tackling corruption. At the March 2016 OECD anti-bribery ministerial meeting, then IFAC president Olivia Kirtley highlighted an increasingly complex and interconnected world that requires strong collaboration and commitment from the private, public and regulatory communities to fight bribery and corruption.
'Bringing an end to the notion that "silence is always safer" requires greater focus on strong governance and compliance structures, environments that are encouraging for self-reporting, and protections that apply to everyone working with any organisation or for any profession,' she said. 'We must all seek to empower individuals to do the right thing.'
Ahead of the UK government's Anti-Corruption Summit in May 2016, IFAC signed a joint statement deploring corruption alongside professional accountancy organisations and the legal fraternity in the UK. Speakers at the event included Anthony Harbinson FCCA – chair of CCAB's anti money-laundering task force, director of safer communities for the Northern Ireland Department of Justice and former ACCA president.
'Sharing knowledge, skills and intelligence with our fellow professionals and with all agencies fighting for this cause is an important step in the summit's aims to drive out corruption. Silos need to be broken down to tackle bribery and corruption,' Harbinson said, adding that experts across disciplines 'need to all pull together to smash criminal networks and work with governments and NGOs to say bribery, corruption, tax-evasion, money laundering and the financing of international crime and terrorism is unacceptable'.
The global accountancy profession also reiterated its call to action at the last September's G20 leaders' summit on trust and integrity, urging steps towards stronger governance in business and the public sector, and a cooperative, consistent global regulatory environment.
Together, professional accountants can be a formidable force. Fayez Choudhury notes that the IFAC report underscores the positive role that they play worldwide in the fight against corruption, and their professionalism is an essential component for success. He also calls on accountants – the financial watchdogs – to speak up about what they uncover.
'Be part of the voice of public outcry,' he urges. 'In the fight against corruption, silence must never be the safer option for any individual. The accountancy profession, acting in the public interest, has supported this fight for decades – and we will continue to do so.'
Peta Tomlinson, journalist
"A strong, active and engaged accountancy profession does operate in a national context where corruption is reduced"