As mother to Singapore's first Olympic gold medallist May Schooling is a local celebrity, but the finance professional and FCCA has a winning team behind her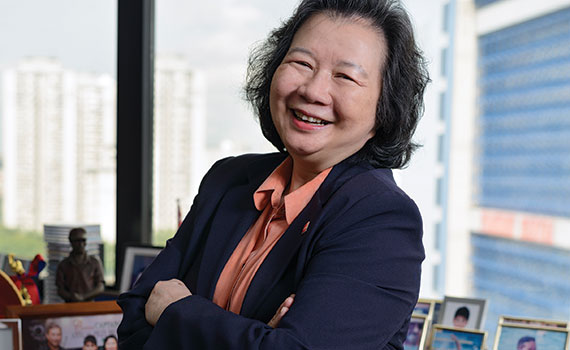 This article was first published in the May 2017 China edition of Accounting and Business magazine.
The first introduction to May Schooling is a life-size cutout of her son in her office foyer. The offbeat standee of the swimmer Joseph Schooling, who won the men's 100m butterfly at the Rio Olympic Games in 2016, beating US swimming legend Michael Phelps, sticks out in a sea of auburn wood furnishing. It's a reminder of epic devotion and the fine number-balancing game it took to bring home Singapore's first Olympic gold medal.
Ask Schooling about her career, and she laughs: 'I'm just Joseph's mummy; that's it!' Her vivacious personality may have something to do with the underplaying of her professional career that spans over three decades.
Beyond being the mother of Singapore's first Olympic gold medallist, Schooling and her husband Colin are directors of M'exim Singapore, an import and export company set up in 1990. She is also founder of two other companies: Pen International, a book distributor, which she founded in 1994 and whose latest offering is a coffee-table book entitled Hello, My name is Joseph Schooling; and Segomo, a global network of asset investments, shipping services and storage facilities.
From 2007, when Joseph aged 14 began training in earnest, the family split their time between Singapore and the US. Since winning his gold medal, Joseph has continued to train in the US and regularly competes in college swim competitions, smashing records in the process, while studying at the University of Texas in Austin.
In the early days of shuttling between two continents, Schooling would often wake up and forget where she was. With all the travelling back and forth supporting her son's swimming career, it is surprising to know that the family still manages to carve out time to be together. Yet they gather for every significant event: birthdays of elders, Christmas, Chinese New Year. It took trust, focus, grit and a deep drive to support her son in achieving his goal to become an Olympic competitor – all while still overseeing her businesses at home in Asia.
Schooling notes that her financial acumen helped her to manage the budget of living in two countries and sustaining Joseph's training, and recalls the challenge of being an entrepreneur and maintaining homes in different continents.
'It was with great difficulty, believe you me!' Schooling laughs. 'I was fire-fighting matters a lot and learnt to prioritise through better time management.'
Back then, she would work a seven-day week: 'That was possible because Joseph was not here with me and I could concentrate on work,' she says. However, she was still on call 24 hours a day for both Joseph and her husband, who took turns with Schooling in being in the US with their son.
'Mum was supposed to know how things worked and where everything was, even if she was halfway around the world,' she says. 'My phone bills used to go up to S$2,000 when Joseph was in the US. He would miss home terribly and cry. It was heartbreaking but when asked if he wanted to come home, he was adamant that he wanted to pursue his passion. If we back people up 100%, they can also put the same amount of effort into their work.'
She adds that splitting the family was not an easy decision to make but one that gave her son the strength to go for gold while knowing he had the support of his parents in his endeavours.
'It was tough for the family to be apart most of the time but it made us realise that time together is so precious,' she says. 'That brought us closer: we appreciate each other more and value our time together.'
Sporting chance
Hailing from Ipoh, Malaysia, Schooling competed in many sports while at high school, including netball, tennis and athletics, and she played softball at state and national level. She was introduced to her future husband at a series of softball tournaments – she representing the Perak team and he playing for Singapore in the Pirates team. 'I really enjoyed life then,' she recalls. 'This taught me that results are not the most important element: the learning journey is.'
Schooling had dreams of becoming an educator but health problems forced her to take another route. 'I took up accounting because I couldn't use chalk as a teacher; I had such bad hand eczema,' she explains. 'My parents weren't well-to-do, so I started studying for the ACCA Qualification.'
She studied in Kuala Lumpur and then moved to Singapore in 1979 where she began her training in audit at Goh, Tan & Co, noting that 'it was tough to work and study at the same time because we hardly saw daylight as auditors then'. Her move to Singapore and her interest in softball ensured that her path merged again with that of Colin Schooling; the two married a few years later.
Having the support of her work colleagues makes Schooling's hectic schedule easier to manage, with all of them happy to step in where another leaves off. 'We are like a big family here,' she says.' We eat together, and we are conscious of taking care of one another. We don't haggle about the small things like working a little more if necessary, as long as the work gets done.'
One-legged kicking
Schooling acts an enabler, nurturing colleagues to become competent in many areas – or what Schooling calls 'yat geok tek' (literally: one-legged kicking, or one who accomplishes everything) in Cantonese. 'One must learn to diversify in today's era; there's no job that is one track anymore,' she says. 'Here, we learn from each other. There are no tasks too menial or too beyond reach of anyone. Good communication is also crucial for successful teamwork.'
Schooling believes that this approach is even more relevant for young professionals starting out in accountancy. As the world gets caught up with speed and data, professional accountants are now perceived and developed as stakeholders for business progress and growth.
'When I started in this industry, we didn't use computers,' Schooling reminisces. 'But with the current state of media and connection across the world, one really has to be aware of technology and keep up to date with developments in things such as big data.
'We have a colleague in charge of data, which helps channel our focus and efforts in managing Joseph's career and our businesses. That said, we mustn't be caught up in technology so much that we lose our roots.'
Schooling prescribes having a sassy attitude towards work and to enjoy what one is doing to get the most out of the journey. 'I am fortunate to be running my own businesses here. If I was doing something else, Joseph the Olympic gold medallist might not have happened. We prioritise the urgent matters while many things are running on the backend, too. If we sat and worried about the sheer workload, nothing would get done.'
Despite the challenges of managing both her business interests and her son's ambitions, Schooling has kept connected to her accountancy roots by taking on active roles in the profession. In 2006, she was elected president of ACCA Singapore and was re-elected in 2007. A person of deep dedication to the causes she has chosen, Schooling keenly felt the challenge of getting members to be more active and passionate about supporting the local ACCA community.
'I hope that ACCA members can feel like they belong together, working towards improving or elevating our profession, and being proud to be a professional accountant,' Schooling says. 'Initially, it was difficult trying to get support from our Singapore members to apply to ACCA's Council to represent us. I wish that our members rally behind our candidates for Council so that our voices can be heard,' she adds. ACCA's Council includes Singaporean Belinda Young, who is into her third term as a Council member after being elected in 2009.
Familial ties
In fact, Schooling attributes the success of Joseph and her own profession to having a close-knit family. 'Stress is part of life; we cannot protect our children from everything,' she says. 'Technology has helped to ease and speed things up, but the irony is that communication has been whittled down in our family units. We cannot lose the human part of ourselves. Familial ties teach us about loyalty and communication, besides teaching us indirectly the ways to multitask well.
'People ask me how they can connect with their child better, to give them a head start,' she says. 'The truth is: I've been working all this while and it's really all about quality over quantity. When we are with them, we shouldn't be spending precious time pressuring our children. Joseph was not a straight-A student in school. Everybody thinks I'm the Asian "tiger mum",' she jokes.
She adds that to her mind, the school grades didn't matter but she counters that it is important for her son to graduate. 'I only strive to keep him level-headed,' she notes. 'Develop children as whole persons, with the family unit as their roots and the harbour to rest within.'
Schooling values these qualities in developing her team at work, prioritising the human connection over the bottom line. She understands that each person comes with strengths and weaknesses, and the ability to fortify individuals is the way to yield performance for the company. 'Things get done better if you have employees who are happy working with you,' she says. 'The human factor is important. Never forget that.'
Joen Goh, journalist
"If I wasn't running my own businesses, Joseph the Olympic gold medallist might not have happened"