If the career of Czech auditor and global controller Pavel Šustek FCCA is anything to go by, there's more to being a good accountant than having a great head for figures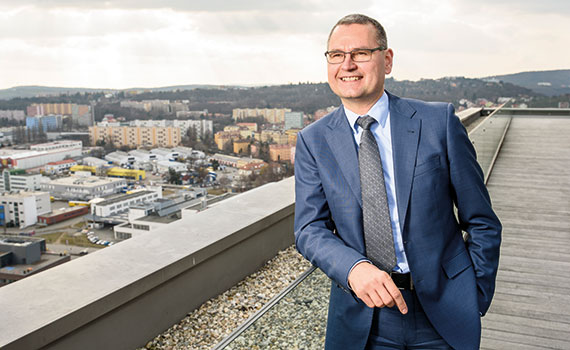 This article was first published in the May 2017 international edition of Accounting and Business magazine.
For Pavel Šustek FCCA, empathy, feelings and personality are vital elements in accounting work. The global controller for the high-vacuum products division at Edwards Group, and the company's country leader for the Czech Republic, urges colleagues to go beyond mere data and pay more attention to the human factor in their everyday work. It's an approach that has been a theme throughout his 20-year career.
It began at his first job fair, where the stalls of the then Big Six made a big impression on him. Back then, it was the technical image of accounting that attracted him. 'I understood that audit jobs were about numbers and logic, and involved travelling,' he says. 'All these aspects grabbed me.' He became an auditor at Coopers & Lybrand in 1996, and stayed for eight years, rising to audit manager.
Šustek has worked on both sides of the audit fence, which has taught him to take a holistic view of his profession. 'One needs to be commercial and constantly observing the market, such as knowing GDP figures or unemployment rates. Being a good accountant is, unfortunately, not enough.'
In 2004, a friend approached him with a proposal to invest in Rolofol, a small distributor. Šustek became a co-owner of the business, which imported foil in bulk and cut it into various sizes before selling it on in the Czech Republic and Slovakia.
'We saw a significant revenue growth potential in this project, concluding that it was better to make the product in the Czech Republic rather than importing it. I co-developed a strategy to strengthen revenues. Initially, we invested CZK60m [US$2.4m at present exchange rates] in technology, which boosted revenue from CZK20m to CZK200m. We also managed to double profit margins.'
Later, when he became supervisory board chairman of the company, Šustek had to find a private equity investor willing to acquire Rolofol and a complementary business. The local private firm he brought in as the bidder acquired the business in 2008. He left Rolofol after the deal closed.
Meanwhile, in 2007, Šustek had been appointed chief operating officer for Life Style Sports' acquisitions in central and eastern Europe. Life Style Sports is an Irish family-owned sports retail business. His role included overseeing finance, HR and IT. In the first three months, he made significant changes. He introduced key process controls, led a team that reconstructed most of the general ledger accounts to reflect the true status of the business, and identified contingencies.
Nasty surprise
But Šustek soon discovered that all was not well. 'The acquisition was much worse than it looked in the books.' Looking back, it is possible the firm that had carried out the due diligence on the acquisition had not validated key transaction drivers such as footfall, conversion rates or basket size.
Meanwhile, consumer confidence was nosediving in the wake of the credit crunch, and Life Style Sports' revenues were falling. 'I could either go crazy or find a practical solution,' Šustek says. 'I just had to keep calm and consider what was important for the shareholders, for the company, and for me as a director with a legal responsibility. The priority was clear: cash.'
Instead of trying to capture revenues from customers, who were simply not buying, he considered alternatives, including extending payment terms and negotiating store rents with landlords. He also applied discounts, and reinvested sales proceeds in areas such as marketing. 'We did not make much profit, but we resolved the cashflow and deferred key problems, which gave us space. All accountants and controllers should focus on cash. In the end, nothing is more important.'
Šustek adds that controllers are often too focused on cost alone. While cost is crucial for controllers, he says that the role is about supporting growth. 'Controllers must ensure that general managers or those coming up with ideas are scrutinised, and that proper investments are made so that growth is sustainable and profitable. But not cost-cutting – no company became big by cost-cutting exercises.'
Hands-off approach
Key to Šustek's approach in dealing with such challenges has been to focus on the human dimension. He looks beyond the numbers and tries to understand people and their motivations, using that information to develop and manage his teams.
While he relishes the technical elements of his job, he sees people as the core of the profession and the key to success. Recruitment is key, he believes. 'The standard method is to look outside, but I believe that is wrong. We need to look internally first, and promote the right person. That motivates staff and builds up loyalty among them. Additionally – and crucially from a financial perspective – internal recruitment slashes business costs because external searches incur up to three months of headhunting or recruitment fees on top of current market salaries.'
Šustek adds that, often, staff leave because they are looking for better-paid positions. 'If you fill a position internally, you save on costs, because your employees are willing to accept less if they know that once they are up to speed, they will be paid more.'
Once employees are on board, Šustek's approach to managing them is relaxed. Instead of issuing detailed to-do lists and instructions to subordinates, he concentrates on outcomes. 'I leave results to the individuals or team and combine this method with a great deal of trust – I don't go in for micro-management. I believe that by doing so, good people with great potential feel they can do what they want, and thus go far.'
He adds that they gain ownership, and task execution is up to them, as long as they deliver. 'The only thing I do is check the project status – whether the deadline will be met,' he explains.
While he holds black and white opinions on technical matters, when working with colleagues and anticipating how they will react in situations, he is more flexible. 'I always try to understand how the other person behaves. Understanding why conflicts happen has helped me in my career.'
In his opinion, the nature of accounting means that accountants tend to see everything in black and white, and feelings and empathy figure much less. 'Just because accountants have a scientific focus, it does not mean that they are incapable of putting themselves in their colleagues' shoes,' Šustek argues.
Cautious optimism
He also believes that in the Czech Republic, the education system, which emphasises learning facts and reproducing them in examinations, exacerbates such problems. He says there is little focus on team work, motivation and team spirit. 'These skills should be taught at an early age, but we acquire them only when we start our careers. Some people don't get them until later in life and some not at all.'
He adds: 'Audit teams are less motivated and driven than we were in the mid-1990s. That is understandable because there are many other good job possibilities these days. So now audit firms will need to change their business models to keep staff motivation levels high.'
Shared services, the sector closest to his heart, is changing right now, from support for a centralised to a decentralised business model. That presents new challenges, and involves cultural change, triggering numerous discussions that have not been necessary before. 'This is temporarily giving us extra work. But once completed, it will mean that decisions are made where the business is being done and will therefore result in a more agile business.'
Šustek says that shared services is becoming a major industry and warns: 'It feels that the Big Four is reactive rather than proactive in adapting their audit approach to it.' He adds that audit assistants, although holding degrees in accounting or economics, usually have no understanding of the business they are auditing.
Despite these shortcomings, Šustek, an ACCA member since 2002, is cautiously optimistic about the Czech audit profession. He has seen significant improvements taking place in the sector over the past 20 years and believes that the future looks promising. 'We are in a good place,' he believes.
A member of ACCA's International Assembly from 2014 to 2016, he says: 'The ACCA Qualification provided me with unique technical knowledge and managerial skills and thus unlocked an almost unlimited list of global job opportunities. I see ACCA as an exciting way to obtain a passport to senior accounting and finance jobs anywhere in the world.'
David Creighton, journalist
"Just because accountants have a scientific focus, it doesn't mean that they can't put themselves in their colleagues' shoes"