Danil Prokopovich FCCA is one of those who have helped Russian accounting move forward from the days when such basics as profit and loss couldn't even be measured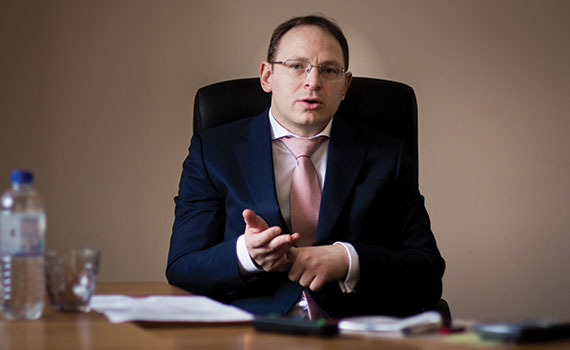 This article was first published in the June 2017 international edition of Accounting and Business magazine.
At the tender age of 38, Danil Prokopovich FCCA already has a mass of contributions to the accountancy profession under his belt. In 2016, he was honoured by the Institute of Professional Accountants and Auditors of Russia for his contribution to the profession. He has worn many hats as an accountant during a period of considerable change – perhaps the most dramatic to affect any business environment in recent history.
Fluent in English and French, Prokopovich has spent much of his career bringing the Russian accounting system into line with global standards and professional practice – not only through his teaching and corporate training activities, but also through helping to integrate IFRS Standards into national legislation, and improving their Russian translation. He has also contributed to the development of the profession globally, as the Russian delegate to the Emerging Economies Group of the International Accounting Standards Board (IASB).
He is past chairman of the IFRS Standards committee at the Institute of Professional Accountants and Auditors of Russia, a member of the National Accounting Standards Board (Russia), director of IFRS programmes at the Institute of Professional Growth and head of the National Audit Corporation in the Volga region. Currently, he is partner and IFRS Standards leader of the National Audit Corporation (Russia) and collaborates with numerous international organisations including PwC, Deloitte, EY, KPMG, Grant Thornton and BDO International.
In the blood
So how did he develop this acumen for accounting into a wide-ranging and distinguished career? 'It's in the blood,' he says. 'I'm a fourth-generation accountant. Both my grandmother and grandfather were accountants, as was my great-grandfather.' His family tree traces the history of the accountancy profession in Russia back to the time of the last tsar.
Under the Soviet system, Prokopovich says, accounting was vastly different from today. For example, profit and loss statements were non-existent. 'Not being able to measure profits and losses, and the resulting inefficiency in resource allocation, was a major point of departure between Western and Soviet accounting systems,' he explains.
In 1989, the Soviet government laid down new rules for joint ventures with foreign capital, which triggered a need to revamp the old system, he says, along with a wave of new issues, such as accounting for intangibles and the implementation of audits.
Almost 30 years later, Prokopovich believes Russia is making good progress. 'We've developed quite strong accounting traditions that we take from Europe, mostly from Germany. There are many compelling reasons to have a strong foundation in IFRS Standards. Appealing to the international investor community requires that companies report in accordance with IFRS Standards, and any new managers coming into Russia from different countries want to implement their own accounting systems, typically under IFRS Standards or US GAAP.' Russian companies looking to do business or raise capital in international markets also have to adopt international standards. 'Any company requiring an international audit will be required to meet globally accepted accounting and reporting frameworks,' he points out.
Initially, Prokopovich says, it was the market that was moving the system, but then in 2002, the government mandated Russian companies to apply standards closer to Western models. Since then, Prokopovich has played an integral role in helping the system evolve to where it is today, through education, professional practice and an active role in standards development and interpretation. But getting there has been no easy feat.
The most challenging aspect of educating Russian accountants in IFRS Standards, he explains, was persuading them to embrace a more principles-based approach to accounting. He cites the Russian tax accounting system as an example. It is, he says, 'very rigid, very strict – based on formal documents that sometimes contradict the principle underlying the accounting application, and this affects the way Russian accountants think'.
Changing the thinking of Russian accountants from a strict rules-based approach to a principles-based approach continues to be a challenge, Prokopovich says. 'A remnant from Soviet times is that the majority of work accountants do today still revolves around tax, and we are constantly under pressure from tax authorities to explain, and prepare documents in a very specific way. In Soviet times, accountants were really bookkeepers, exercising little judgment, whereas today they need to be more analysts and strategic partners,' he says. 'The only way to change this is through education.'
Huge leap
As to why he is such a champion for change, he says: 'I was fortunate to be educated in very interesting times … when the Soviet system was in transition to a free market system.' For some, the transition was a huge leap in culture, but for Prokopovich it was very natural, he says. 'It was related to hope, to new expectations, to new world relationships. I was excited to embrace a new economy, a new type of accounting, to see the accounting profession evolve, and accountants have the opportunity to take on a broader role.'
He explains that it was his experience in what was an experimental university at the time that inspired his interest in Western accounting and opened up opportunities to him. 'When I was in school,' he recalls, 'some Russian universities offered accounting courses, but when they did it was as part of the economics faculty. It was difficult to find educators to teach a Western business curriculum. I was fortunate, however, to be accepted at Nayanova University in the Samara region, which was the first of its kind to adopt Western thinking and educational programmes...particularly related to business and financial management. We also had to study English and French. Ultimately, it was dedicated to training a new type of student, to get us ready to participate in the world economy, to make a new type of education in post-Soviet times.'
Through his training, everything became clearer. 'We studied modern economic theory, modern finance and management concepts. We had international professors and were placed in foreign positions in Europe. I received my initial practical experience in 1999 in Germany as an internal controller, where I prepared international financial statements for consolidation purposes. I very soon realised that many foreign companies intended to do business in Russia and they needed professional support on the ground from someone who understood the system – and, of course, the language. I still today act as a bridge between Western and Russian business culture, also as an educator in international financial reporting.'
Today, Prokopovich points out that there are still many challenges and opportunities for accounting education and training in Russia. For example, there remains some resistance to international accounting frameworks, with smaller firms questioning the applicability of many of the standards to their specific business models. While larger companies are preparing financial statements for shareholders and filing on public exchanges, many smaller firms still focus on preparing accounting information for tax purposes.
Also, many Russian accountants would still prefer to follow a rule, says Prokopovich. Then there's the problem of translation. As he explains, there is often a time lag between when the IASB issues new standards and when the final translation becomes available.
One of his next challenges is to promote faster and more accurate translation of accounting standards and other educational tools. In addition, despite his busy audit practice, Prokopovich is still very involved in moving accounting in Russia to a principles-based approach. His strategy is to continue to educate corporate accountants in IFRS Standards, and to prepare companies in the approach by developing accounting policies and helping them automate their accounting processes.
To this end, he says: 'My ACCA designation provides a great deal of credibility. In Russia ACCA is widely known and carries the highest degree of authority.'
Ramona Dzinkowski, Canadian economist and editor-in-chief of Sustainable Accounting Review
"I was excited to embrace a new economy, a new type of accounting, for accountants to have the opportunity to take on a broader role"