From finance to medicine: Louise Hendrick FCCA explains how her dramatic career change is helping in her national role representing non-consultant hospital doctors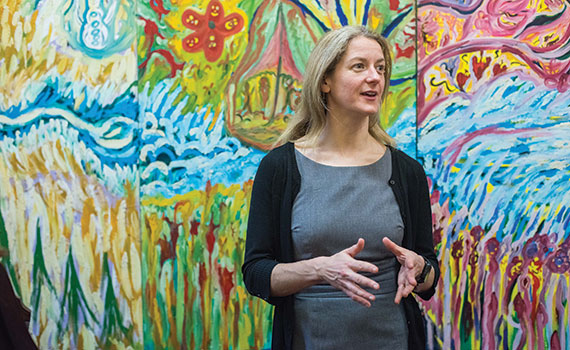 This article was first published in the June 2017 Ireland edition of Accounting and Business magazine.
The pressures on Ireland's underfunded health system can be onerous for those working within it. Yet while the opinions and positions of politicians, the Health Service Executive (HSE), nurses and even hospital consultants are often what the public hears, one important group is conspicuous by its lack of a public voice: non-consultant hospital doctors.
NCHDs are those medical practitioners who work under the supervision of consultants in Irish hospitals. In many ways the bedrock of the system, they usually operate on short-term rotations, a situation that has historically kept them out of the loop in terms of influencing either hospital administration or health service policy.
In 2014, the HSE rolled out the Lead NCHD initiative to bolster the position and profile of NCHDs in hospitals, and to give them a formal link and two-way communication with hospital management.
Step forward clinical ophthalmologist Dr Louise Hendrick FCCA. Having served as lead NCHD at Temple Street Children's University Hospital since 2016, this year Hendrick takes on the role at national level, a position she says will allow her to utilise not just her medical expertise but a background in business and finance that makes her virtually unique in her profession.
'In terms of lobbying for change, NCHDs are a difficult group to get a handle on,' Hendrick admits. 'We are essentially a mobile workforce moving from hospital to hospital every three to six months. It's great for training and experience, but it also means the HSE often doesn't know how to look at us.'
A very clear motivation behind the creation of the lead NCHD role is to address the recruitment and retention crisis bedevilling the sector. While the brain drain in the nursing profession is well publicised, the issue among doctors is often underappreciated. 'It's no secret that there is a problem among NCHDs in terms of morale and that the emigration figures are likely to get worse as a result. We've always had a culture of Irish doctors going abroad and picking up expertise but in the past they eventually brought that home. The problem today is that doctors aren't coming back as much and a lot of that comes down to the work-life balance here. There are figures that say up to one in two NCHDs in Ireland suffer from burnout. It's a complex issue but it's something we have to address.'
Hendrick adds that such issues can rarely be reduced to remuneration. 'If doctors were financially motivated they'd be doing something else,' she says frankly.
Sense of community
The situation isn't all negative of course and Hendrick points to a very strong collegiate mentality that helps mitigate some of the stresses of the job. 'There's a sense of community in many hospitals and the lead NCHD role is about leveraging that strength. The exposure NCHDs get to different hospitals and cultures also puts us in a very strong position in terms of understanding what works and what doesn't. You can often see from hospital to hospital how you might improve things. One of the opportunities the lead NCHD has is to be constructive about change and get people on side to make progress.'
There's a perception of medicine as a strongly vocational field, which, along with the level of educational commitment required, means that while doctors often went on to do other things it was typically much rarer to see people successful in other walks of life take up medicine mid-career. With the advent of graduate entry programmes in medicine, though, this picture is changing. Among those in the vanguard of the change is Hendrick, who 10 years ago was happily progressing a career in financial services.
She joined Bank of Ireland through its graduate programme and specialised in credit risk before moving into investor relations. 'Part of my job was to be responsible for the bank's interaction with the equity analyst community. When I did leave in 2008, people thought my timing was almost too impeccable!'
It was while there that she began studying for the ACCA Qualification, a choice that she believes stands among the best of many academic choices she has made. 'It is the single best educational experience I have had and the most well regarded academic achievement I hold,' she says. In her working environment, she frequently finds she is not alone in holding it in esteem. 'Medical schools don't provide business training, yet when you become a consultant, one of the key parts of your job is lobbying for equipment and applying for funding approval – something most consultants have never been told how to do. I'm recognised as being quite unique among my colleagues in having this kind of experience at my level.'
As someone who undertook the ACCA exams outside the practice environment, Hendrick can also offer some advice (and inspiration) to those studying for the qualification – she came first in the world in the advanced audit exam. 'Although I never worked in audit I loved it. To me, it's very logical and it doesn't change. You learn how to approach things and break them down. My main advice is to study the past papers – I never understand why people don't use that resource more.'
On the question of why she made the big career move from finance to medicine, Hendrick says: 'I do things if I find them interesting and think I can make a difference. I'd always been interested in caring for people and I thought I could achieve it through volunteer work, but that wasn't enough.'
Good fortune also influenced her decision in the shape of the creation of a four-year MBBS at University College Dublin. 'I'd ruled out the six-year programme and so when this opportunity emerged I decided to go for it. To call it full-time would be an understatement. It's four years of intensive learning in which you build up a rapid base of scientific knowledge. Once I got into it, I knew that I loved it.'
As to how those career changes have influenced her outlook on life, Hendrick points to a gradual sense of self-empowerment. 'I used to think that things just happened, but began to realise things happen because I did something. It's only by pushing your limits that you realise what you can do. It makes things interesting and there is a sense of achievement. I'm someone who challenges myself in that sense. I'm my own worst taskmaster.'
If any further evidence was needed in this regard, she points to her broken foot, the result of an arduous training regime by which she had hoped to run a marathon each month in 2017.
Eye to the future
Hendrick developed her interest in ophthalmology while a medical intern. 'I had an interest in neurology but you can find yourself diagnosing people knowing that treatments aren't available. I found that a little depressing. Ophthalmology on the other hand has seen huge advances in recent years, so the sense of being able to make a difference appealed to me. Vision matters to people and, when things go wrong, if you can do something to help, it's massively rewarding.'
The development of the new National Children's Hospital at St James's Hospital, Dublin, will open a new chapter in the care of sick children in Ireland and Temple Street is one of a number of existing institutions that will move to the site when it opens. 'There is still some uncertainty about the timeline and the finer details but there is general agreement that this is the way forward and it's a huge opportunity. The facilities laid out in the plan are absolutely amazing.'
That said, and with her ACCA hat firmly on, she struggles with the recently mooted cost overruns that could make this one of the most expensive health facilities ever built. 'You have to sit up and listen when you hear state-of-the-art children's hospitals are being built in the US for €1m a bed and Dublin is coming in at €1.9m. My concern is what the final figure might be given the likelihood of overruns.'
While the last decade has taken Hendrick's career in a new direction, she sees the new national NCHD lead position as an opportunity to synthesise her experience to date and to give new purpose to her accounting background.
'Being exposed to the management side of healthcare has certainly reignited my interest in business again,' she says. 'Having the background I have gives me a unique perspective and it's one of the reasons I hope I can do justice to the role. The skills I will use will be the skills acquired in my time in banking and doing ACCA.'
Donal Nugent, journalist
"Having the background I have gives me a unique perspective and it's one of the reasons I hope I can do justice to the role"