A wave of technology success stories have started to spread Africa's locally grown digital innovations across the continent and out into the wider world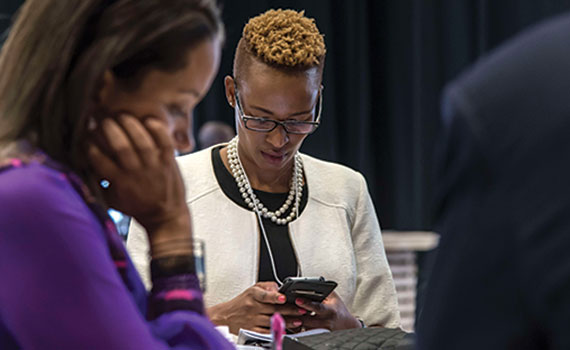 This article was first published in the July/August 2017 Africa edition of Accounting and Business magazine.
Africa as a continent has never been renowned as a pioneer in science and technology. It has played the part of follower rather than leader. Now, however, it is shaking off its image as an imitator and reimagining itself as a innovator. Rather than depending on outside ideas, Africans are innovating and creating technologies themselves to solve local problems and improve productivity, and in the process are moving the continent forward.
To date, the sectors that have seen the most solutions are healthcare, finance and agriculture. In financial services it all began with the use of mobile telecoms for payments and money transfers – so-called mobile money – where the Kenyan service M-Pesa, owned by Safaricom, was a pioneer. M-Pesa remains highly successful service, so much so that it has been adopted by several other countries – in Africa and elsewhere. Mobile money services have since expanded to encompass virtual savings, credit, crossborder transfers and even insurance.
In the healthcare sector, an example of innovative technology is the Cardiopad, a touchscreen medical tablet developed by Cameroonian Arthur Zang. His invention won him the 2016 Africa Prize for Engineering Innovation from the UK's Royal Academy of Engineering. The Cardiopad allows health workers to carry out diagnosis and heart examinations – for example, electrocardiograms (ECGs) – in distant locations, removing the need for patients to travel to urban centres. The results are transmitted wirelessly back to the specialist for interpretation.
Another innovative product with applications in the healthcare sector is the ViViFi touch sticker, created by Egyptian engineer Haitham Desoky. Placing ViViFi stickers under any non-conductive surface such as wood and glass transforms it into a touchscreen able to interact with human contact. The technology can be used in medical devices, but also in light switches and books, among other things.
African entrepreneurs are also putting mobile technology to work to accelerate productivity in the agricultural sector. Ghana's CocoaLink service delivers timely cultivation information to the country's thousands of cocoa farmers through SMS.
Other innovative apps helping agriculture and agribusiness in Africa include Farmerline, also in Ghana, which uses voice and SMS to collect data and share important information and new farming techniques, creating better links between widely dispersed smallholder farmers and other participants in the agricultural value chain.
In media, the Kenyan mobile web newspaper HiviSasa (the Swahili for 'right now') employs mobile technology to source news stories from citizen reporters – ie the general populace – and pays them with mobile money. This kind of innovative mobile money transfer disrupted traditional financial models when it started in Kenya.
Meanwhile in the entertainment sector, Nigerian entrepreneur Jason Njoku is successfully exploiting the demand among Africa's growing middle class for films made by Nigeria's movie industry. Njoku is the founder of IrokoTV, a web-based platform that provides Nollywood movies on demand to African households. It works on a subscription basis and can be accessed through laptops, televisions and mobile phones. Often referred to as the Netflix of Africa, its emergence has changed the landscape of visual entertainment, offering choice to viewers and presenting filmmakers with an alternative distribution channel beyond the traditional DVD route.
Tech hubs
The driving force behind the growth of Africa's tech sector is the emergence of tech hubs scattered across major cities in the continent. According to World Economic Forum research, there are roughly 200 innovation hubs in Africa. In Kenya, there is the iHub, which formed a strategic partnership with Facebook and Google to train developers in coding and product development. It is home to over 170 startups and 16,000 members and in 2016 it received US$2m in funding from US fund Invested Development. Kenya is a leader in technology and innovation in Africa – its tech space is generally referred to as Silicon Savannah. The government's commitment is reflected in its support for the construction of Konza Techno City just south of Nairobi, which is expected to be a major economic driver for the country.
On the other side of the continent, Nigeria has the Co-Creation Hub, an innovation ecosystem located in Lagos. The Cc-Hub, as it is known, is dedicated to the application of technology for economic growth. Meanwhile, South Africa has JoziHub in Johannesburg. Another leading tech innovator in Africa, JoziHub aims to kickstart and accelerate tech innovation and currently embraces 46 startups. According to Disrupt Africa, 125 startups in Africa raised funding worth US$186m in 2015.
The technologies grown in these hubs are not only made in Africa, they are also made for Africa, designed from the start to suit local needs. In these hubs the budding crop of coders and technology entrepreneurs are coming together to solve Africa's most pressing problems. Ecosystems such as entertainment media, payment systems and crowdfunding created there are gradually changing the face of Africa.
Accountants are also taking advantage of the proliferation of technology in Africa, too, especially in the area of cloud-based business applications. Examples include Uhasibu and Xero, cloud-based accounting packages built respectively by Pluspeople in Nairobi and LouwCooper in Cape Town. Both leverage cloud-based computing to help SMEs gain access to easy-to-use and affordable accounting systems.
Foreign tech companies are finding the continent more attractive and their investment in technology continues to increase. However, this may not be solely altruistic – they may be taking advantage of the relatively weak regulatory environment in Africa. Compared to Western countries, Africa does not have continent-wide digital rights laws or copyright regulations. African governments will need to work together on structural reforms to create a framework that works for all.
Out of Africa
Not all African innovations are confined to their home market. Some are spreading to other parts of the world. BRCK, for example, is a backup generator device for the internet, developed in Kenya. Designed to provide internet connectivity even where there is no electricity, it comes with eight hours of battery life, making the WiFi hotspot router a very attractive product in countries that have frequent, often prolonged power outages. According to a CNN report, over 2,500 BRCK devices have been sold in 54 countries, showing that Africans can be leaders in technological innovation.
Another Kenyan creation is Ushahidi, which gathers information from the public via mobile technology, using open source software to collect and visualise data in an interactive way. It has been used to track incidents of violence during elections in Nigeria, by the Washington Post to track the clearing of snow in winter, for crisis mapping in Chile and Haiti, and for the prevention and management of forest fires in Italy.
Africa has shown it can develop its own unique tech tools to solve its particular problems, and exported technology such as mobile money to other continents. Technological innovation will flourish in Africa as internet penetration deepens, and Africans will continue to exploit and benefit from its transformative potential. Technology hubs will remain key drivers of the developments in digital innovation that will traverse the length and breadth of the continent.
Africa has 3,500 new tech-related ventures, and tech investors will continue to add to the US$1bn venture capital already spent. To protect the interests of all stakeholders, governments should review the legal and regulatory framework for technology. This will be a key factor in making Africa one of the most sought-after tech investment destinations in the world.
Kayode Yusuf FCCA, finance professional and journalist
"The technologies grown in these urban technology hubs are not only made in Africa, they are also made for Africa"