Africa has an opportunity to play a bigger role in the world economy, but first it must tackle the obstacles of poor leadership and corruption, says Alnoor Amlani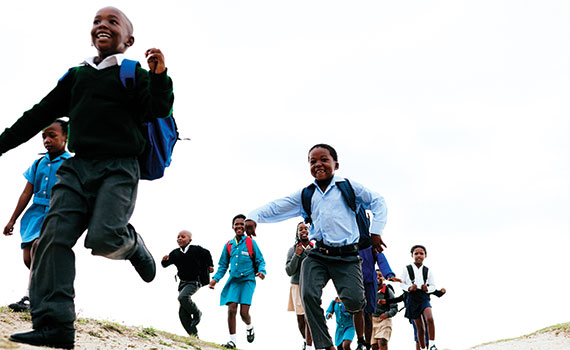 This article was first published in the July/August 2017 Africa edition of Accounting and Business magazine.
When Colombian singer Shakira performed the official song Waka Waka at the Fifa Football World Cup in South Africa in 2010, the chorus line 'it's time for Africa' rang on the lips of millions of football fans across the world. The feeling was infectious and the continent as a whole basked in the reflected light of South Africa's successful staging of the tournament. The following year, The Economist coined the phrase Africa Rising to describe the rapid economic growth in sub-Saharan Africa since 2000, and the idea of a bright future for the continent caught on.
Seven years later, is the concept still valid? Africa is not often seen in a positive light by the global community. Mainstream news tends to report the shocking and the sensational – starvation, with its attendant pleas for charity donations; violent coups and contested elections; and the activities of Islamist militant groups such as Al Shabaab and Boko Haram. In the process it ignores the positive developments that really are happening in Africa.
Many of Africa's recent success stories have emerged from the internet and mobile technology arena, which has opened up horizons. Only a few years ago just getting access to a phone in Africa took months; now it takes just minutes due to the widespread deployment of mobile phone technology, which has increased productivity immensely. OpenSignal's global rankings for 4G coverage routinely show South Africa and Morocco well ahead of Germany and the UK. And these technologies have freed consumers and producers from barriers created by middlemen – a real problem in Africa – and by inefficient government agencies and other monopolistic entities.
On the back of mobile technology, entrepreneurial Africans have come up with innovative concepts, often in response to challenging situations experienced by citizens of Africa's developing nations, and have then exported them globally.
Shining examples
An example is the celebrated M-Pesa initiative developed by mobile network operator Safaricom. M-Pesa is a secure Kenya-wide mobile money transfer service that began as a means for microfinance borrowers to make and receive payments, but has since become as good as cash. It was developed in Africa and has been exported to India and Afghanistan as a tool to bring the unbanked masses into the financial system. Imitations have sprung up across the globe.
Another example is Ushahidi, a data collection platform and information management tool developed in Kenya in the wake of the disputed 2007 elections to map reports of violence and voter intimidation via crowdsourcing. As an election monitoring tool its use spread via Mozambique and Nigeria to the US, where it was used in the 2012 and 2016 presidential elections. Ushahidi products are now used by crisis responders, human rights reporters, citizens and governments globally to gather information at grassroots level via mobile or email messaging.
These innovations have given birth to a new perception of Africa. At the 26th World Economic Forum (WEF) on Africa held in 2016 in the Rwandan capital Kigali, there was much discussion and support for the idea that Africa could exploit the creative and pioneering deployment of cutting-edge technology to leapfrog the developed world and take leadership of the world's fourth industrial revolution.
Africa missed the boat on earlier industrial revolutions. To paraphrase the words of Klaus Schwab, founder and executive chairman of the WEF, the first used steam power to mechanise production, the second electric power to create mass production, and the third used electronics and information technology to automate production. Now, the fourth industrial revolution – the so-called digital revolution – is building on the third and is characterised by a fusion of technologies blurring the lines between the physical, digital and biological spheres. And Africans are playing their part.
The suggestion that a continent where only one in three people have access to electricity could leapfrog the developed world may seem ludicrous to some. However, as a continent with a working population much the same size as that of China, the raw material is certainly there. Business leader Mohammed (Mo) Ibrahim believes that this scenario is indeed possible – if Africa can overcome its internal barriers and integrate itself into a single economic body.
Last autumn former New York mayor Michael Bloomberg gave his support to the idea that Africa could be the great economic success story of the next 100 years. In an article on the online news site Huffington Post, co-written with former US secretary of commerce Penny Pritzker, he pointed out that young Africans are projected to account for up to 40% of the world's youth by the end of the century – 'an unprecedented concentration of young consumers' – and 'the continent could make up a quarter of the global economy by the year 2050'.
Global statistics from the International Monetary Fund as at April 2017 show an uneven picture, with real GDP growth rates varying widely between the countries of Africa. However, the rate in some has been growing faster than much of the rest of the world. In Ethiopia, for example, annual growth hit 7.5% and in Tanzania 6.8%, though these high rates are often attributed to increased demand for natural resources.
Research from global consulting firm McKinsey indicates that though the economic fundamentals of Africa remain strong, there is a need for more effort from both governments and corporates to keep Africa moving forward. African countries are now increasingly trading internally and developing a strong middle class, as well as a large and better-trained workforce. McKinsey does take the view that much of Africa is going to grow quickly and consistently over the long term.
David Pilling, Africa editor of the Financial Times, has argued that the Africa Rising narrative came a decade too late, given that the economies of Nigeria and South Africa, the two countries accounting for half of the continent's GDP, stalled soon after that 2010 dawn. In other countries, too, falling commodity prices and socio-political factors also undermined the progress made. While Pilling suggests revisiting the idea in another 10 years, others have taken a harsher view, redubbing Africa Rising as Africa Sinking and the like – and the recent announcement that South Africa had entered its second depression in a decade only fuels this argument. Everyone agrees that growth will continue over time, but many are sceptical about whether the continent will ever really get its act together.
And there lies a point. Africa's history of slavery and colonisation, its lack of education, its poverty, disease and climate disasters and its internal cultural and geographic divisions have undoubtedly played a part in its development. However, the continent also suffers because of poor leadership and internal structural issues. The need for strong leadership is urgent and critical. Recognising this, in 2007 home-grown business success Mo Ibrahim launched his Prize for Achievement in Leadership in Africa. Sadly, however, for some years in its decade of existence the independent committee has been unable to find a suitable candidate among the continent's large number of presidents and prime ministers to give the award to.
Whether one takes an optimistic or pessimistic view about Africa's candidacy for leadership of the fourth industrial revolution, there is plenty of reason to believe that much of the continent will continue to experience above-average growth. There may be hiccups due to political and governance issues, but if the continent can make headway in addressing the perennial problems of poor leadership and corruption, and reach towards economic integration, growth will come.
The evidence is all around us. Every year home-grown dollar millionaires running legitimate businesses that could succeed in any part of the world emerge from diverse and far-flung corners of the continent. All that's required are the right conditions.
Alnoor Amlani FCCA is an independent consultant based in East Africa
"Africans have come up with innovative concepts, often in response to challenging situations, and 
then exported 
them globally"