With the Turkish economy stagnant since the 2008 crisis, the government needs to revive former policies if it is to become the economic giant it was tipped to be a decade ago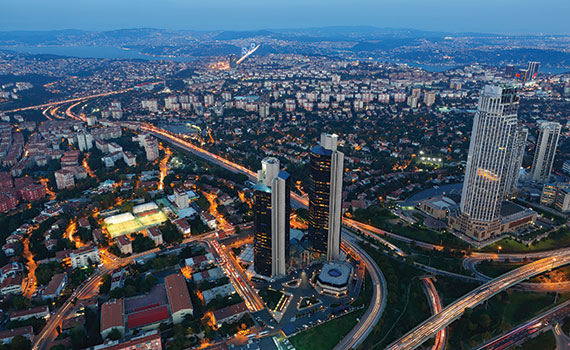 This article was first published in the July/August 2017 international edition of Accounting and Business magazine.
Only a few years ago Turkey was on the verge of a major economic breakthrough. In the run-up to the 2008 financial crisis, the country appeared to have broken free from a cycle of economic crises. Fiscal discipline had been imposed on a government with a history of overspending; the central bank had been given a strong independent mandate to combat inflation; and the government had launched a drive to curb corruption. Membership of the European Union seemed an achievable, albeit distant, goal. And Fidelity included Turkey in its group of MINT economies – Mexico, Indonesia, Nigeria and Turkey – a select club of nations that the financial services giant expected to show strong growth and provide high returns for investors over the coming decade.
However, instead of pushing harder on the accelerator, Turkey's government has shifted into reverse. The central bank has come under political pressure to keep interest rates low, and political patronage has once again become important in government institutions. Political uncertainty has also soured economic conditions, following a failed coup attempt last year and a government crackdown in the following months. The response of markets and the economy to Turkey's backwards steps has been swift. The Turkish lira has lost a quarter of its value against the US dollar over the past two years, making it the worst-performing major emerging market currency of recent times. And the economic growth rate slumped from above 6% in 2015 to 2.3% for last year, while inflation has been climbing. Turkey's credit rating has also been downgraded.
'The lesson of Turkey has been that if you do the right things you get rewarded,' says Refet Gurkaynak, an economics professor at Bilkent University in Ankara. 'Stop doing the right things and you no longer get rewarded; go backwards and you get punished.'
The nation's economic setback has taken its toll on employment for professionals, including accountants, with many leaving the country for opportunities elsewhere. 'The business environment has taken a hit,' says Wolfango Piccoli, director of research at Teneo Intelligence. 'The natural result is that some highly skilled people are feeling restless.'
Economists expect the economy to recover somewhat over the coming year, with growth stabilising. But the longer-term prognosis remains weak and the probability of future financial crisis has grown. This raises the question of what can be done to improve the outlook for Turkey.
'The situation could certainly be improved by a more comprehensive government plan to boost productivity and macroeconomic stability,' argues ACCA Turkey head Filiz Demiroz. 'Certain of the policies that would be more helpful have already been tried in Turkey and proven to work.' The Justice and Development Party (AK Party), in power since 2003, was once viewed as an exemplary reformer.
Political will is key
'The reforming zeal of many governments often wanes after a decade in power,' points out William Jackson, emerging market strategist at Capital Economics. 'On the bright side, however, the government has a wide range of effective policy solutions that they can remove from the shelf and dust off. The key is political will.'
Jackson also argues that the government would do well to dispel concerns over the unpredictability of policy and property rights. Its recent victory in a constitutional referendum will transform Turkey from a parliamentary democracy to an executive presidency, which has the potential to concentrate power in the hands of a small circle of officials. That often makes businesses nervous about the potential for sudden shifts in the direction of government, says Jackson. A crackdown on potential political opponents following last year's abortive military coup should now be phased out, most economists believe. 'The government has expropriated certain firms whose owners were accused of being involved in the plot,' Jackson has explained. 'Now the AK Party needs to reassure entrepreneurs that their property rights will be sacrosanct. That is an important step in boosting investment, which has been weak recently.'
Turkey faces another key challenge: its low domestic savings rate has left it overly reliant on foreign capital. Between 2010 and 2015 the country's current account deficit averaged 6.5% of GDP, among the largest of its peer group, according to International Monetary Fund (IMF) data. 'That in turn makes the Turkish lira vulnerable during periods of global uncertainty; the currency falls sharply when international investors become less willing to take risks,' says Marc Chandler, chief currency strategist at Brown Brothers Harriman in New York. 'All of this has the potential to lead to bouts of high inflation and economic disruption.'
In addition, much of the borrowed funds are fixed-income securities, rather than equity or foreign direct investment, which are slower to flee when confidence wanes. And around 80% of external debt is denominated in foreign currencies, which makes loans costlier to repay if the lira slides.
Intractable as this problem sounds, there are solutions, economists argue. The government has taken some steps to improve the low savings rate. As of 2017 workers will be automatically enrolled in a private pension plan, with a minimum contribution of 3% of their gross wages. Staying in the system after the two-month opt-out period will be rewarded by a one-off payment of 1,000 Turkish lira – a plan that has won praise from the IMF.
Finally, the IMF believes Turkey needs to renew its commitment to independent monetary policy. The central bank has come under political pressure to keep interest rates low, a stance the IMF says has been 'counterproductive in the context of high private indebtedness'.
Natural entrepreneurship
Such actions could help unleash the natural entrepreneurship of the Turkish people. 'Turkey has considerable economic potential,' Demiroz says. This was clearly in evidence after the turn of the millennium: the nation became Europe's largest manufacturer of televisions and light commercial vehicles, and some Turkish companies making capital goods even cracked the notoriously fussy German market. Exports expanded by 325% in the decade to 2012.
But recently Turkish businesses have struggled to move up the value chain to produce higher value-added products. If this spirit of entrepreneurship can be ignited again, companies can draw on an abundance of young workers; the median age is 31, compared with 40 in the UK and 47 in Germany. It is a great location for commerce, close to western Europe while also being a convenient transit point to the Middle East.
Also, the prudent fiscal policies adopted by the AK Party during its first years in government have left Turkey with a valuable buffer in the event of economic downturns; debt to GDP at 22.6% is very low by global standards. A customs deal gives it access to the European Union with very few tariffs. And a period of stronger economic growth could also help ensure that Turkey keeps hold of home-grown talent.
'At certain times, Turkey has been a magnet for foreign talent, as well as providing good opportunities for our own professionals,' Demiroz says. 'In the right political climate, there is no reason why this shouldn't be the case again.' The government has been particularly keen to establish Istanbul as a regional financial centre; if successful, this would create a plethora of jobs for finance professionals.
Turkey can go back to the global economic fast lane, most economists agree. But that will only happen if the government returns to the policies that made its first few years in office so successful.
Christopher Fitzgerald and Fernando Florez, journalists
"Turkey is a great location for commerce, close to western Europe while also being a convenient transit point to the Middle East"