As CFO of Chongbang Group, Dean Lee FCCA is at the heart of the company's mission to revolutionise living and working through the creation of Life Hubs in Chinese cities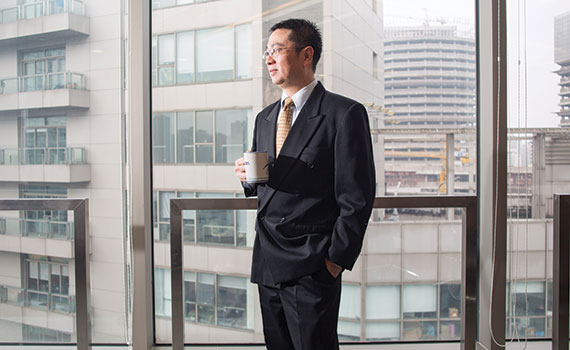 This article was first published in the July/August 2017 China edition of Accounting and Business magazine.
China's skyrocketing housing prices hit global headlines in 2016. As regulators struggle to take bubble-fighting measures to limit purchases, there is a growing concern that a hike in prices could have global repercussions.
'Though the surging residential property prices are causing concern, we are still optimistic about China's overall economic momentum,' says Dean Lee, CFO of Chongbang Group, which invests in a one-stop destination for shopping, entertainment and dining in mainland China. 'As the consumption power of China's growing middle class keeps rising with people's pursuit for higher living standards, Chongbang is committed to investing in and developing retail-anchored, mixed-use real estate projects with functions covering retail, food and beverage, entertainment, education, offices and hotels, which some call "urban complexes" but we call "Life Hubs". This is what can truly accommodate all people's need in big cities like Shanghai and Beijing.'
According to global real estate services company CBRE, vacancy rates of commercial real estate in China are expected to be driven upward by the dual forces of a sluggish economy and large pipeline supply, with more tier 2 cities likely to see falling rents. However, tier 1 cities are expected to remain steady.
Since being established in 2003, Chongbang has successfully invested in five developments in Shanghai, one in Kunshan (Suzhou) and one in Yuhang (Hangzhou).
So far, Life Hub @ Daning, a large-scale, mixed-use project in Shanghai's Jing'an district, is one of Chongbang's most successful developments. The site was acquired in 2004 and the shopping centres and office buildings were completed and opened for business in 2006. Total gross floor area is around 250,000 sq m, of which 200,000 sq m are above ground and 50,000 sq m below.
'The project is probably the most successful case of its kind in the northern part of Shanghai,' Lee says. It has transformed Daning and its surrounding areas, long considered a low-income, underdeveloped neighbourhood with limited recreational amenities, into a vibrant and popular community. The project won the prestigious National Award for Model Community and the Cityscape Asia Real Estate Award for Best Developer in 2008.
Other projects include Life Hub @ Jinqiao in Pudong. Opened in 2009, it covers an area of around 180,000 sq m with more than 150 branded shops and restaurants. The high-end Sinan Mansions, located in the centre of Shanghai in a core district of Puxi, covers over 80,000 sq m, including 49 garden houses, built in the 1920s as part of the French Concession.
Meanwhile Life Hub @ Anting takes a futuristic direction – its theme is 'Back to the Future' – and marks a milestone in innovation of Chongbang, reflecting the needs of the younger, well-educated generation working in the area, with free Wifi, EV charging stations and even a rooftop tennis court.
Anting, literally meaning 'pavilion of peace', is in Shanghai's Jiading district, home to Shanghai Automotive Industry Corporation and Shanghai Volkswagen Automotive. The project combines commercial, office and housing space, and is directly connected to Anting's metro station.
Now Chongbang is spreading its reach to other areas near Shanghai, including establishing a Life Hub in Hangzhou. The city is drawing tourists worldwide and has become a new landmark for technology companies including Alibaba.
Market uncertainties remain
While generally optimistic of the future development, Lee is quick to point out that the property market is highly sensitive to the macro-economic policies and demand. According to Bloomberg, in the first eight months of 2016, average prices for new homes rose 28% in tier 1 cities and 10% in tier 2 cities. Central and provincial governments have taken multiple approaches in regulating the housing market, accompanied by finance, taxation, land, market supervision and other policies. China's top leadership has recently stressed the importance of suppressing the real estate bubble and weaning the nation's sprawling credit system off cheap borrowing and rising credit levels.
'Though not affected as much as the residential property market, we should still pay close attention to the potential changes in policies,' Lee says, adding that the major financing channels for developers such as Chongbang are bank loans and share capital.
However, Lee hopes that Chongbang may be offered a unique opportunity to take over underperforming projects and transform them into Life Hubs. 'We see this as the main pulse in the commercial real estate industry of China in the next several years,' he says, noting that real estate developers in the mainland have flocked to the offshore market to tap into low-rate financing. 'Exchange rate risks should be taken into consideration if one is to seek offshore financing,' he says.
Another major concern, Lee notes, is the rise of e-commerce. 'Mid-market retailers are likely to see their market share further eroded by competition from e-commerce firms,' he says. In order to counter this threat, Chongbang has implemented an 'online + offline' (O+O) strategy, which included the opening of Alibaba's first offline fresh food mart in a Life Hub. 'We have long seen online retailers and platform operators as our partners rather than enemies,' he says. 'Chongbang is currently helping lots of our offline tenants to go online and introducing many successful online retailers to test the offline market in Life Hubs. The strategy works pretty well and we see this as the future of the retail market.'
Over time, Lee envisions an enhanced role for his team. 'I hope to move the team up the value chain as I always did in my previous roles in the corporate sector,' he says, referring to his experience at Starwood Hotel Management Group, where he developed and led a strong, motivated finance team of more than 2,500 people in the China headquarters, area offices and hotels. Part of his strategy has been to develop a finance value creation model in order to encourage finance talents to take part in the process of decision-making at a higher level.
Lee also points out the growing importance of stakeholder communications. He supports the CEO in maintaining a robust communication process with stakeholders, which is an important pillar of good corporate governance. 'It is critical in building trust and confidence in the company's performance,' he says.
Philosopher-turned-CFO
Lee's route into accountancy is not a textbook one. A graduate in philosophy, he then went on to obtain a master's degree but sidestepped into accountancy when he joined a mid-tier firm. 'Though I majored in philosophy, I could see that the line was blurred between it and other subjects, since the thinking logics were pretty much the same,' he says.
After graduating in 1993, he joined BDO Binder Kwan Wong Tan & Fong, the largest accounting agency in China at that time. There, he embarked on his ACCA journey, as the company provided training programmes. But romance also played a part in his initial decision. 'My girlfriend and classmate at the time [they have since married] started to prepare for ACCA exams, so I just followed suit,' Lee says with a smile. Indeed, when they became ACCA members in the late 1990s there were fewer than 100 members in mainland China.
In 1996 Lee left the firm to join leading restaurant company Yum Restaurants China as accounting manager and then HQ controller, planning director and, finally, country controller in 2010. In between, he had been working in Louisville in Kentucky, US, to gain more exposure in international accounting and finance best practice. 'I first started to manage the monthly closing process to ensure that financial statements were prepared in accordance with both US GAAP and China GAAP, ' he says, adding that ACCA's curriculum gave him the international knowledge to facilitate this.
As planning director he was also responsible for supporting the fast growth of two major Yum China brands – KFC and PH DI – involving more than 4,000 restaurants. Lee's role included marketing support, product innovation, long-term operation support programmes and pricing, as well as menu strategy design and implementation.
As Lee gained experience and moved into managerial levels in his subsequent role at Starwoods, he took on more responsibility in training staff. 'I focused on talent development, implementing multiple talent cultivation programmes; we were then able to promote 80% of hotel financial controllers from within.'
His interest in seeing professional accountants thrive in mainland China is one of the reasons why he stood for ACCA's Council in 2013; he is currently one of the only three Global Council members from mainland China.
With a tight schedule juggling multiple roles, Lee still devotes as much time as possible to support the development of ACCA in China, taking part in events, including giving lectures and joining forum panel discussions. He encourages Chongbang's employees to train with ACCA; this is part the company's talent development plan. 'On the one hand, this helps upgrade the overall financial strength of Chongbang and improve employee retention; on the other, it is also a kind of image-building for ACCA in China.
'ACCA is like a thread running all through my career path and so I always speak highly of its value and contribution to the evolution of China's accountancy profession,' he says. 'A lot of CFOs and financial directors in China are ACCA qualified.'
Going forward, Chongbang, with its ambitions for Life Hub, seems assured of a seat on the fast train of China's consumption upgrade. With a CFO who devotes himself to talent development and values stakeholder communication, Chongbang can be confident that it can face the challenges of this fast-changing era and stay ahead of the curve.
Irene Zhou, journalist
"We have long seen online retailers and platform operators as our partners rather than enemies"