SOLAS CEO Paul O'Toole FCCA explains the further education and training agency's strategic approach in addressing the past weaknesses of the Irish economy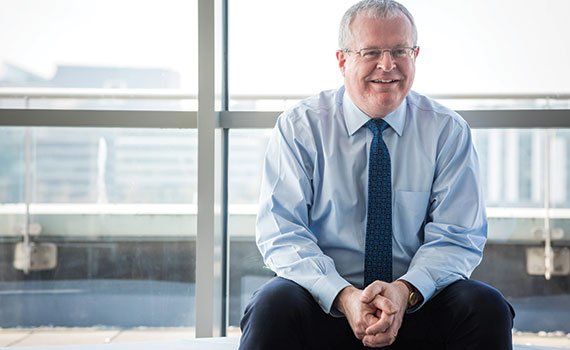 This article was first published in the July/August 2017 Ireland edition of Accounting and Business magazine.
You don't need a long memory to recall a time when FÁS, the former state training agency, was a dominant presence in the high streets of Ireland's towns and cities. A series of expenses scandals and excoriating reports from the Office of the Comptroller and Auditor General on lax financial controls at the end of the last decade meant the writing was on the wall for the organisation by the time the then minister for education Ruairi Quinn dissolved it in 2013. It was replaced by the further education and training authority SOLAS.
In the unique position of having been the head of both organisations, Paul O'Toole FCCA is the first to admit that 'a lot of people are still grappling with the question of whether SOLAS is just FÁS by a different name'. The new organisation, however, represents far more than just a name change. O'Toole explains: 'FÁS was a very large organisation, with 2,300 people based in 144 locations around the country, and was directly engaged in a range of employment programmes and services to business. SOLAS has about 200 staff and is much more of a strategic executive agency that supports development policy rather than implements it. We have a budget of €638m and we deploy that through 16 education and training boards around the country. So our focus is on coordinating, managing and planning as distinct from direct operations.'
The new authority may not be directly involved in learning provision, but it is determined to be as ambitious as possible on behalf of the people who are its ultimate beneficiaries. This year, it will coordinate and fund further education and training for over 300,000 beneficiaries. 'These range from apprenticeships to post-Leaving Cert courses, to a whole host of other programmes people may be less familiar with, such as literacy and numeracy support.'
For all the agency's reach and influence, O'Toole is comfortable with it lacking its predecessor's brand recognition. 'If you think of someone doing a degree in a university in Ireland, they don't generally consider the fact that their funding comes through the Higher Education Authority. Their brand awareness is very much around the university. We're essentially the same. I'd like to see some awareness of SOLAS develop over time, but success for me is when a member of the public can find a programme we support and say "I want to do this because it makes a difference in my life", or a business can get the skills it needs by accessing students from a training centre or college of further education.'
Pieces repositioned
This year, SOLAS launches its second three-year plan, outlining how it intends to develop a world-class further education and training sector in Ireland. 'Our first three years have been about repositioning the pieces and creating the building blocks for the reform of the sector,' O'Toole says. 'The next three years will be about gaining traction and really driving the implementation of changes. It will be very much focused on knowledge, intelligence, information and good planning.'
The strategy comes into play as Ireland's employment figures continue to swell. Indeed, with the holy grail of full employment once again in sight, talk is turning already to the risk of overheating. The construction sector will certainly be among those playing a significant role in job creation for the remainder of the decade, so what part can the agency play in ensuring the worst excesses of the past are avoided?
'A vibrant construction sector, but one that's also sustainable, is the long-term objective of government,' O'Toole says. 'We are one part of the mix in that we provide training through apprenticeships as well as non-craft skillsets, so we can manage the supply side, and if we see it going out of control we can talk to government about that. We'll never get rid of cyclical activity entirely, but we can certainly put in moderating parameters.'
Mention of apprenticeships raises the issue of Ireland's somewhat skewered favouring of academic over practical learning, an issue that SOLAS is putting considerable resources into rebalancing. 'We, as Irish people, value the attainment of higher-level education, which is correct and as it should be. But we don't balance that sufficiently with the value of non-academic education, and I fundamentally believe there's something wrong with that. If you look at highly successful economies like Germany, Austria and Switzerland, they engage with their students at an earlier age to identify capacities and stream people into vocational and academic programmes. It works extremely well, and society places an equal value on both. I think we need to look at that in terms of what we value and recognise that all potential isn't academic in nature.'
If there's another weakness in Irish culture that O'Toole hopes to address it's around the concept of lifelong learning. 'One of the areas where Ireland does less well than our peers is in the number of people engaging in formal and informal lifelong learning. Larger companies and those with good HR structures tend to pay attention to the issue, but employment in Ireland is mainly through SMEs, and we have huge numbers working within them who rarely get a lifelong learning opportunity. One of the things SOLAS is working on is to identify the critical gaps, and we are working with employers and the state to make progress in this.'
Difficult transition
CEO of Tourism Ireland from 2001 to 2009, O'Toole was appointed director general of FÁS at a critical time for both the organisation and the economy. Swelling unemployment figures would bring huge tranches of people, often from senior managerial or professional backgrounds, under its remit for the first time. 'It was a very difficult transition for a lot of people, and we adjusted our offer to support them. Part of the response was to find alternative streams of training activity that could help them continue to develop their skills either in their chosen field or a new one.'
At organisational level, the challenges were no less intense. 'When I joined in 2009, I was aware that FÁS had a set of problems, but I wasn't and couldn't have been aware of the full dimensions of these until I got my feet under the desk.' In a period of 'often very difficult days when challenges seemed to be coming out of the woodwork', he found that a focus on core values helped him prevail. 'Within any organisation, you need to be very clear about what you believe in, what has value and importance, and, notwithstanding the problems, stay focused on them. So the sense that we were working for unemployed people and that what we were doing was having an influence in their lives – that helped to keep me anchored.'
He also recalls a steady stream of correspondence from people who would write in gratitude for the support services that they had received. 'I found that very affirming. It was also a very good reflection on the enormous parts of the organisation that were working well, thanks to a very diligent and committed workforce.'
O'Toole is also in no doubt that the skills acquired through ACCA have proved critical for him over the past few years. 'As CEO, I have a formal role as an accountable person to the Oireachtas with regard to the correct management and stewardship of taxpayer funds. So the knowledge I've acquired in my professional development as an ACCA member has served me extremely well. Being able to understand and explain the financial dimension is invaluable.'
Having steered a major state agency through a successful transformation, O'Toole is looking forward to the next stage and the opportunity to give full attention to the development of an education and training sector that's fit for purpose. With Ireland now facing into its own change management challenges, his reflections on the value of strong relationships in making progress seem particularly resonant: 'The first important thing to ensure is that, whoever your stakeholders are, you have good, open and honest communication at all time. The second is that when you have a problem, you recognise it. You may not be able to address everything straight away, but if you don't acknowledge the existence of an issue it will come back to bite you and swallow you.
'The final thing, I would say is that, as a leader, you need to recognise that you only play one part. While you might have ultimate responsibility, you need people around you to work with you to achieve those goals.'
Donal Nugent, journalist
"We'll never get rid of cyclical activity entirely, but we can certainly put in moderating parameters"