ACCA is placing members at the centre of a whole host of exciting developments, boosting our satisfaction rates, reports chief executive Helen Brand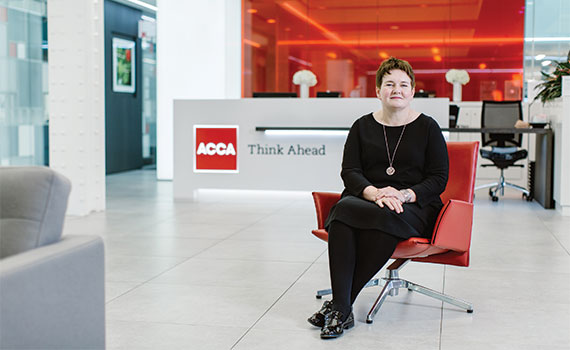 This article was first published in the September 2017 UK edition of Accounting and Business magazine.
ACCA has made great progress in the past year in delivering enhanced member value. Research, careers, member engagement – these are just some of the areas where we've been particularly active. And there's more to come.
One of ACCA's greatest strengths is the breadth and depth of our global membership. Whatever the topic, we can draw on the perspectives of thousands of ACCA professional accountants to give unparalleled insight into national, regional and global challenges. This ability to synthesise our members' views is the starting point for all the 'professional insight' reports we produce. It gives our output real resonance and impact with employers, regulators, governments and other influencers.
Some of our most impactful reports over the past year have been shaped by members. Our Professional Accountants – the future report – released as an exclusive to members last June (see AB, June 2016) – identified the professional quotients our members will need in the future and has fed directly into the innovations we announced to the ACCA Qualification last year (see AB, October 2016).
Because the experiences and insights of members have been at the heart of these developments, they have had a great reception. In the latest global employer survey we undertook earlier this year, 61% of employers said they felt even more favourable towards ACCA and what we provide as a result of our qualification advances. The developments – including our global move to four sittings a year – have also contributed to the highest global member satisfaction scores in recent years, with a record 92% of employers telling us that ACCA provides relevant skills for their business and 92% describing ACCA as a world-class organisation.
Using feedback from members, we've also produced one of the largest studies ever on the expectations of future finance leaders, in our report on 'generation next' (see AB, July 2016). This groundbreaking and much-publicised research draws on the views of over 19,000 ACCA members and students under the age of 36.
To give members easier access to all this insight, we launched a new professional insights hub, at accaglobal.com/insights, where our reports are packaged in an easy-to-digest way. We've also introduced a feedback feature so we can refine our insights.
CA ANZ alliance
We've extended our global influence even further through our groundbreaking strategic alliance with Chartered Accountants Australia and New Zealand (CA ANZ). This exciting partnership, announced last June (see AB, June 2016), resulted in a number of new initiatives, including impactful global research on public attitudes to tax across the G20 nations, a jointly branded corporate culture toolkit, and fresh support and opportunities for members of both ACCA and CA ANZ, including access to membership of the other body for eligible members.
Jobs board takes off
We've also seen impressive growth in usage – from both employers and members seeking new opportunities – of our ACCA Careers job board. Job postings have grown rapidly over the past six months, rising to 64,000 a month in June. This is generating over 150,000 jobs by email every week, with 8% of applications from ACCA members and students resulting in a job offer. With links with major agencies like Hays, Michael Page and Randstad and global employers such as HSBC and PwC, ACCA Careers is now one of the largest and most used accountancy jobsites in the world.
Feeding back
We're very conscious of our accountability to members. We've introduced Council-led member engagement webinars, designed to give members more frequent updates on ACCA's strategic progress and enable them to hear from ACCA's leadership. These have been well received and are giving us greater insight into how we can best serve our members.
Over the past year, we've also put significant effort into encouraging members to have their say at ACCA's annual general meeting (AGM). This is important because it strengthens the mandate of ACCA's Council to take strategic decisions they've been elected by members to make. The 2016 AGM saw us double the numbers of members who voted, to over 10,000 – a record level. We're keen to maintain and extend this high level of input at this year's AGM, which will be taking place on 30 November – please look out for your invitation from Electoral Reform Services to cast your vote.
More satisfaction
We're pleased to see that all these efforts are being appreciated. In the past year, we've been able to deliver a significant uplift in satisfaction through focused effort – especially through our priority of enhancing member value and its associated coordinated initiatives across key markets.
Member satisfaction saw the largest annual increase of all customer groups, up 5.4% since last year to 76.4%, with improvement seen across all our markets. This is the highest score in five years.
Higher ratings in how members perceive their relationship with ACCA has driven this score up, as well as increased agreement that ACCA offers value for money (up 5% to 64%) and that we are an innovative and forward-thinking organisation (up 4% to 71%).
Perceptions that ACCA is committed to high standards of qualification also rose (up 7% to 82%), driven by positive reactions from members to our 'Professional accountants – the future' work. There has also been a rise in the view that ACCA shapes the agenda of the accountancy profession (up 4% to 64%).
Delivering member value will be one of our strategic priorities for 2017/18, with a view to building better support and even greater member pride.
We're continuing to innovate, with a new Africa edition of AB magazine and the design and content enhancements we've made across the entire AB series. We hope you continue to like what you see.
What do you think about ACCA?
| | |
| --- | --- |
| 76% | Members satisfied with ACCA (2016: 71%) |
| 64% | 'ACCA offers value for money' (2016: 59%) |
| 71% | 'ACCA is an innovative and forward-thinking organisation' (2016: 67%) |
| 82% | 'ACCA is committed to high standards of qualification' (2016: 75%) |
| 64% | 'ACCA shapes the agenda of the accountancy profession' (2016: 60%) |
| 92% | Employers who say ACCA provides relevant skills for their business (2016: 87%) |
| 92% | Employers who say ACCA is a world-class organisation (2016: 90%) |
"A record 92% of employers have told us that ACCA provides relevant skills for their business and 92% describe us as world class organisation"