As a corporate finance manager with Swire Pacific, Alvin Wan is using past experience and his ACCA Qualification to embrace the challenge of working with Chinese clients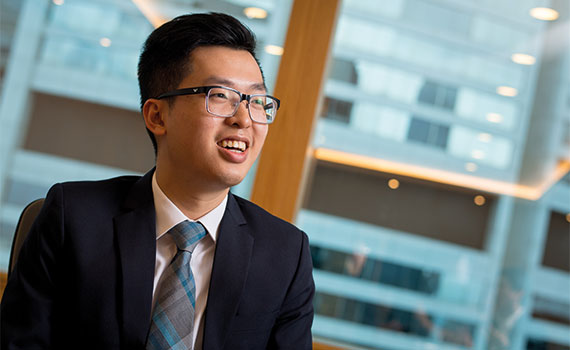 This article was first published in the September 2017 China edition of Accounting and Business magazine.
Active involvement in sizeable merger and acquisition (M&A) projects has so far given the greatest satisfaction to Alvin Wan, a corporate finance manager at Swire Pacific, one of the largest conglomerates in Hong Kong. Shortly after Wan joined the company, he was engaged in the multi-billion-dollar acquisition of Coca-Cola bottling plants in mainland China and the US, putting his technical and soft skills to the test.
Wan accomplished these projects with flying colours, deriving immense satisfaction from being part of a team that closed the transactions as well as from seeing that his contributions were clearly in evidence. 'I was involved from day one, from the price negotiation, and followed through the entire process until the deal closed,' he recalls. 'This was a great learning experience because I contributed at every stage of the project for more than a year.'
Wan participated in the due diligence, execution and negotiations in these projects. 'We look at each line of business of a company,' he explains. 'Examining financial statements is the surest way to obtain a thorough understanding of a business. It enables us to explore further. Meanwhile, we conduct due diligence so that we can come up with questions for more information.'
Technical skills are only part of the equation. For the M&A projects, Wan was given plenty of opportunities to engage internal and external parties in negotiations. Outstanding communication and interpersonal skills are, he says, essential. 'These skills are nurtured on the job,' he says. 'For a large company like Swire Pacific, we cannot expect to close deals simply because we have finished the financial parts.'
Many of Wan's duties involve dealing with people, and he recalls frequent travels to the mainland when he was working on the bottling plant acquisitions. On top of examining financial reviews, site visits and face-to-face meetings are part and parcel of these projects. Because of the large capital involved, site visits are essential to verify the details listed in the reports, Wan explains. 'There were manual adjustments which could only be substantiated when you see the real things in person. Some areas, such as the qualitative aspects of assets and production quality of plants, were beyond the scope of financial reports.'
Wan believes that many business executives on the mainland appreciate personal contact. 'They want to build personal connections with face-to-face meetings and having meals together,' he says. 'This personal relationship facilitates future collaboration. For instance, after I have met with some colleagues on the mainland, they have become more enthusiastic about furnishing us with the requested information.'
For the M&A projects, Wan has forged collaboration with some seasoned senior executives, thus exposing him to their varied competencies and talents. Because of the confidential nature of many M&A deals, a minimum number of executives are usually involved; Wan has worked with financial advisers and senior financial directors on these projects. 'I contributed in the areas of prices and structures as well as the negotiations. Through our close collaboration, we have been able to learn something by observing the distinct working styles, expertise and strengths of the different directors involved. For instance, a finance director is likely to have a background in accounting while many corporate finance specialists may have begun their careers making deals. Through our interaction with various team leaders, we have learned from their strengths. This experience is mentally stimulating.'
Diverse responsibilities
As a corporate finance manager, in addition to M&A, Wan is involved in monitoring the stock price movements of Swire Group's various publicly listed companies, conducting internal reviews and evaluation, and handling other ad hoc projects. He also works on equity valuation and analysis for the group and specific operating units, comes up with the accurate estimates of assets, and develops ways to structure the asset valuation. 'My daily routine includes dealing with regular updates, keeping track of transactions, and looking at internal performances and financial reports of all Swire's divisions,' he says. 'I also review projects completed in the past few years to ensure their financial performances are on the right track.'
Wan believes that his previous roles as an investment analyst at a hedge fund and as an equity research analyst have helped him build the foundation for his current position. He has learned to glean the maximum useful information from financial statements and develop financial models. Wan's adeptness in these areas helped ease him into his current responsibilities fairly quickly. 'For instance, when funds requested to look at our financial models in the past, we needed to come up with meticulously constructed models, knowing that there was zero tolerance for any mistake. I developed good skills in building models. My current job requires me to develop models for M&A projects and usually I am able to complete a model in one or two days. This may take a week for those who are less familiar with models. I can also confidently spot problems in models that fail to strike a balance.
By good fortune, when Wan worked as an equity research analyst his role focused on the property market – including Swire Properties. 'I therefore acquired in-depth knowledge of the company,' he says. 'Having been an equity research analyst, I have learned to adopt an analyst's perspective,' he says. 'When senior executives have questions about stock prices and request recommendations, I am able to come up with good ideas and possible solutions.'
Winning ways
Wan, a graduate of actuarial science at the University of Hong Kong, spent six months as a visiting student in economics and management at the Massachusetts Institute of Technology in the US. In addition, he is a global prize winner of ACCA's F7 Financial Reporting paper. He admits that he was surprised by the accolade as he did not have much time for revision. However, his extensive experience in building financial models and in financial statements gave him the practical knowledge required.
'I am very familiar with such topics as consolidation; these are part of my current duties and I was also deeply involved in them while working as an analyst,' he says. 'I think I have an edge in the sense that I have been exposed to the diverse structures of Hong Kong companies and their diversified investment portfolios.'
Acquiring the ACCA Qualification has been vital to Wan's current position. 'Reports are a major part of my work,' he explains. 'Because M&A projects involve a huge amount of capital, it is imperative for me to have an in-depth understanding of the financial statements. An accounting qualification is essential in corporate finance.'
He is now studying for the P1 paper on ethics. 'The materials focus on the operation of the board and internal audit, which are highly relevant to the work of directors at my company,' he says. 'I have deepened my understanding in these areas considerably. The ACCA Qualification is highly useful for a finance professional working for corporations. It really satisfies my need for such specialised knowledge.'
Given his diverse talents, skills, solid work experience and ACCA Qualification, Wan expects that the scope of his responsibilities will progressively expand over the next five years. 'Perhaps I will work in different divisions so that I get exposure to different sectors. I hope I can continue to work on negotiations and transactions. With increased responsibilities, I hope I will have more influence as a corporate finance manager.'
For young financial professionals in Hong Kong, Wan advises that they need to expect more impact from mainland China at various levels. 'Hong Kong companies will continue to increase their business interests on the mainland,' he predicts. 'More talent from the mainland would like to get jobs in the city because of its financial hub status. We also see intensifying competition from mainland Chinese companies in the local market.
'Young finance professionals should adopt an open mind and seize the opportunities to work on the mainland – either for mainland Chinese companies or on assignment for a Hong Kong-based enterprise, he says. 'They also need to study mainland accounting rules and regulations.'
Wilson Lau, journalist
"Having been an equity research analyst, I have learned to adopt an analyst's perspective"