EY's assistant auditor Kerishma Chareetur had no intention of letting her disability hold her back and obtained her ACCA Qualification without any formal tuition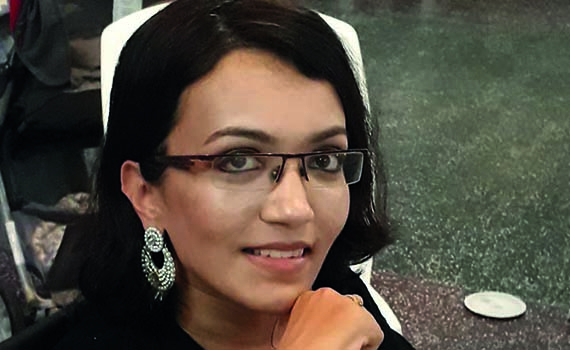 This article was first published in the September 2017 international edition of Accounting and Business magazine.
Twenty-seven year old Kerishma Chareetur is an assistant auditor at EY in Mauritius. Born with cerebral palsy – a condition that prevents her from walking and limits her physical movement, but leaves her intellect unaffected – she was determined to live her own life and find success. She now wants to inspire others with disabilities to do the same.
As a disabled person, Chareetur faced discrimination from a young age. 'Back in the early 1990s, people's knowledge and understanding of cerebral palsy was almost non-existent in Mauritius,' she says. But her parents fought hard for her. When their application to enrol her at a kindergarten was rejected on the grounds that 'kids like me were not entitled to integrate in "normal" schools', they found another school some distance away, and Chareetur went on to sail through primary and secondary education.
At the time she didn't even have a wheelchair and her parents had to pay for her to be driven to school, where she sat on a static chair all day. Undaunted by these obstacles, however, she obtained good results in her exams, ranking third nationwide in Hinduism.
Chareetur's mother had always told her that 'the sky's the limit' and she was keen to pursue further studies like everyone else. However, the University of Mauritius was a considerable distance away from her home. So, encouraged by her brother, himself a chartered accountant at Deutsche Bank, she chose to study through ACCA, buying books from a local bookshop. 'I studied hard, really hard,' she recalls. 'I barely had any social interaction and confined myself at home.'
During this time her mother passed away. Chareetur says this was 'definitely hard to digest'. Day-to-day life was more complicated without her mother, who had cared for all her needs since birth.
However, she persevered with her studies, making it through the final exams with no tuition. 'People told me I wouldn't be able to do it but I persisted,' she says. She passed her final paper in March 2017.
'I wanted to complete the ACCA training without tuition simply to prove to the world that disabled people are able too. Disability is no bar to success if an individual has talent and drive, and probably a fair share of luck. Perseverance will always pay off if you put in the effort.'
Chareetur believes that people are disabled by society and not just by their bodies: 'In many parts of the world disabled persons frequently live in deplorable conditions, battling with physical and social barriers that prevent their integration and full participation in their different communities. The barriers can be overcome, if governments, non-governmental organisations, professionals and disabled people themselves, with their families, work together.'
Chareetur says that the flexibility ACCA offers in the way that students can study for the qualification has made all the difference to her prospects.
Her message to other disabled persons is clear: 'Be a light by yourself; don't depend on others to pity you. You deserve no pity, but what you do deserve is recognition in society. Make every possible effort. Action is better than inaction.'
"People told me I wouldn't be able to do it but I persisted"