Long-term demonstrable value, competitive dialogue and patient engagement are key remedies in Matt Gaunt's prescription for improving NHS efficiency and effectiveness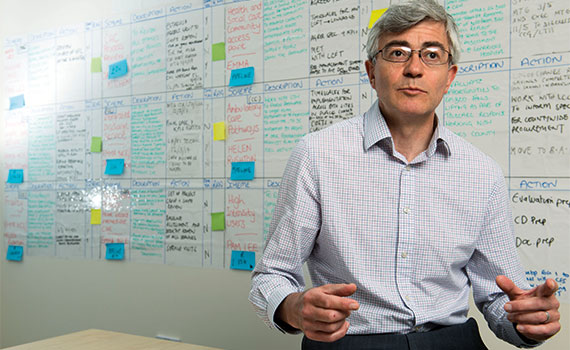 This article was first published in the September 2017 UK edition of Accounting and Business magazine.
Matt Gaunt FCCA is one of the people NHS England relies on as a key link between money and healthcare. As chief finance and contracting officer for the Greater Preston and Chorley & South Ribble clinical commissioning groups (CCGs), he purchases treatment for about 400,000 people in central Lancashire.
One of the notable career moments he recalls reaches back over 20 years ago. 'In 1996 I was working for Tesco as a logistician,' he explains. 'I was asked to look at a little operation called the home delivery service. When I started, there were seven of us doing some strange thing called internet-based shopping. It wasn't truly internet-based because people used the computer to sign on and send an order, which was printed out at our end and then typed in through another system for a delivery.
'But this became Tesco.com. When I started, it was in one store in west London, and when I left in 1999 it was operating in 100 stores, covering 75% of the population. I was the finance guy for what became Tesco.com.'
But when the global financial crash hit, Gaunt questioned whether retail gave him enough job satisfaction. 'I came to the conclusion that I was not really driven purely by delivering the profit motive,' he recalls. 'My last experience in supermarkets was weathering the crash in 2008. What we had done in supermarkets was getting a lot of stuff to people that they didn't really need and, with the benefit of hindsight, probably couldn't afford. In complete contrast, in my role at the NHS you deliver service change over months rather than days, and you look for truly sustainable solutions that will have demonstrable value to patients and taxpayers.'
Today Gaunt leads a team that buys healthcare from hospitals, general practices, pharmacies and other providers. They deal with more than 100 contracts, two large hospital trusts, 60-plus GPs and some private sector contractors. He is also constantly trying to improve the service, enabling a stretched NHS to deliver more efficiently and effectively.
That said, Matt stresses the collective nature of NHS improvement work – he is one of about 200 commissioners in England dealing with a similar number of FDs in provider trusts. So while each person has a crucial role, they have to work together to achieve change.
Going private
So how does he feel about the private sector's increasing role in NHS provision? 'It's not about how I feel,' he says. 'As a health commissioner, it's about the capacity and constraints within the NHS, and the opportunity that working with the private sector provides. The private sector can offer a different way of doing things. And if we do need to commission services from the private sector, that will only happen after transparent procurement processes that are rules-driven.'
Gaunt is concerned, though, by the risk of the private sector 'cherry-picking' profitable contracts and leaving the NHS to deliver the most difficult and costly parts. 'So it's about achieving a balance of provision,' he explains.
What is evident to many within the NHS, though, is that a simple process of tendering for a specified treatment may not produce the best outcomes, either in terms of cost efficiency or, more importantly, for the health of the patient. Collaboration across the system is key. Gaunt is therefore involved in what is called competitive dialogue.
'We are getting together in one room everyone who can possibly provide this, and we set out the outcomes we are expecting,' he explains. 'So we don't say, for example, we want a service that is 8am to 8pm, in 16 locations, in four towns and cities, that does this, this and this. Instead we set out who will use the service, how they should be able to access it and the outcomes that we expect to alleviate the conditions they suffer from. We come up with a model that delivers it.'
Potential bidders then collaborate with other providers to propose an approach that works best for patients, while also being affordable. 'You still have a bid process, but you are not being very prescriptive. You leave the bidders to work out for themselves the best way to meet patient needs. Then you choose the best one.'
The NHS needs to focus increasingly on illness prevention. This means doing more than giving patients a consultation or operation; it can mean advising them that it is up to them to change their behaviour if they want to be healthier.
'A lot of this is about engagement,' he says. 'We need to have an honest dialogue with patients about what we can achieve. A&E services are often overwhelmed with people who may not need emergency care but don't know where else to go. We need to be really good at signposting patients, and helping them make lifestyle and treatment choices that take account of the acuity of their symptoms, treatment risks and underlying health.
'We have a very transactional system and need to focus on value. How effective is the intervention? What is the patient experience? Is the risk of a treatment outweighed by the potential health benefit? That, together, is value, and what the patient really cares about. It means that we have to be much better planned, with earlier collaboration.'
Former health secretary Frank Dobson once likened NHS reform to turning round a supertanker. One difference, though, is that while a tanker has one pilot, the NHS has hundreds – each, like Gaunt, doing their best to make the system work better for patients.
Paul Gosling, journalist
"You deliver service change over months not days, and look for truly sustainable solutions that will have value to patients and taxpayers"