Suzanne Eade FCCA, CFO of Horse Racing Ireland, is optimistic about the challenges facing one of Ireland's greatest passions – and most financially successful sectors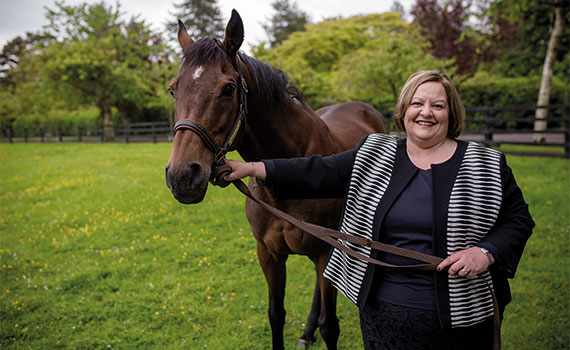 This article was first published in the September 2017 Ireland edition of Accounting and Business magazine.
The passion for all things equine runs deep in the Irish psyche, vividly expressed in the fact the country is home to 26 racecourses (the UK, with more than 10 times the population, boasts 60). Over 350 race meetings, dispensing prize money of over €60m, take place annually in Ireland, in many cases as major social events that draw enthusiastic support from the widest cross-section of society. Allied to this is a breeding industry with a truly global reputation and a corps of trainers whose enduring success has made them household names.
Across the water, the Cheltenham Festival provides ample evidence of the international dimension to this uniquely Irish success story. In 2017, Irish trainers enjoyed a record 19 winners at Cheltenham, capped by the Jessica Harrington-trained Sizing John triumphing in the Gold Cup. In monetary terms, the contribution the horse racing and breeding industry makes to Ireland is equally impressive: the sector is a €1.1bn a year industry and employs around 15,000 people.
Horse Racing Ireland (HRI) is the national authority for thoroughbred racing in Ireland. It is responsible for the governance, development and promotion of the industry, and does everything from setting race programmes to providing educational support to jockeys. Based in Newbridge, Co Kildare, HRI is financed largely through the Horse and Greyhound Fund, drawn from a levy on off-course betting. Since her appointment as group chief financial officer in 2015, Suzanne Eade FCCA has therefore found herself responsible for one of the largest expenditure accounts in Irish sport. Such is the stature of the role she was named one of the 50 most influential women in Irish sport in the year of her appointment.
Having developed her career in the multinational sector, most recently as finance director with Boots Retail Ireland and prior to that with Procter & Gamble and Gillette, the move to HRI may seem something of a leap into the unknown for Eade, but it neatly segued with one major passion in her life.
'I've always loved sport and have been interested in it from a very young age,' she says. 'I played competitive basketball and golf for University College Dublin (UCD) and I married a New Zealander, so we've spent a lot of time at sporting events over the years.'
Only an occasional attendee at race meetings before taking on the role, Eade says a key attraction was the chance to be part of something that Ireland excels at and to mix with people who are the best in the world at what they do.
'It's astonishing when you see how much foreign interest and investment there is in this industry and the level this takes place at,' she explains. 'It's a sector that creates phenomenal opportunities and work for a lot of people in Ireland.'
Taking on a role that was quantifiably different from her previous positions, Eade says her approach was to immerse herself in the challenge. 'The finance element was always going to be fine because I had so much experience, but in terms of understanding the business, my attitude was to embrace it and do as much homework as possible. You are never going to know everything at the beginning, and the worst thing you can do is to pretend you know something when you don't.'
Rebuilding the Curragh
Capital investment is a key focus for HRI currently, with the centrepiece being the redevelopment of the Curragh Racecourse, next to HRI headquarters. 'The track is one of the best in the world but in terms of facilities it wasn't fit for purpose,' Eade says. 'When the work is finished, it's going to be an incredible facility and a flagship for Ireland. In all, it will cost around €70m and the majority of that is already funded, with over €30m from private investment and €30m from HRI. Ireland has the best horses and the best trainers, now we'll also have the best facilities.'
Because HRI is a semi-state body, compliance is an important element of Eade's role. 'It's about taking care of the money we receive and making sure it is used in ways that have most impact. In the budgeting process, we make sure the money gets to the sectors who need it, but also that it's invested in areas to stimulate growth. The prize money we offer, for example, needs to be tactically thought out to ensure it's attractive and brings in the right level of competition.'
Hurdles ahead
With high levels of investment and a string of recent successes confirming Irish horse racing is in rude good health, there would seem to be every reason to be positive about the future of the sector. But in recent months HRI has found it necessary to strike a sombre note as it highlights the threat posed by Brexit, one it says is as serious for horse racing as for any other industry in Ireland.
'There's a historic connection between the two islands in terms of horse racing, and a great deal of that can't be diverted elsewhere,' Eade says. 'Our biggest concern is around the free movement of animals and people. The number of owners and trainers that cross the border with Northern Ireland, for example, is huge. We have a tripartite agreement with the UK and France that means thoroughbred horses can move freely between the three countries. We are working closely with our counterparts in both countries as none of us wants this to change, but we are worried about potential new bureaucracy and the impact that could have.'
The challenge, she adds, is not simply about movement for racing, but the ease with which the current regime allows foreign owners to stable their horses here. 'If the UK was to introduce a more favourable tax regime, for example, or there were other reasons not to keep horses in Ireland or train them here, many livelihoods would be impacted.'
Growing up in the Dublin suburb of Santry, Eade studied economics and Italian at UCD. 'I had this idea that I'd study economics for a role in banking, while having Italian would allow me to work in a European environment,' she explains.
In the end, like many graduates in the 1980s, she ended up in London, where she took a position in Gillette's treasury department. A series of increasingly senior roles kept her there for the next 16 years, with Gillette acquired by Procter & Gamble during that time. 'Both were great companies to work for, and always facilitated movement in my career. I was always able to grow and to do something different.'
It was during this time that Eade became a member of ACCA. 'I felt that if I ever wanted to be an auditor or get into the accounting side, ACCA would allow me that freedom. In the end, I was never drawn into practice. Once you get into finance and business, it's hard to leave that behind, but I was certainly glad I chose ACCA for the richness it offered.'
Her decision to return to Ireland just over a decade ago led her to taking a number of roles with Procter & Gamble in Kildare and Dublin before joining Boots Retail Ireland as finance director, a role she held for three years.
She says: 'I've always been drawn to ethical companies and I think it makes it difficult to settle for anything less. I've also been very lucky in never having to stay in a job I've been unhappy with. Of course, you can outgrow a position and find that something else grabs your attention.'
Having chosen ACCA because of its flexibility, Eade says the qualification has proved itself again in her current position. 'Without the audit and tax elements it would be difficult to do the role here, but also the statutory accounting and performance management components are so important.'
Eade is optimistic about the future of one of Ireland's oldest passions. 'I think there's such a love of horses here and we seem to be getting better and better at what we do. The quality of breeders and trainers is world class and, for the size of the country, we are a phenomenal success. That's something everyone will work hard to sustain and build on.'
Donal Nugent, journalist
"Ireland has the best horses and the best trainers, now we'll also have the best facilities"