Ireland is catching a global wave of interest in developing the offshore economy, based on exploring and exploiting its rich and varied maritime heritage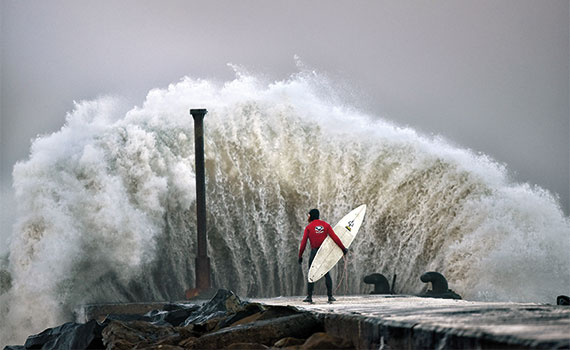 This article was first published in the October 2017 Ireland edition of Accounting and Business magazine.
Ireland's ocean economy is growing. The sector, which comprises established and emerging marine industries, outperformed the general economy in 2016 and is on track to generate 2.4% of GDP by 2030, according to a new report by NUI Galway's Socio-Economic Marine Research Unit (SEMRU).
The report, which provides sector-by-sector economic projections against which future marine socio-economic data can be measured, shows that turnover in the 'blue economy' was €5.7 billion last year or approximately 0.9% of GDP, up 20% on 2014.
Oil and gas exploration and production, marine aquaculture, and tourism and leisure in marine and coastal areas all experienced a significant increase in activity.
Report co-author Dr Amaya Vega says the main reasons for the faster growth rate in the blue economy compared to the general economy 'partially relate to increased activity in shipping and maritime transport', while the largest boost to turnover and GVA (gross value added) in 2016 was the Corrib gas field coming on line in December 2015.
Focus on Ireland's blue economy sharpened in 2012, following the publication of an integrated marine plan, Harnessing our Ocean Wealth (HOOW), which highlighted scope for growth in areas such as tourism, seafood, aquaculture, renewable energy, marine mineral resources and marine compounds for biotech industries.
HOOW identified three high-level goals – a thriving maritime economy, healthy ecosystems and increased engagement with the sea – and set a target to double the value of Ireland's ocean economy to 2.4% of GDP by 2030. This figure was based on a total estimate (both direct and indirect GVA) in 2007 for the Irish ocean economy that amounted to 1.2% of GDP at that time.
Sustained growth
SEMRU's latest report – the fourth since the NUI Galway unit began collecting and analysing marine socio-economic data in 2009 – shows sustained economic growth in both established and emerging marine industries. Vega says state support through the work of a Marine Coordination Group chaired by the minister for agriculture, food and the marine, and the associated Marine Development Task Force, 'should encourage further investment'. Aquaculture and marine tourism are two areas expected to grow.
'The recent review of the licensing arrangements for aquaculture should result in a more efficient licensing process,' say Vega. 'We expect this will improve the potential for investment in the marine aquaculture sector.
'We also expect the marine and coastal tourism sector to benefit from initiatives such as the Wild Atlantic Way and the Ancient East trails, which should continue to grow coastal tourism.'
Ireland is not alone in seeking to develop the blue economy. An Organisation for Economic Co-operation and Development (OECD) report, The Ocean Economy in 2030, stated that many ocean-based industries have the potential to outperform the growth of the global economy as a whole, both in terms of value added and employment.
In Europe, where the blue economy represents roughly 5.4 million jobs and generates a GVA of almost €500bn a year, the European Commission has developed a long-term strategy, Blue Growth, to support sustainable growth in the marine and maritime sectors.
Institutions like the OECD and the EU believe oceans can provide solutions to the problem of the growing global demand for energy and food.
'Food security will become more of an issue in the decades ahead,' says PwC's Declan McDonald. 'Oceans have the potential to supply fish protein in a sustainable and more carbon-efficient way than land-based protein production.
'Energy demand is also rising. As land-based resources run out, the focus is turning to the 70% of the Earth's surface covered by oceans. New and emerging technologies are allowing deeper water exploration for oil, gas and minerals, while oceans also have the ability to provide renewable energy sources through offshore wind, wave and tidal energy.'
With global population growth comes increased movement of goods in the global economy, leading to increased container traffic and investment in logistics, shipping and ports. The Irish Maritime Development Office has an ambition to create a shipping finance hub in Ireland, attracting shipping companies, finance houses and marine insurers. 'Brexit may assist with this ambition,' says McDonald, 'although the general uncertainty is creating issues across the marine sector'.
Choppy waters
These Brexit-related issues include weaker sterling that adversely impacts competitiveness and tourism, the potential reintroduction of border and customs controls with operational consequences for transit times and potential delays at Irish ports for freight and passenger transport, and issues surrounding access to British waters and the sharing of quotas for key fishing stocks, as well as the potential impact on port and shipping activity.
For accountants, developments in the ocean economy in the coming decade will see new roles in areas like finance and management accounting. An appreciation of the oceans, particularly in relation to climate and sustainability, will be an advantage for those seeking career opportunities in this sector.
Daisy Downes, journalist
"As land-based resources run out, the focus is turning to the 70% of the Earth's surface covered by oceans"