Big data, information security and the exploitation of private details pose ethical questions, and good risk management means accountants must address them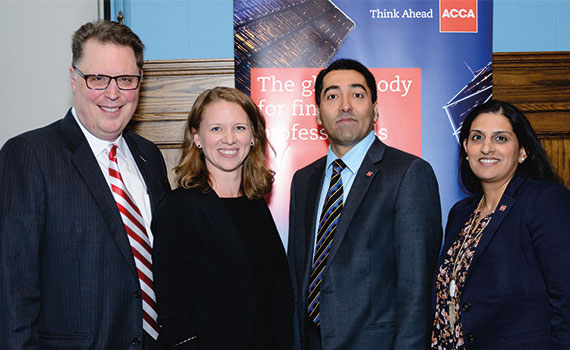 This article was first published in the October 2017 international edition of Accounting and Business magazine.
The digital age is creating new ethical and trust challenges for professional accountants and their organisations. So important is the issue that it was the subject of a panel discussion organised by ACCA Canada at its AGM. 'The finance profession plays a major role in maintaining ethical standards for companies,' explains Julie Missimore, ACCA head of policy for the Americas. 'Finance professionals handle so much data – from customer data to financial data – on a daily basis. The digital age is raising a whole host of new issues surrounding big data and cybersecurity, so ethics will become even more important.'
Panellist Shahid Qureshi, a member of the audit committee of the City of Calgary, says: 'The internet of things has created new ways of observing human behaviour, consumption, communication and interest. As we collect more and more data, there are basic questions about what we collect, how we collect it and what we do with it. The ethical questions are about what we should not collect, what we should not do with data, and who decides whether it's OK or not.'
The data supply chain is also an issue, says Qureshi. 'What methods were used to extract data? Was consent obtained? What biases have been introduced during manipulation? How secure is the data? For how long and for what purpose would this data be used?' Considering such questions can help finance professionals manage risk and build trust in data-driven decisions, Qureshi suggests.
Richard Leblanc, an expert on corporate governance and accountability, believes that the risk posed by ethics and trust has increased because of the ease and speed with which ethical breaches can be captured (eg on smartphones) and shared (via social media). 'Any employee, or a rogue stakeholder, by using YouTube can put your brand or reputation at risk very quickly,' he says. 'A year ago directors would say they had 24 hours to respond. Now they tell me it's 10 minutes.'
Leading boards are addressing this risk and overseeing ethical business conduct in four ways. 'They are asking for culture surveys to be reported directly to the board,' Leblanc says. 'They're making sure that whistleblowing is anonymous and goes right to the audit committee. They want internal audit to assess culture and tone throughout the organisation. And they are asking for crisis management protocols for social media and reputation.'
Leblanc also recommends that boards review their members' skills. 'You need to have people with IT literacy at the board table,' he says.
Siobhan Pandya, director of continuous improvement at cosmetics company Mary Kay, sees an important role for finance professionals. 'Accountants play the critical role of gatekeepers at any organisation – they are responsible for holding the organisation to a higher standard,' she says. 'This includes systematising, defending and recommending concepts of right and wrong conduct.
'Ethics are particularly important to accountants in a digital age because they can be compromised much more easily than previously – they can be both exposed and hidden with minimal difficulty.'
Pandya believes managing risk related to ethics and trust in a digital age requires clear communication on what is considered right and wrong conduct. 'There should be no grey areas,' she says. 'Accountants can help to set the rules, monitor their adherence and report performance on a regular basis.'
Sarah Perrin, journalist