Jayne King FCCA is, in her own words, not the most traditional head of finance, but she is making great strides in addressing the funding challenges facing the British Library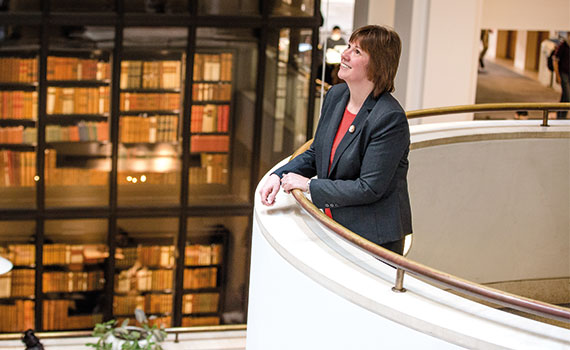 This article was first published in the October 2017 China edition of Accounting and Business magazine.
A nation's identity and culture is reflected in the words generated by its people. That is why the British Library's collection, which ranges from Magna Carta to a copy of every newspaper that was published in the UK today, is so vital. It is, in its own words, the 'custodian of the nation's memory'.
The collection is housed in 14 floors of its Grade I-listed building in St Pancras, London, and at a former ordnance factory in Boston Spa, West Yorkshire. The total collection exceeds 150 million separate items; if you were to look at five of them every day, it would take you 80,000 years to see everything.
Collating, preserving and making the collection available to the public is expensive but very necessary work. The library costs around £120m a year to run, 80% of which is met by funding from the Department of Media, Culture and Sport. In these days of austerity, though, its finances have inevitably come under pressure; its budget has been cut by 34% since 2010.
As a result, the British Library has taken a long, hard look at its structure and operations in recent years. In 2011 it published a strategic plan to set a path through the digital revolution, including a project to save every British website (representing one billion web pages) into its digital memory. In 2012 a new chief executive, Roly Keating, joined the library and one of his first tasks was to complete a 'living knowledge' plan for 2015 to 2023, when the library will mark its 50th birthday. The plan breaks down the library's remit into six purposes that explain the ways in which its funding helps to deliver tangible value:
custodianship
research
business: last year, 6,300 entrepreneurs and small business owners used the business and IP centre at St Pancras
culture: to engage visitors with memorable cultural experiences through its exhibitions
learning
international partnership.
Keating also instigated a restructure of the library's senior management, replacing a team of directors with a linear structure where the chief librarian is responsible for the collection, research, learning and international engagement, while a chief operating officer holds responsibility for commercial services and administration.
Jayne King, the British Library's head of finance, was brought in immediately after this restructure and is now the most senior finance officer in the organisation, advising the CEO and board. 'The senior team is now made up of strategic people from diverse disciplines,' she says. 'We have collective responsibility for running the business.'
For King, the new role meant taking on a wide remit that includes legal and contract services, corporate procurement, risk and employee services (including payroll, HR and pensions). As the library was in the midst of a fundamental restructuring, it was a baptism of fire: 'On my first day I was scenario-planning how we could manage with 30% less funding than we had,' she says.
King joined the library after a career that spanned Harrogate College, York St John University, Housing 21 and the finance director role at the West Yorkshire Probation Trust. 'I wanted to be an accountant since I was a child,' she says. 'I was always the banker when I played Monopoly.' Her current role, though, is more strategic and varied than many senior finance positions; King holds an MBA and says it would have been difficult to secure this job without it. 'I'm not what you might recognise as a traditional head of finance,' she says.
In November 2015, the library received a four-year flat cash settlement as part of the government spending review. Ahead of the settlement, a comprehensive planning process was put in place to make sure that the budgets of the strategic leadership team were closely aligned with the purposes laid out in the 'living knowledge' plan. 'We talked through our ambitions and looked at what we could go ahead with and what we could reduce,' says King. 'We always plan for the worst but hope for the best.'
Another priority was to make sure that the finance team reflected the new structure and strategy. 'The library's agenda for the next few years is more complex and commercial, so we need the right skills in the right place. My team isn't dramatically smaller than it was but it's more professional in its skillsets and less siloed. And it's less hierarchical.' The large team is spread across the two sites in London and Boston Spa.
Inevitably, the library will have to work to replace lost government funding with commercial revenue, donations and other grants. It raised over £13m last year from its commercial activities and secured £9.6m of Lottery funding for a project to save and digitise the nation's at-risk sounds (including Pete Townsend's demo recording of Pinball Wizard).
'Ultimately, we're aiming for a 60/40 split between government funding and commercial income,' says King. 'Clearly we still have challenges to come, but our CEO has a clear plan for what the library will be when it's 50, and that drives everything we do. In my mind I'm always looking four years ahead.'
It is, though, fulfilling work: 'It's the "foreverness" of the library that's the difference for me. We are here for the greater good, for the things that will be here forever. That really brings out the passion in me. I feel a real sense of pride, working here.'
Liz Fisher, journalist
"My team isn't dramatically smaller than it was but it's more professional in its skillsets and less hierarchical"