Major developments in technology are changing the traditional accountant's role and educational path, explains ACCA Ireland chair John Gaynor FCCA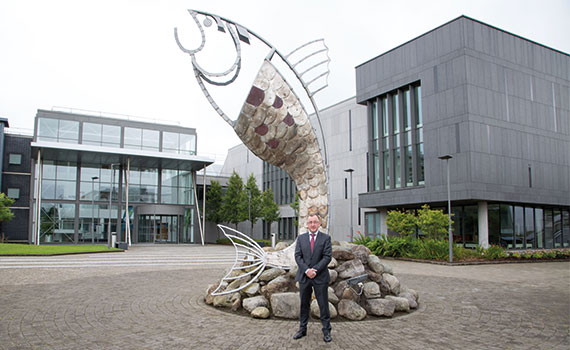 This article was first published in the October 2017 Ireland edition of Accounting and Business magazine.
With a career spanning practice, industry and education, it would seem to be a case of 'cometh the hour…' for ACCA Ireland's new chair John Gaynor FCCA. Taking up the role in April 2017, Gaynor's combination of experience makes him exceptionally well positioned to contribute to the organisation as it adapts its learning and exam structures to a rapidly changing business world.
For Gaynor, the role is, first and foremost, an opportunity to give back to an organisation that has been hugely important to him. 'I've been an ACCA member over half my life and I can honestly say it's had a huge influence on my career and even helped shape the person I am,' he says. Given his experience in education, and his current role as chair for the BA honours in accounting at the Institute of Technology Sligo (IT Sligo), it will be no surprise that education ranks as a particular priority for him over the year.
A prime example of change coming on stream in the ACCA Qualification is the new Ethics and Professional Skills module, which ACCA introduces on 31 October this year. 'Ethics to me is about doing the right thing. Honesty and integrity are core values that an ACCA student and member must possess,' he says. 'It's not just about right and wrong. It is also about knowing when you are out of your depth, putting your hand up and looking for help.'
At IT Sligo, Gaynor has long worked to ensure ethics is core to the accounting curriculum. 'In my classes, we use real world business scandals like WorldCom, Enron, Lehman Brothers, Bernie Madoff and Anglo Irish Bank to highlight white collar crime and illustrate how damaging it can be for the accounting profession. More broadly, we look at how global deregulation of markets may increase the pressure on management to provide attractive returns. In some instances, this pressure may result in demands for unethical behaviour.'
The study of ethics isn't just a case of learning from past experiences, he adds. As machine learning, artificial intelligence (AI) and robotics evolve, accountants are facing entirely new scenarios for which there may be no obvious precedent. 'This makes it even more important that ethics are instilled as a core value for ACCA graduates,' Gaynor says.
Human vs robot
The intersection between technology and the role of accountants is a fast-changing one, and Gaynor also sees his year as ACCA Ireland chair as an opportunity to throw light on some misconceptions that are gaining traction as a result.
'Developments in AI are having a significant impact on the business world. This has led to the perception in some quarters of a negative impact on the accounting profession. It's important for us to get the message out there that this is not the case. As more routine processes are automated, the accountants of the future will, in fact, be able to play more active roles in helping their clients understand the financial performance of the business and develop clear strategic goals. I don't believe that machine learning can match human insight or provide the emotional intelligence required to provide financial advice to clients.'
Gaynor says it is particularly important to address the misconception at school level, particularly at the point where career choices are being made. A good starting point would be a rethink of the Leaving Certificate accounting syllabus, he adds. 'Accountancy at second level is outdated and needs an overhaul. The current paper is built around the idea that accountants are primarily number crunchers. That feeds into the idea that it is, therefore, a career under threat. The message we need to get out is that there's never been a bigger demand for accountants. The majority of our graduating class in IT Sligo, for example, have already been offered positions.'
Another area of education where Gaynor hopes to contribute to the conversation is around apprenticeships. 'It's very much a story of back to the future,' he explains. 'Apprenticeships declined in popularity in recent decades but they are now a real alternative again. The government recently launched Generation Apprenticeship 2017 and the apprenticeship model being proposed is one that is industry-led, and supported by industry and education partners. IT Sligo launched Ireland's first honours degree apprenticeship programme for the insurance industry last year. I would certainly see the model as having merit as an alternative entry route in to the accounting profession.'
Business innovation
Growing up in Sligo, Gaynor was immersed in business from a young age, thanks to the wholesale distribution business established by his father and uncle in the 1950s. 'I was meeting customers and making deliveries, and introduced to concepts like working capital management, even if I didn't know what they meant.' The experience gave Gaynor a particular interest in SMEs in his later career and a desire to champion their importance to local economies.
'There are 45,000 SMEs in the northern and western region of Ireland and creating a culture for SMEs to flourish is something I'm particularly passionate about. The region has just recently been named European Entrepreneurial Region for 2018 and I'm pleased that IT Sligo is playing its part, thanks to our innovation centre and the New Frontiers programme run from the campus.'
He also points to the ongoing investment deficit in the region, and sees it as contributing to the sense of a two-tier recovery in the country. 'There is certainly a problem with infrastructure, not just in terms of the road network but also issues such as broadband. If the IDA is trying to encourage foreign direct investment here, issues like this can be game changers. More investment is needed and it will deliver handsome rewards.'
The north-west region has, in fact, been largely the focus of Gaynor's career since he became an ACCA member in 1989. After a period with the accountancy firm Gilroy Gannon, he joined Anglo Irish Beef Processors as financial controller and office manager, an experience that saw him working in Donegal and living in Derry. This was followed by a period working in Derry as a project accountant with US firm United Technologies.
The experience of routinely crossing the border at a time when army and police forces manned border stations has left Gaynor with an acute concern about the possibility of a reintroduction of a hard border. 'I would be very concerned about any moves that could bring us back in that direction,' he says.
Lecturing at IT Sligo since 2001, Gaynor admits the 16 years have 'flown by'. Along the way, however, IT Sligo has evolved into an institution of national and international relevance, recently ranked number 11 among higher-level institutes in Ireland. With the Technological Universities Act making its way through the Oireachtas, there is optimism that its aspirations to gain university status will be achieved sooner rather than later.
Gaynor has also seen huge changes in the make-up of a typical classroom over this time. 'In my first class, students were all Irish and 90% were in their late teens and early 20s. Now we have a lot more mature students, with many nationalities. It's a different and more dynamic learning environment.'
IT Sligo has also been notable for enthusiastically embracing the online education opportunity and now has 2,000 students engaged primarily through distance learning. While he advocates the use of such technology, Gaynor also has no doubt about the importance of old-fashioned face-to-face interaction, and not just in education. 'There is a trend among professional bodies to move CPD to the online space. However, I believe members need to meet and network, especially in regions that are geographically dispersed. This is what business is all about and a key part of the ACCA experience.'
Gaynor attributes his involvement in ACCA to a speech delivered by former ACCA Ireland chair Tom Murray some years back, in which Murray encouraged members to become more involved. 'I recognised for the first time that, because I was in education, I might have something to bring to the table.' He believes strongly that every member should look to their own skillset in the same way. 'Any member of ACCA can get involved and be part of the future of the organisation. If I have one message to all our 12,000 members in Ireland this year it would be to think seriously about how they can contribute.'
Donal Nugent, journalist
"I don't believe machine learning can match human insight or provide the emotional intelligence needed to provide financial advice to clients"