Marios Skandalis FCCA, Bank of Cyprus compliance director and new head of ICPAC, discusses bank bail-ins and bringing order to the chaos of looming financial meltdown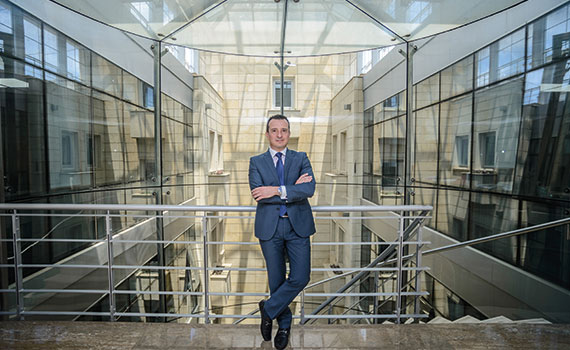 This article was first published in the October 2017 international edition of Accounting and Business magazine.
If there is one word that sums up Marios Skandalis's career to date, it is 'challenging'. There have been a number of points along his career path where the easy option could have been to walk the other way. But at every turn the 46-year-old compliance director of Cyprus's largest bank and new president of the Institute of Certified Public Accountants of Cyprus (ICPAC) has sought out the more difficult route.
Like many others in the accountancy profession, Skandalis wrestled with whether or not to accept the challenge of leaving his public practice accountancy firm (EY) for a move into business, in this case as CFO of General Insurance of Cyprus, part of Bank of Cyprus, back in 2000.
But that challenge was nothing compared with his next move, which he describes as a potentially 'suicidal' challenge. In 2013, he was offered and took the position of head of Bank of Cyprus operations in Greece, having been head of the organisation of all the group's overseas activities, including those of Greece, over the previous three years. To understand why he describes the move in such dramatic terms, just consider the context.
When Skandalis was head of the organisation of overseas activities at Bank of Cyprus, it was the largest bank on the island. But then in 2013 the country's economy collapsed, and Bank of Cyprus infamously became the only bank globally to implement a 'bail-in', which saw depositors with savings of more than €100,000 converted in part into class A shareholders and take a considerable 'haircut' or loss in the process. At the same time, in Greece all branches shut down and the deposit and loan portfolios were transferred to Piraeus Bank under a sale and transfer agreement. In this process a large number of staff had to go through either an obligatory or voluntary redundancy scheme. It was, as Skandalis describes it in understated terms, 'a difficult time'. He was asked to manage the effective conclusion of the sale and transfer agreement with Piraeus Bank, while also managing all the bank's remaining banking operations alongside its Greek insurance branches, asset management and brokerage subsidiaries.
'It was a task that seemed almost insurmountable at the time, putting my career at risk,' Skandalis recalls. However, he came out the other end as the Greek operations went back to some form of normalisation after the successful completion of this deleveraging strategy.
'Having as your employer the only bank ever to follow a strategy of a bail-in, with the haircut of its depositors, and a huge emergency liquidity assistance of €11.4bn compared with the €3.1bn capitalisation of the bank, you can see the size of the issue,' Skandalis says. He not only decided to stay on board, but agreed to take on one of the bank's riskiest projects.
It was a decision many might not have taken, so how did such a daunting challenge feel? 'You don't actually take a conscious decision if you go through those events, seeing the second-largest bank [in Cyprus] shut down, watching the news day and night to see what will happen to the biggest bank,' he says.
He recalls that 'many, many' friends and colleagues lost their jobs in Greece. 'It was a chaotic situation,' he says. But his job was to bring order to this chaos, a role he carried out diligently until his next challenge appeared in 2014 in the form of director of compliance for the whole of the Bank of Cyprus group, a position he continues to hold today. Again, context is important – there had been a wholesale clear-out at boardroom level and the change in personnel meant that new leaders wanted a new level of compliance and corporate governance.
As such, his terms of reference in 2014 were to 'successfully remediate the compliance function of all sectors of the bank, as well as its remaining subsidiaries, branches and all other operational segments in Cyprus and abroad, adhering to best international practices and standards'. But as he says: 'The real challenge was that the direction given to me to achieve this was not simply through an enhancement of the policy and procedural framework, but through a cultural transformation by infusing the necessary values in all areas and sectors of the bank.
'I took a step back, closed my eyes, put my faith in God and tried to take a holistic view. It was still chaos, but chaos has edges, so I stood at one edge and started to recognise, one by one, the things that should be done. I prioritised them and I started to work on each of those aspects myself, delegate them or work in a group to reach a resolution. This is why, at times like this, you need good associates – ethical people, supportive people, real people ready to work hard and take instruction, but also to give valuable feedback.'
Skandalis and his 45-strong compliance team devised a strategic approach that focused on building awareness and coaching all staff at the bank in an attempt to sculpt the right culture. At the same time, Skandalis worked to enhance the policy, procedural and monitoring framework to ensure not only adherence to the relevant regulatory framework, but to best international standards and practices. 'In only three years, we have managed to penetrate the culture of the people working within the bank, infusing the necessary values on which the new Bank of Cyprus operates,' he says.
The route to this success has been painful. In the process, the bank has lost more than 3,500 customers, which resulted in a reduction in annual net profitability of some €9m. However, Skandalis argues that this was necessary if the bank was to create a workable new basis of acting and thinking within itself, while transforming the compliance function from a regulatory one into an ethical framework.
Ethics, along with challenge, is a hallmark of Skandalis's approach. A founder member and vice chairman of Transparency International (Cyprus) and vice president of the Association of Certified Fraud Examiners (Cyprus branch), he is an active anti-fraud and corruption campaigner.
The Cypriot, whose home city of Famagusta is in the north part of the island under Turkish control, puts his commitment to ethical behaviour down to the influence of his parents. 'They infused me with the real principles of ethos, taking the time to explain to me the long-term benefits of being an ethical person and, eventually, allowing me to take the conscious decision of adopting these principles in my life, rather than forcing me to adapt to them.'
And he can also see the value inherent in the ACCA Qualification. It is not, he says, just a professional degree to provide competency in the area of accountancy, but rather a solid path and a doorway to any career path its holder wishes to follow.
Judging by the number of awards Skandalis has won for his work at the bank, this professional outlook has paid dividends. Among other accolades, he was Acquisition International's 2016 Banker of the Year, while Bank of Cyprus won World Finance's 2017 Corporate Governance Award and was awarded Bank of the Year 2017 in Corporate Insider's Business Excellence Awards. But the bank's listing at the start of this year on the London Stock Exchange is perhaps the clearest indicator of the success of the remediation programme.
However, Skandalis is well aware that change at the bank has been down to a number of individuals. The current chief executive John Hourican, who came on board towards the end of 2013, has provided the leadership that has allowed Skandalis as compliance officer to implement the necessary changes, with the full support of the current board of directors. 'Unless the board sets the right tone and an empowering CEO creates the relevant mood through engaging with each of his managers and finally ensuring that this triggers the necessary buzz at the bottom, you cannot achieve any cultural changes,' Skandalis says.
Recent news at the bank – good and bad – is perhaps a sign of continuing volatility in the financial sector, though Skandalis prefers the word 'challenging'. The good news was that the bank was able to report a return to profit earlier this year along with a full repayment of the €11.4bn emergency liquidity assistance. But it has also been on the receiving end of an €18m fine from the island's competition regulator for abusing its dominant market position in credit cards, a fine that the bank will appeal 'through all available court processes'.
So what of the future – is Skandalis's work here done? Not yet. 'The general lesson from the 2013 financial crisis is that the building of a robust economy is not a static task or target,' he says.
As Skandalis takes over as ICPAC president, he remains committed to building an ethical and trusted financial institution. 'My door is open to the next challenge, but in the meantime I remain heavily involved and focused in the present one.'
Philip Smith, journalist
"I took a step back, closed my eyes, put my faith in God and tried to take a holistic view. It was still chaos, but chaos has edges"