Patrick Kabuya FCCA is passionate about his role with the World Bank in developing the accounting profession in Africa to help promote prosperity and reduce poverty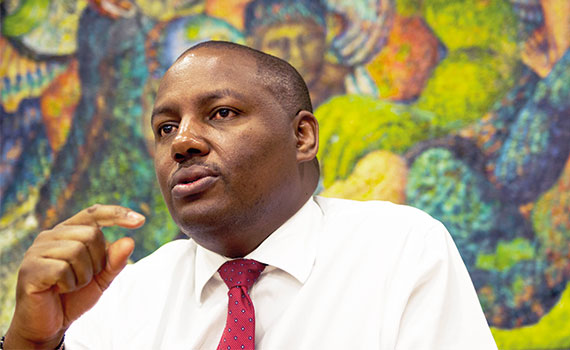 This article was first published in the October 2017 Africa edition of Accounting and Business magazine.
Not many accountants can claim they were inspired to join the profession by a grandfather who did not attend school. As a child, Patrick Kabuya FCCA, World Bank Group senior financial management specialist, was a regular visitor to his grandfather's butchery in Kenya's capital Nairobi, about 150km from his rural home in Nyeri. He noticed how, every day at about 10am or so, his grandfather would ask for a 'book' from the butchery supervisor and spend time poring over it, performing calculations and writing notes in the margins.
'I became curious and started asking why. I was impressed by what I learnt from him especially as I knew that he had never attended school,' he says.
Among other things, Kabuya's grandfather taught him about profit and inventories, and the importance of maintaining accurate records. Profit, he learnt, was money left over from meat sales after related expenses had been paid. His grandfather said he'd ploughed the profit into savings and investments, family expenses and, most importantly, used it to help others, especially on visits to his rural home. 'It is about people – the most valuable asset one can have,' his grandfather told him.
These lessons inspired Kabuya. He excelled at mathematics at primary school and worked hard to gain admission to better secondary and high schools, where he lived away from his rural home as a boarder. Admission to Kenya's top university, the University of Nairobi, followed and his hard work was rewarded when he graduated with a bachelor of commerce in accounting. 'It's these lessons and love for mathematics that informed my desire and decision to become an accountant,' says Kabuya.
Even now, in his job at the World Bank offices in Pretoria, South Africa, those lessons are never far from his mind. His work involves partnering with and supporting different stakeholders across Africa – governments, regulators and accounting professional bodies – to strengthen the accountancy profession, corporate governance and enhance public financial management (PFM).
These, he says, are 'fundamental pillars that contribute to improving a country's competitiveness, and enhancing effective allocation of public resources, efficient service delivery to citizens and accountability, which ultimately improves the wellbeing of people'.
One of Kabuya's proudest achievements was his involvement in the establishment of the Pan African Federation of Accountants (PAFA). In 2011, as part of a World Bank team, he was actively involved in designing and facilitating this project. It began with five professional accountancy organisations (PAOs) and now has a membership of 52 member bodies from 42 African countries. The organisation has also become a voice for the profession in Africa, and is supporting the strengthening of the profession on the continent. Kabuya remains actively involved in PAFA activities and recently assisted in conceptualising and establishing a special PAFA committee to promote the adoption of integrated reporting in Africa.
Kabuya admits the accountancy profession has a long way to go in Africa. Based on 2016 membership declarations by PAFA members, there are fewer than 101,000 accountants in the continent, which translates to fewer than 90 per million people, he says. By contrast, Argentina, Chile and Uruguay, all countries with smaller economies as measured by GDP, have 1,000 plus accountants per million.
'In the 17 French-speaking African countries, the number is even lower as only accountants working in audit practice are registered as members of professional accountancy organisations. The low number is further attributed to low demand for accountancy services, limited knowledge about the role of accountants, and the impact of fragility and conflict in a number of these countries,' Kabuya says.
While there are a number of strong professional accountancy organisations in the region, the majority have capacity (human and financial) and governance constraints. In sub-Saharan Africa, only 23 PAOs from 22 countries are full members or associates of the International Federation of Accountants (IFAC); a number of countries don't even have PAOs.
Capacity building
The World Bank has implemented numerous reforms to strengthen the profession in Africa at national and regional level, often in partnership with other regional and global institutions such as IFAC and the International Accounting Standards Board. The reforms are usually informed by the Report on the Observance of Standards and Code – Accounting and Auditing (ROSC A&A) reviews – conducted by the Bank.
'There are incremental efforts by regional and national PAOs to strengthen the profession and develop more technician and professional accountants required to serve both public and private sectors at all levels, with particular attraction and inclusion of youth and women.
'PAOs have to be innovative and smart in how they attract youth to the profession. This should include integrating and involving youth in PAO committees and relevant activities. In addition, PAOs should aspire to develop accountants who are innovative, socially responsible and skilled to stay relevant in the 21st century. It remains critical for the profession to play a thought leadership role.
'With an African population of 1.2 billion, and considering the number of countries, there is room to get more accountants to effectively manage and add value to the endowed wealth of natural resources that we have on the continent,' he says. 'We need to create demand for accountancy services, increase the brand value of the profession, and actively inform policymakers and the public about what we do, the value we create and how we contribute to improving people's lives. Accountants should be creators of future disruptors – the accountant's equivalent of Uber – actively harness and use technology, and be in the driving seat in creating, enhancing and managing the value of businesses.' This, Kabuya says, is where ACCA can play an important role.
His ACCA Qualification, he says, has been valuable because of the 'comprehensiveness' of the skills learnt. 'I gained the ability to understand business in a way that impacts on the economy, society and people at large. I learnt the technical and analytical skills, but also the soft skills: the ability to interact and share knowledge, the ability to negotiate, and teamwork. Those are critical,' he says.
Kabuya is particularly proud of the World Bank's project supporting the government of the Seychelles to improve budget systems, using an approach known as Programme Performance Based Budgeting (PPBB), a project he is leading. Its aim is to improve allocation of resources to government priority areas, ensure effective delivery of services, and improve accountability. 'What motivates me more is seeing the impact World Bank projects have on the people. We invest in strengthening institutions and people,' he says.
The World Bank is involved in strengthening PFM systems in African countries at both national and regional level. Kabuya is currently involved in reforms in Zambia, South Africa, Botswana, Mauritius and the Seychelles. Gradually, he says, countries are acknowledging the need to improve their PFM systems in order to enhance revenue collection and services to citizens. To determine areas of improvement, countries have conducted the PEFA assessment. The assessment reviews all pillars of a budget cycle from budget formulation to implementation, reporting and oversight by auditor general and national assembly public accounts committees. 'Forty-six PEFA reports have been issued to date in sub-Saharan Africa. Where reviews have been repeated, there is evidence of improved PFM systems,' Kabuya says.
Adopting IPSAS
One of PEFA's main findings is that many governments in the region still prepare their financial statements on a cash basis. But this, says Kabuya, is changing with governments increasingly recognising the need to adopt accrual-based International Public Sector Accounting Standards (IPSAS). Kabuya singles out three countries as making 'tremendous' progress here: Botswana, South Africa and Tanzania.
The existence of suitably qualified finance and accounting professionals is key to the success of this reform and therefore the role of the accountancy profession is 'vital': developing more qualified accountants to serve the sector especially by including public sector subjects in accountancy profession curricula and designing appropriate training programmes. 'ACCA has recently included public sector subjects into its curriculum and other PAOs are doing the same.'
Kabuya recalls an anecdote that brought home to him the importance of proper public financial management and the role the accountancy profession can play in achieving it. On a visit to his rural home, an uncle told him his son was going to a school where there were limited books, and a grandmother in the family was going to a hospital with no medicine. The uncle asked him: 'We know you are an accountant. We know you work for the World Bank. How can you help so that my son gets the books he needs? How can you help so that your grandmother gets the medicine she needs?'
It's this that drives Kabuya on.
Nicki Güles, assistant editor, City Press, Johannesburg
"Professional accounting organisations have to be innovative and smart in how they attract the youth to the profession"