Fears that artificial intelligence will destroy the accounting profession are overblown, says Dr Pearl Tan FCCA, who believes that technology offers freedom from drudgery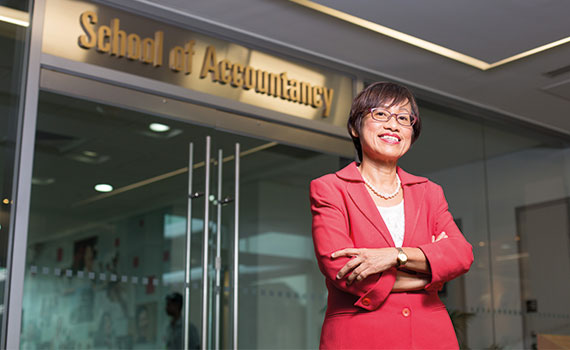 This article was first published in the October 2017 Singapore edition of Accounting and Business magazine.
Dr Pearl Tan FCCA does not fear robots. More specifically, the accounting professor at Singapore Management University's School of Accountancy isn't worried that artificial intelligence (AI) will put accountants out of work.
The possibility that advances in AI will result in an army of jobless accountants roaming the countryside is getting some serious coverage in the mainstream media these days. Case in point: Wired magazine's recent article, Robots Will Soon Do Your Taxes. Bye-Bye, Accounting Jobs.
'When I meet parents, they are very concerned about the future of their children,' she says. However, she is not worried. 'I am very confident we will not be replaced by a robot.'
Accountancy is, she says, a complex discipline. 'The problems we face are all unique,' she says. 'They are not homogenous.'
She notes that accountancy is a combination of many different disciplines. Besides knowing accounting standards, an accountant needs to have a competent understanding of law, taxation rules, best practices in corporate governance and ethics. 'Accountancy is a unique blend of logic and judgment,' she says. 'No robot can actually replicate the human mind in processing complex accounting issues.'
In truth, Tan sees AI as an opportunity rather than a threat, especially if technology can automate the more mechanical parts of the job. 'It frees us to do more important things,' she says. 'I see that as an opportunity to capitalise on, so that I can move on to other things and not be held back by drudgery. '
To illustrate this point to her students, she shares her experience of being an auditor in the late 1970s and early 1980s. 'In those days, there were no computers,' she recalls. 'There was no Excel, no Word. We used typewriters and calculators. It was really a lot of work. Excel to me is one of the greatest things that could happen.'
Tan still remembers having to cut and paste sheets together and ending up with a page some several metres wide. 'The page would be as long as this table. Then I would have to punch in the numbers in a calculator, and by the time I got to the end, I would find out that I'd got it wrong. Now, I just key it into Excel and I get it right. Technology has made my life a lot better because it's removed a lot of the time-wasting manual processes.'
From auditor to academic
After graduating from the then University of Singapore, Tan joined EY's predecessor in 1978 and spent nine years as an auditor. 'There were very few accounting standards in those early days,' she recalls. 'Everything was left to our professional judgment.'
She describes her time there as 'intellectually very stimulating' but the experience showed her that what she really enjoyed was research, writing and teaching. So, when the opportunity presented itself, she moved into academia.
Tan joined the predecessor of Nanyang Technological University (NTU) in 1987, gaining a scholarship to complete a master's at the London School of Economics. She subsequently embarked on her PhD at the University of Queensland at the age of 40. Armed with her doctorate, she returned to teach at NTU and continued working there until she joined SMU in 2005.
Today, she teaches undergraduates IFRS Standards, with special focus on accounting for financial instruments, accounting for business combinations and consolidation, and foreign exchange translation. 'It's my dream job,' she says. 'It brings together my love for knowledge and my love for people.'
Testifying to her qualities as a lecturer, Tan has received several teaching awards. In 2017 she received an SMU School of Accountancy Dean's List Award for Teaching Excellence. One of her proudest moments was when she received the NTU's Teacher of the Year Award back in 1994.
'It was NTU's inaugural award; you couldn't prepare for it,' she recalls. 'I was very encouraged by the award as I wasn't a long-established academic at that point.'
The secret to teaching complex topics is, she says, to make them creative and interesting, bringing in current events and real-life cases. Students, she says, appreciate her interest in them as well as her patience and approachability: 'They also appreciate that I convey complex accounting standards in a clear and logical way to them,' she adds.
Growing in complexity
In terms of her own research, Tan is interested in IFRS Standards, issues in standard setting, and practical issues in financial reporting. 'Financial reporting is very fascinating,' she says. 'It is ever-changing and growing in complexity.'
She notes that because of the financial crisis and financial scandals such as Enron, standard-setters need to be a step ahead of problems. 'Standard-setters are in a difficult position,' she says. 'They need to develop very strong standards that are not a straitjacket but are able to deal with difficult scenarios and provide information that is useful.'
Because of her interest, she regularly provides feedback to standard-setting bodies when they invite comments on proposals. 'It's necessary to state your opinion in a timely way so you can make an impact,' she says. 'Recently I gave some comments on the conceptual framework of accounting and was encouraged by the number of downloads made from different corners of the globe.'
Tan has co-written two textbooks on IFRS Standards, Advanced Financial Accounting: An IFRS Standards Approach and Intermediate Accounting, IFRS Edition. The books – published by McGraw-Hill – fill a gap in the market, she says; while there are many textbooks on US GAAP, there are very few high-quality ones on IFRS Standards at the intermediate and advanced levels. The textbooks not only explain the process of applying the standards; they also contain unique analytical procedures that Tan has developed. They are sold in Singapore, Hong Kong, Thailand, Taiwan and Philippines; there is also growing interest from the Middle East and China.
Natural choice
Tan's interest in accounting dates to when she was a teenager. Her schoolteacher father had learned accounting on the side because he was interested in it. It would be part of the dinner conversation as she was growing up.
During a long school break, Tan began reading her father's old textbooks and, over three months, managed to teach herself bookkeeping. When it was time to go to university, her interest in accounting plus her personality made accountancy the natural choice.
'I wanted something practical,' she recalls. 'The discipline that came to mind was accountancy. It was a respectable profession; associated with accountability, orderliness, discipline, stewardship, it fitted well with my personality.'
Tan does not hesitate to point future students towards accountancy. 'An accountancy degree is very versatile,' she explains. 'It will be relevant to students in whatever capacity they serve. The knowledge of accounting standards, corporate governance, taxation, strategic and operational use of financial information as a tool for decision making – all this is financial literacy that is very important in all levels of leadership.'
Tan believes that the future looks especially bright for Singapore's profession as the city-state moves towards its goal of becoming an accountancy hub. 'Singapore is well-placed to provide value-added services like consulting and advisory work,' she says. 'There is a lot of room for growth, to offer services not commonly found elsewhere, like valuation of companies, of intellectual property and other intangible assets. That's become very important in accounting but the expertise is not widely available.
'Accountants in Singapore can go up the value chain and provide services in more cutting-edge issues.'
Apart from teaching, Tan is also involved in developing the profession. She is a member of the Advisory Board on Accounting Standards for Statutory Boards and was a member of the Financial Reporting Committee at the Institute of Singapore Chartered Accountants for eight years.
Tan is also an active member of ACCA, having chaired sessions at the ACCA Singapore annual conference in 2006 and 2007, as well as conducting seminars for members on IFRS Standards.
Her association with ACCA began in 2006 after a memorandum of understanding was signed between the association and the then Institute of Certified Public Accountants of Singapore. 'When the opportunity came for us to join, I jumped on it; I didn't hesitate,' she recalls.
She says that ACCA represents a great commitment to standards and to quality of accounting education and practice. 'ACCA is globally recognised and has made good inroads into different countries in the world,' she says.
Tan adds that ACCA is also beneficial for those who have missed the opportunity to go to university or who come from countries where accounting education is not well developed. 'ACCA has done a great job in getting people who otherwise would not have an accounting education to have one,' she says, adding that she's met people from Vietnam and China who work in Singapore as accountants because of their ACCA Qualification.
'You don't have to be rich or have good connections to be an accountant,' Tan concludes. You just have to be disciplined and hardworking. ACCA is a passport.'
Jimmy Yap, journalist
"Standard-setters are in a difficult position. They need to develop very strong standards that are not a straitjacket but are able to deal with difficult scenarios"