China's Belt and Road project is taking shape fastest in Pakistan, where the impact has been huge. A knowledge of Chinese culture will help finance professionals reap benefits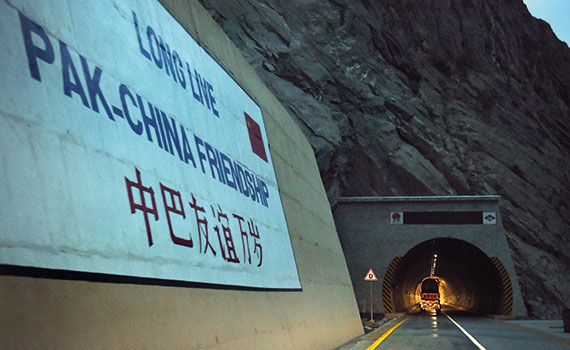 This article was first published in the November/December 2017 international edition of Accounting and Business magazine.
Pakistan's economy is already feeling the impact of the China-Pakistan Economic Corridor (CPEC), part of China's massive Belt and Road development project to connect major centres in China with Europe and fuel industrial development. The Belt and Road initiative encompasses one maritime route and six land corridors, the fastest, most advanced of which is the China-Pakistan route. CPEC aims to promote economic cooperation through collaboration on projects focused largely on energy (it should ultimately double Pakistan's energy generation capacity), as well as road and rail infrastructure, industrial development and Gwadar Port (Pakistan's deep-water harbour on the Arabian Sea).
As highlighted in a detailed research report commissioned by ACCA Pakistan with the Pakistan-China Institute (PCI), titled The economic benefits of the modern silk road: The China-Pakistan Economic Corridor, Pakistan's economy could benefit substantially. The cash inflow from CPEC is expected to exceed the total amount of foreign direct investment in Pakistan since 1970.
The ACCA-PCI report looks at how finance professionals perceive CPEC and examines their plans to prepare for the future. It also considers the skills they will need to benefit fully from CPEC. The report draws on an online survey of around 500 finance professionals, interviews with stakeholders, and group discussions held in Islamabad and Pakistan's four provincial capitals to conduct a SWOT (strengths, weaknesses, opportunities and threats) analysis.
Economic impact
Many industrial sectors in Pakistan are expected to grow as a result of CPEC, including banking, insurance, wider financial services, construction, cement, steel, automotive, refining, power generation, cable and electrical goods, transport and tourism. 'Local industries have been given a big boost,' says Mustafa Hyder Sayed, executive director of the PCI. 'Jobs are being created on a large scale because the supply of raw materials to CPEC projects is local – from Pakistan.' He refers to Pakistan's increased GDP growth rate (now 5.2%) and its upgrading from frontier market to emerging market by investment research company MSCI. 'That has brought Pakistan onto the radar of other investors – not Chinese, but other Asian and Western investors,' he says. 'So Pakistan's economy is certainly improving.'
Industrial cooperation projects under CPEC include setting up special economic zones (SEZs) to reduce Pakistan's trade deficit and create jobs. Of those surveyed for the ACCA-PCI report, 43% say they will move to an SEZ to improve their ability to compete with Chinese imports. In addition, 59% say their organisation has plans to scale up to meet any growing demand caused by CPEC. A large majority (79%) think their organisations will adapt to changes brought about by CPEC and that they will make changes to their business strategy within one to five years.
SWOT analysis
As the ACCA-PCI report explains, business and finance professionals believe Pakistan has strengths that can help it benefit from CPEC, including the availability of human resources. However, there are weaknesses too, particularly a lack of skills, indicating the need for capacity building and greater literacy. Another perceived weakness is a lack of awareness about CPEC, which needs to be addressed through workshops, seminars and publications.
In terms of threats, there are some concerns about the potential mismanagement of resources and governance issues. Local businesses could also be challenged by Chinese imports - 74% of survey respondents think CPEC will increase the inflow of goods from China. At the same time, opportunities such as the generation of employment, increased trade and improvements in infrastructure are widely recognised.
Professional accountants - both company executives and their advisers -will play an important role in ensuring Pakistan maximises the CPEC opportunities. There could be valuable opportunities for the profession itself too. For example, finance professionals could provide one-stop-shop solutions for Chinese investors, including company registration, accounting and tax advice. 'The professional management of CPEC projects is the key to their success,' says Sayed.
Arif Masud Mirza, ACCA's regional head of policy for MENASA, believes however that work remains to be done. 'Professional accountants thrive on certainty of information, which makes budgeting, forecasting and planning exercises far more accurate. The research reveals that stakeholders still have questions for government on CPEC, especially around the taxation implications of the SEZs. Will only Chinese companies benefit from the tax concessions or will local companies also benefit? These are important policy decisions that have yet to be taken and communicated,' he says.
Skills development
Making the most of the available opportunities will require skills development. A majority of survey respondents (70%) think finance function executives will need new skills, knowledge and behaviours to handle the challenges of CPEC. In particular, respondents highlight the need for communication (69%), business analytics (66%), tax knowledge (52%) and leadership ability (52%). In effect, finance professionals will need to become strategic business partners. Additional research in the form of stakeholder interviews identified the need for skills in cross-border trade finance.
Executives from Chinese companies interviewed think that their Pakistani counterparts will need a good understanding of Chinese culture and knowledge of Mandarin to get the most out of CPEC, but also international vision, familiarity with project practices used by Chinese companies, knowledge of tax policies, rebates and concessions allowed under CPEC in Pakistan, and full awareness of the business policies set up by Pakistan's government for CPEC projects and companies.
Sayed suggests that accountants begin preparing for CPEC by visiting its website (cpecinfo.com) to find out more about its projects. 'Accountants should also learn Chinese,' he confirms. 'That will help break the biggest barrier in business, by connecting on a personal level.' The PCI is running programmes with ACCA, including cultural training such as a course in Mandarin for business. Around 86% of survey respondents agreed they should attend short courses on business, and Chinese language and culture.
'I would advise accountants to have a long-term view of the China-Pakistan Economic Corridor,' Sayed says. 'It's not about today or tomorrow; it's about the day after. So have a long-term view, position yourself and reap the dividends.'
Sarah Perrin, journalist
"I would advise accountants to have a long-term view of the China-Pakistan Economic Corridor. It's not about today or tomorrow; it's about the day after"