The aspirations of the next generation of accounting professionals are challenging small and medium-sized practices, which need to innovate to compete with the Big Four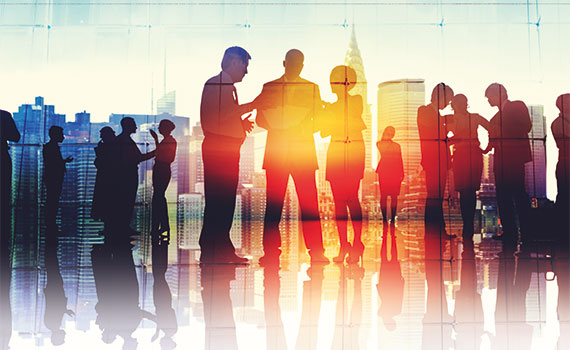 This article was first published in the February 2018 international edition of Accounting and Business magazine.
What divides the generations can also bring them together. A whole narrative has been built around how different generations, from the baby boomers of the post-war period through Generation X, millennials and Generation Z, have different aspirations and work attitudes. But could it be that the generations have more in common with each other than is generally thought? And how does any gap affect the accountancy profession, particularly those in small and medium-sized practices (SMPs)?
Research by recruitment consultancy Robert Walters has pinpointed technology and early ambition as two areas with a strong possibility of conflict between generations, especially where an older generation is trying to manage a younger one. Millennials are frustrated with outdated technology and feel that older workers do not understand the new way of doing things. For their part, the older generations tire of the younger colleagues' demands for rapid career progression. What employers and workers of all ages agree on is that different expectations of workplace culture, with younger workers looking for a less formal working environment, is also a significant source of conflict.
The good news from Robert Walters is that all workers feel able to engage with each other, so there is a great opportunity for the generations to come together, bringing their own perspectives and preferences, to create better workplaces and career opportunities, and a more engaged workforce.
However, a 2017 Deloitte study of millennials at work outlines how attitudes within a single generation can vary, making it difficult to attribute common characteristics to diverse groups. In the process, Deloitte debunks a number of common beliefs about this most written-about generation. In particular, millennials now appear to be more loyal to employers than previously believed.
Millennials view business more positively, as it can create more opportunities for them to engage with good causes, although business doesn't fully realise its potential to alleviate some of the biggest challenges. Intriguingly, technology is not always seen as a positive. For some, technology encourages creative thinking and provides opportunities to develop new skills; but for others it is a threat to jobs and creates a sterile workplace.
Could it be that millennials are growing up and adopting a more realistic attitude to the workplace? Or have they been shocked into a more conservative outlook by wider events? ACCA has drilled deeper into its study on the next generation of accountancy leaders to analyse the impact that those aged between 16 and 36 (a group ACCA calls Generation Next) will have on the accountancy profession, focusing on those working in SMPs. The analysis, published in its Generation Next: managing talent in small and medium sized practices report, backs up the Deloitte findings but emphasises how attitudes can vary within a generational group.
Thinking ahead
Refreshingly, the study reveals that young professionals see practice as a platform for long-term career success. They may be mobile but they are 'stickier' than their Generation Next peers in other sectors, especially at the start of their career.
The assertions that this generation is looking for something beyond just pay still hold true with those in SMPs. They are attracted to employers that go beyond offering just pay and progression opportunities to include job security and work flexibility. They also want to learn and develop new skills, a potentially pivotal aptitude for SMPs as they seek to compete with the opportunities offered by the Big Four firms – the most popular destination for those looking to leave the SMP sector.
As Ben Baruch, head of SME policy at ACCA and author of the Generation Next study, says: 'These trends clearly have implications and place new pressures on SMPs to rethink how they attract, develop and retain young talent. Employers must acknowledge that this goes beyond the pay cheque; it's the whole package that matters.
'For Generation Next, the key to retention is development: 93% agree that the availability of opportunities to learn and develop skills is key to remaining with an employer.' As Baruch observes, this generation is split on whether those development opportunities are available at their SMP: globally 41% say their employer does not have enough roles available to allow for career progression, and 34% say their employer offers insufficient opportunity to achieve career goals.
So, there is work to be done by SMPs to attract and retain this generation. They need to not only offer a viable career path that provides progression backed up by training and development, but also get the message out there that they are able to do so. As John Lim, assurance, HR and training partner at PKF Singapore, says, his practice had previously had difficulties attracting graduates but began engaging with local universities 'to make our presence known, otherwise younger people will only know the names of the Big Four'.
Lim says that giving talks and providing an internship programme through these channels 'helped to make our name known and as a result more students got to know us through word of mouth'.
Eilis Quinlan FCCA, senior partner of Quinlan & Co in Ireland, says that becoming a registered training practice might help some SMP employers to stand out from the crowd. 'I think the benefits of structured development should be made very obvious to students and the reasons why they should go with a registered training practice.' To some extent, this is aligned with ensuring effective communication of the benefits that professionals gain from the breadth of finance experience available in the SMP sector.
However, others see the virtue in being a smaller practice, one that can create a very different culture from the large firms or corporates. Thomas Lee, a partner at Lee, Au & Co in Hong Kong, argues that SMPs in Hong Kong are in a strong competitive position, compared with other sectors, for attracting talent. 'Being part of a smaller team where everyone gets on and learns from each other is exciting to younger people,' Lee says. 'We are a boutique firm with a pool of multiple talents, and our culture is very warm and friendly. We have a strong mentoring culture and practice so that new recruits will not work alone by themselves.'
Flexibility is key
Flexibility and work-life balance will always figure large when looking at how to attract Generation Next, and many practices have taken this on board. Mark Gold FCCA, a partner at Silver Levene in the UK, says: 'We encourage work-life balance; we're very much a family-orientated firm. The whole team, from junior to senior members of staff, are a really close bunch.'
Fiona MacNamara FCCA, a senior manager in PKF O'Connor, Leddy & Holmes in Ireland, agrees that flexibility offered by SMPs can be a key attraction. 'I have the option to work at home one day a week, and they offer that flexibility to a number of employees. This helps retain more qualified staff.'
MacNamara also believes it is important that SMP employers offer flexibility to younger professionals studying outside of their day-to-day role. 'We recently took on someone who had discovered that she could complete her qualification at night while working for us in the daytime.'
However, it is technology that could prove to be the most significant area as SMPs seek to remain relevant to new generations. Technology is a double-edged sword. It can help SMPs develop new services and place them at the cutting edge of innovation. But it can also replace many jobs, often those that new entrants would have carried out in the past.
According to the ACCA study, 50% of Generation Next employees working for SMPs believe that technology will replace many entry-level roles in the accounting and finance profession, a view that was broadly aligned with the global average response. But the flip side is that 80% of Generation Next employees in SMPs agree that technology will enable finance professionals to focus on higher value-added activity. This is a balancing act that requires all generations to pull together and find common ground.
As Lee says, his firm is keen to learn from the younger generation, which involves providing younger staff with a degree of freedom and flexibility: 'We always try to find a new way of doing things,' he says. 'It's about exploring new business opportunities and developing new services for clients. It's also giving staff the freedom to explore their own projects, and, if you like, supporting entrepreneurialism, which benefits us and benefits them.'
Philip Smith, journalist
Gen Next job satisfaction at SMPs
| | | | | | |
| --- | --- | --- | --- | --- | --- |
|   | Not satisfied at all | Not satisfied | Neutral | Satisfied | Very Satisfied |
| Ireland | 2% | 16% | 25% | 41% | 17% |
| Malaysia | 1% | 13% | 46% | 35% | 4% |
| Mauritius | 0% | 6% | 36% | 40% | 19% |
| Pakistan | 8% | 20% | 39% | 26% | 6% |
| Singapore | 5% | 18% | 38% | 34% | 5% |
| UK | 2% | 8% | 25% | 42% | 23% |
Top factors making SMPs attractive
| | | |
| --- | --- | --- |
|   | SMPs | All sectors |
| Opportunity to learn and develop skills | 93% | 94% |
| Career progression opportunities | 90% | 92% |
| Financial remuneration | 86% | 88% |
| Interesting work | 86% | 87% |
| Job security | 86% | 83% |