The role of auditor general is necessarily a very public and transparent one, itself subject to in-depth scrutiny, explains Malawi's AG Stephenson Kamphasa FCCA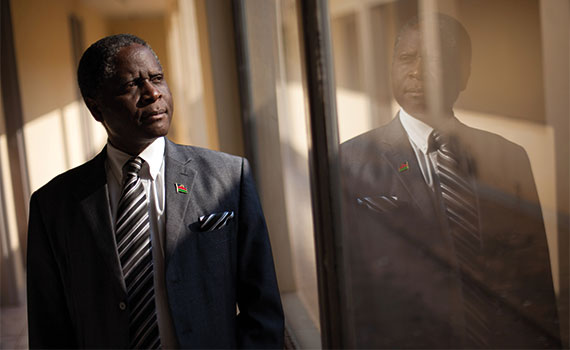 This article was first published in the February 2018 Africa edition of Accounting and Business magazine.
When your country's finance minister asks you to take on the role of auditor general, there is probably only one answer you can give. So it was with Stephenson Kamphasa FCCA. Four years ago, having already seen two previous nominations rejected, Malawi's government was determined to get a new AG in place. And so, despite opposition party concerns that Kamphasa's CV included working for private sector accountancy firms, his nomination was accepted by the Malawian parliament.
That was in June 2013, and Kamphasa is now four years into his five-year term as the country's most senior public sector independent auditor.
'The call from the minister came as a complete surprise,' Kamphasa admits. 'I was originally contacted in May 2013 about a different proposition. Malawi's Institute of Accountants had given the government my name. I sent my CV over to the finance minister. Then, on 4 June, I received a letter confirming that the president was to put my name forward for the role of auditor general, subject to parliament's agreement.'
Having cleared the move with the partners at the accountancy firm where he was then working, Kamphasa took up his new role on 1 July 2013.
'There were so many things going on at that time,' Kamphasa recalls. 'I needed to sit down and work out a strategy, work out what was needed.' But then, in Kamphasa's words, 'a very big surprise came along'. The discovery of a massive public sector fraud added a very different dimension to his work. 'This was just two-and-half months into the role. I needed to consider the way forward, everything was so cloudy.'
The scandal to which Kamphasa refers was quickly dubbed 'Cashgate'. Allegations of corruption and misprocurement first came to light in September 2013. UK accountancy firm Baker Tilly (now RSM) was enlisted to carry out a forensic audit to trace US$32m of missing funds. The firm's February 2014 report found MK6.2bn (US$8.5m) of transactions related to corrupt payments and a further MK7.5bn to government misprocurement where transactions either lacked supporting documentation, had incorrect pricing or were allocated to the wrong budgets. Given that the country's annual GDP at that time stood at only US$5.5bn, such sums were very significant.
'The first thing that came into my mind was to say that although I felt able to carry out the work necessary, my office lacked the skills required to do so,' recalls Kamphasa. 'It was a very systematic fraud that required very advanced skills to investigate. And I knew that it would cost money to investigate.'
Baptism of fire
Fortunately for Kamphasa, the UK's Department for International Development (DfID) came to the rescue, hiring Baker Tilly on Kamphasa's behalf. 'The first part of the investigation was to find out how and why the problem occurred; the second was to find out about the impact of the fraud on the economy,' Kamphasa explains. 'Thirdly, we needed to know who was behind the fraud.' The investigation took 11 months to complete, amid much public speculation over what would be uncovered. The final report was published at the end of September 2014.
It was in many respects a baptism of fire for the newly appointed auditor general, but it gave him the opportunity to update and fix the country's public sector financial management systems. 'We needed to look at the weaknesses that enabled the fraud,' Kamphasa says. 'The systems had been rendered useless; they had to be fixed. There was the need for a robust platform.'
During the investigation there was an election that saw a new president and government elected. Joyce Banda, who was in office as president at the time of the fraud's discovery, was replaced with Peter Mutharika, leader of the Democratic Progressive Party, in May 2014.
Kamphasa remained in office and was able to continue to assist in the reform of the country's public financial accountability. He worked together with the law enforcement agencies, assisting in the investigations to obtain evidence for possible prosecutions, at the same time collaborating with other stakeholders to rebuild the public finance system – including replacement of existing financial management software – and indeed rebuild trust in the system as a whole.
Fortunately, Kamphasa was no stranger to the public sector. His career has straddled both public and private sectors, having worked in government agencies where he gained his ACCA Qualification as well as in public practice with Big Four firm KPMG and subsequently his own practice. But the role of auditor general is necessarily a very public one, itself subject to in-depth scrutiny just as much as the role allows him to scrutinise the financial dealings of government. So how does Kamphasa deal with this public side of the role?
'I had worked in government before, between 1981 and 1989,' he explains. 'This was very good experience, it helped me very much, and I was able to pick up from where I had left, but in a different role. My KPMG experience also helped me adapt to being an auditor.'
Kamphasa set up his own firm Kamphasa Certified Public Accountants in 2007. After enjoying rapid growth, Kamphasa was approached by another firm, Mwenelupembe Mhango & Co, to join it. The two firms merged in 2011.
Then came the call from Malawi's former finance minister. Kamphasa sat down with his partners to discuss the opportunity, and they agreed that he should take up the position, while leaving the door open for him to return should he choose to do at the end of his five-year term as AG.
Looking beyond the fraud investigations, Kamphasa can see improvements in the way Malawi now manages its finances. 'Of course, there are still challenges because everything has had to change,' he says. 'We have been looking at the public confidence in the Auditor General's office, and we have had to make changes so that people can trust the office. It has to be considered in very high esteem.
'Coming from the private sector, I could see that there was a need for everyone to be trained as a professional to move forward. We came up with a strategy in which everyone needed to participate, so we have been training our team through international institutions, supplemented by our own local institutions.'
In addition, he has put in place a programme to update auditing processes and software, while interrogating the systems to identify any weaknesses and to ensure they are compliant. This strategic plan began in 2015 and is set to run until 2019.
Kamphasa's five-year term as AG comes to an end this year. Has he thought about the future? 'I have been able to contribute to the nation and bring in fresh ideas from private practice. So now my focus has been on making sure that this office is a professional office, and that is something that I still look forward to.'
It is clear that he sees training as very much a part of that professionalism. 'My career hasn't been easy, but I want to encourage the young ones. It was challenging going through the courses, but also very special.' In the 1990s, work commitments meant he had to put his training on hold, but in 1996, after spending six months on study leave in the UK, he achieved the Level 3 ACCA Qualification. As he says, 'where there's a will there's a way', an attitude that he still displays today.
Philip Smith, journalist
"Coming from the private sector, I could see that there was a need for everyone to be trained as a professional"