Tackling widespread gender disparity in economies, education, leadership and politics will free up Africa's most underused resource – its women, says Okey Umeano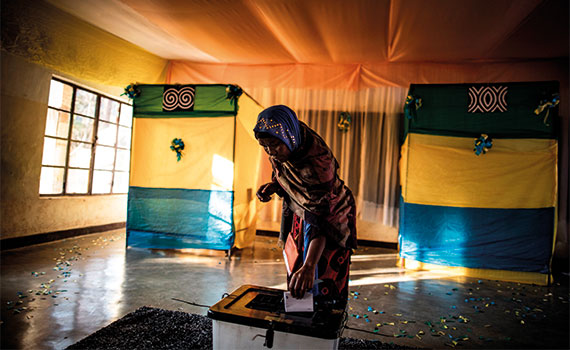 This article was first published in the March 2018 Africa edition of Accounting and Business magazine.
There's a Moroccan proverb: instruct a man and you instruct an individual, instruct a woman and you instruct a nation. It highlights the ability of women to use resources given to them to achieve greater gains that benefit all. Whether enough resources and opportunities are given to African women is the question. Studies by the World Bank have shown that while there has been improvement in the lot of women in the world – and in Africa in particular – much more still needs to be done.
Sade Odunaiya, director at Nigerian business consultancy and training company IBFC Alliance, agrees. 'There is increased awareness in Africa of the need to empower women,' she says.
United Nations data backs up the message of the Moroccan proverb. It shows that if women are educated, more of them can find work, and when more women work, economies grow faster. But a 2015 Unesco Education for All global monitoring report shows that no country in sub-Saharan Africa has achieved gender parity in primary or secondary education. There are still only 92 girls for every 100 boys in primary school in the region, and only around eight girls for every 10 boys enrolling in secondary school. One of the causes of the gap in school enrolment is lingering cultural beliefs, with girls viewed as less valuable than boys. The good news is that the gap has narrowed over the years.
In the workplace, women are still behind. Global labour participation rates show a large gap between the genders. In 2013, the global female employment-to-population ratio stood at 47%, while the male ratio was 72%. As in many other parts of the world, women are also paid less than men. According to the African Development Bank, while women work 50% more than men in sub-Saharan Africa, the pay gap between the genders is wide. One reason for this is that women are more likely than men to be in informal employment and low-paid jobs. They also do a lot of unpaid work such as housework and caring for children, the sick and the elderly.
Women also (literally) bear the brunt of the infrastructure gap in Africa: the UN reports that in sub-Saharan Africa, women carry out 71% of water collecting, which amounts to about 40 billion hours a year. And in some countries, husbands can still object to their wives working at all.
In agriculture, women manage less land than men, and so produce much less. In Africa, only 15% of landholders are women. Women have less access to agricultural inputs, seeds and extension services. For instance, it was found that women got little or no share of improved seeds and pesticides distributed in an agricultural programme by the Nigerian government some years ago, because they had to apply through their husbands, who received too little to share.
The Nigerian government has since changed tack and now has women-targeted programmes. One of these, the National Women Empowerment Fund, launched last July, has set aside N1.6bn (about US$4.5m) to give small loans to women, who would otherwise have no means of creating a livelihood.
Many other such programmes exist across Africa. The Women Enterprise Fund, for example, provides Kenyan women entrepreneurs with access to credit. The Isivande Women's Fund in South Africa also provides finance for women in business. And a World Bank-supported initiative in Zambia (the Girls Education, Women Empowerment and Livelihoods project) trains women in business management and provides them with seed capital.
In politics and leadership, though, women are still far behind men, despite evidence that leadership by women improves the decision-making process. While there are exceptions – Rwanda, for example, has the highest percentage (61.3% in December 2017) of female members of parliament in the world – there has been slippage in countries such as Nigeria where the number of female cabinet ministers fell from 11 during the past administration to five in the present.
While only 5% of private sector companies in the continent have female CEOs, Odunaiya believes there has been a big improvement in female leadership of businesses. 'In the financial services sector, women membership of boards is being encouraged by the need to disclose gender diversity. This is also being played out in the bigger public companies. Female board membership in these segments of business is higher now, compared with five years ago… Companies' disclosure of data on women in the workforce and their women empowerment initiatives will draw attention to the need for diversity.'
Abuse of women has been highlighted recently by the #MeToo movement, which has called out many prominent men in the developed world. In Africa, practices such as under-age marriage predispose women to violence by their partners. According to 2016 Unicef statistics, 38% of girls in sub-Saharan Africa are married by the age of 18, 12% by the time they are 15. Poverty, religion and traditional practices drive child marriage, resulting in limited opportunities for girls. Women also face issues such as genital mutilation, human trafficking and forced labour.
Some governments have responded with legislation. Tunisia, for example, has introduced a law outlawing violence against women, and Nigeria works to protect them through its National Agency for the Prohibition of Trafficking in Persons.
Some years back the US Supreme Court justice Ruth Bader Ginsburg said: 'Women belong in all places where decisions are being made... It shouldn't be that women are the exception.' It is time to actively work to make this the case in Africa.
It's not just business that needs to act. African governments must find ways to reduce violence against women, educate them, and get as many of them as possible into good jobs. It is in the interest of the continent's development to do so.
Okey Umeano is head of risk management at Nigeria's Securities and Exchange Commission
Women in parliament
| Rank | Country | % of lower house |
| --- | --- | --- |
| 1 | Rwanda | 61.3 |
| 2 | Bolivia | 53.1 |
| 3 | Cuba | 48.9 |
| 4 | Nicaragua | 45.7 |
| 5 | Sweden | 43.6 |
| 6 | Mexico | 42.6 |
| 7 | Finland | 42.0 |
| 8 | Senegal | 41.8     |
| 9 | South Africa | 41.8  |
| 10 | Norway | 41.4 |
"Women belong in all places where decisions are being made... It shouldn't be that women are the exception"