Whether it's fighting for fairness or seeing off would-be tax evaders, Bermuda politician Patricia Gordon-Pamplin FCCA has never taken no for an answer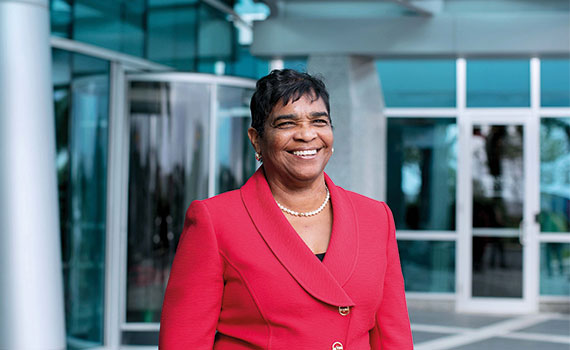 This article was first published in the March 2018 International edition of Accounting and Business magazine.
In nearly three decades of public service in politics and accounting, Patricia Gordon-Pamplin FCCA has earned a reputation as a warrior for fairness and good governance. As the chair of Bermuda's public accounts committee and shadow minister of home affairs, she currently has her hands full playing a critical role in two of Bermuda's most controversial issues – public finances and immigration.
'I got actively involved in politics to fight a cause,' she says. 'My personal approach to life is if you have the ability to do something you have a responsibility to do it. I may be okay, but how can my circumstance and situation help somebody else who may not have the tenacity or the wherewithal to be able to challenge a system?'
Uncompromising
At her home in the Bermuda capital of Hamilton, a portrait of her late father, Dr EF Gordon, guards the entranceway. A pioneer of organised labour and a national hero, Gordon looks on sternly, exhibiting the same take-no-prisoners attitude that has characterised his daughter's political career.
At the time of our interview, numerous piles of papers were stacked neatly on the living room floor as Gordon-Pamplin prepared for her imminent retirement from Everest Re Bermuda group of companies, where she served as chief accountant and, later, vice-president; she wants, she says, to ensure a proper handover to her successor, who she is concerned should have more resources than she did in the role.
The Bermuda Monetary Authority imposes an ever increasing reporting burden on businesses in the autonomous British overseas territory's important financial services sector. Bermuda's implementation of controls to satisfy the European Union's Solvency II directive, which cleared the way for Bermuda-regulated companies to operate in the EU insurance market on an equivalent basis, has further intensified the workload. Gordon-Pamplin's professional stature earned her a seat on Solvency II consultative committees, and she has helped shape the new regulatory landscape both as an accountant and as a lawmaker. She has also worked hard in parliament to ensure ACCA's status was protected in Bermuda.
Her political career began as a branch officer of the United Bermuda Party (UBP). She soon found herself confronting her own party over the island's immigration law, which discriminated against Bermudian wives of foreign men.
She had a very personal interest in the issue. It was 1993 and she had just married an American, a divorcé who had been asked to leave the island after his previous marriage broke down. When the immigration minister at the time informed her that the decision stood despite his re-marriage to her, a Bermudian, she recalls telling him: 'That's the wrong answer. You're not going to chase me out of my own country. You're not going to tell me my husband has to leave and I have to go with him. And you're not going to force me to break up my home. Because if he goes and I stay, then we're separated. And neither option is tenable for me.'
Campaign for change
She wasted no time in bringing public attention to the dispute through the media and running for office as an independent candidate. After the government backed down and gave her husband a work permit, she continued to campaign for a change in the policy. 'You can't have matters resolved on a one-off basis for one person and then not make that status available to somebody else in the same position,' she says.
The battle caused some friction within her family and close circle – her sister Pamela was a member of cabinet (and later became Bermuda's first woman premier), and one of her first employers, an early career mentor, was premier at the time. 'I was going to stand and fight irrespective of the personal and political circumstances,' she recalls.
Motherhood at 16 had forced her to go to work early. She showed an aptitude for accounting in high school, passing her bookkeeping exams two years earlier than normal. Armed with her diploma she found a job in the accounting department of a real estate business. Within just months she had been poached by a competitor.
Five years later she took up a senior role in the accounting department of Moore Stephens and Butterfield (MS&B, which subsequently became KPMG). Impressed with her integrity, the firm fully funded her accounting education in the UK. By then she had been married, divorced and had an 11-year-old son.
Having gained her ACCA Qualification in the UK, she returned to Bermuda and worked in public accounting in the auditing division of MS&B before entering the insurance industry. 'The qualification enabled me to work in industry as opposed to staying in public accounting, and it's proved its worth over and over,' she says.
It wasn't until 1999 that she took up her second career, winning a seat in parliament for the UBP, which was then in opposition. She has held her seat through four electoral cycles and served as shadow minister for a number of portfolios, joining the One Bermuda Alliance (OBA), along with most of her UBP colleagues, in 2011. From 2012 until 2017 she was a senior member of the OBA government's cabinet.
Gordon-Pamplin believes it is critical that Bermuda stays ahead of criminals and tax evaders. 'The key is to make sure that our jurisdiction is protected and people don't think they can come to Bermuda and set up shop for the purposes of avoiding payment of a fair tax,' she says. 'We have to share information so that other countries can know that their tax citizens are not using us as a vehicle to evade taxes. To make certain we are not tainted we have to have open books.' To that end, Bermuda has signed bilateral tax information exchange deals with 18 countries and others are pending.
But Gordon-Pamplin adds that the island should resist pressure to establish a publicly accessible register of beneficial owners of companies unless and until all countries agree to do the same. 'Why should we be treated differently than any other jurisdiction? You make your registers public, we'll make our registers public,' she declares.
No longer a government minister and with her chances of fighting another election questionable, Gordon-Pamplin has chosen to concentrate on representing her constituency and chairing the public accounts committee.
In recent years, the committee's role has changed. It used to focus on reviewing concerns raised by the auditor general's periodic – and often late – financial reports, but has now adopted a more proactive stance, she says. 'Now we have an opportunity to look at things on a very current basis and to have matters brought before us. I see that as an opportunity to keep on top of those things the government is undertaking.'
And what of her legacy? 'I've always been fair, I've always been honest and I've always operated with integrity,' she says. 'That said, an organisation is only as good as its succession planning. I've adopted that in terms of my career as well as in my political life. As a 20-year veteran of parliament it is my responsibility to ensure we have a good succession plan for whoever is going to come behind me.'
Ayo Johnson, journalist in Bermuda
"My personal approach to life is if you have the ability to do something you have a responsibility to do it"
"We have to share information so that other countries can know that their tax citizens are not using us as a vehicle to evade taxes"